May is a momentous time in our design community. Recognizing the 57th annual World Interiors Day (IFI WID), officially celebrated on May 23rd, the architectural and interior design world gathers across the globe to celebrate the power of this creative art.
WHAT IS WORLD INTERIORS DAY (IFI WID) 
Founded in Copenhagen, Denmark in 1963, WID is a long-time movement established by the International Federation of Interior Architects/Designers. IFI WID gathers its community of professionals, students and enthusiasts, in order to recognize the influence of interior design and to participate in a number of activities inspired by the annual theme.
With past themes like Design Without Borders, Interior Design for Generations, Finding the New and Old, the themes can take on any mission, and insight a myriad of activities.

2020 has called for the theme, 'Nexus Interiors,' aiming to understand the breath of interior design and identify how we are harnessing design and architecture to create positive impact beyond our spaces and amongst the broader environment. Participants are invited to join in "exploring the connection of the built environment to shaping relationships and human behavior."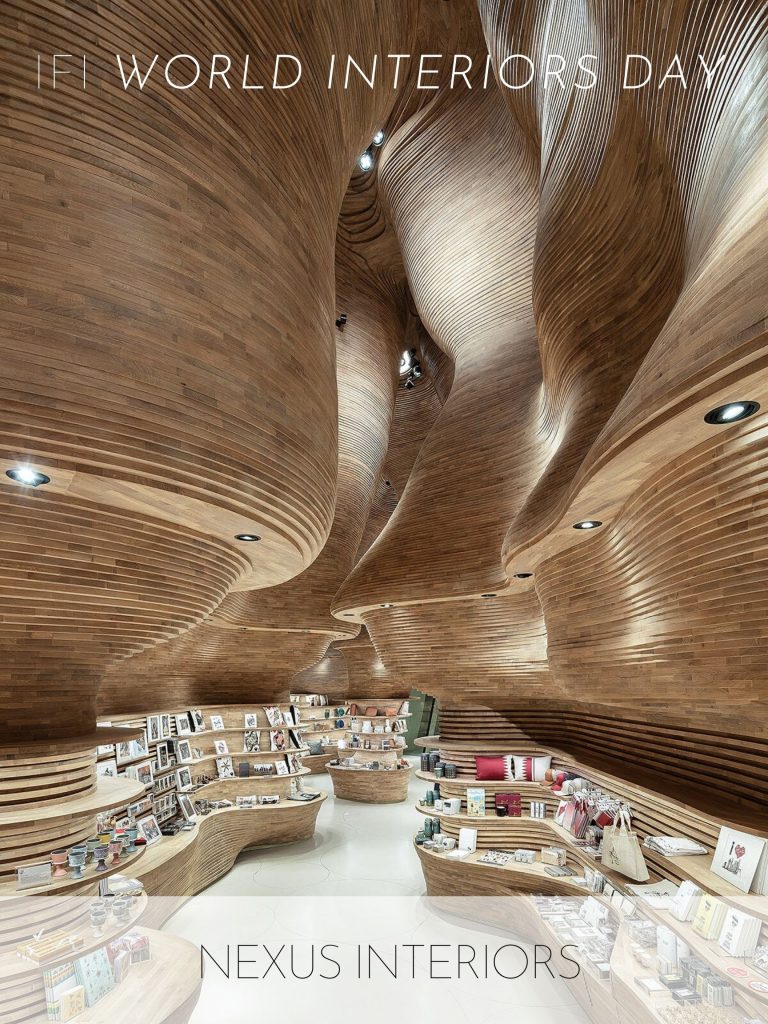 WHAT THIS DAY MEANS TO BEYOND ID 
It's no secret that BEYOND id loves a good theme and IFI WID's is no exception. This yearly ritual offers our team a chance to reflect on how interior design has brought a positive impact on our lives and the lives of our clients, not to mention we are able take part in some of the latest activities with our design friends, students, hobbyists and general community. 
Our leading lady, Juliana Oliveira, shared how interior design has become an integral part of her life, in addition to how she has seen design reach past an immediate space and shape human beings' lives. 
"I really enjoy solving client challenges both aesthetically and logically. But once I realized how much impact I could have in my client's homes, businesses, and subsequently their lives - I was hooked!"
That is the unyielding power of design, it can transform a room along with the human being sitting there. Juliana finds it particularly special, how mindful, clean and sustainable design can offer major mind and body wellness perks. The right design serves as a mood improver, in addition to a better quality of life for its residents. This exceptional quality is what keeps the BEYOND id team inspired to push our designs and create a space that goes further than what meets the eye. 
HOW TO CELEBRATE
We invite you and yours to join our BEYOND id team in exploring the ties between networks, relationships, and individuals through the lens of 'Nexus Interiors.'  While we keep to the confines of our home, we are discovering new ways to pay homage to the incredible practice that has inspired our lives and to value how interiors play a critical role in our connections. Take a walk to actively appreciate your neighborhood digs, show support and love to the designers in your life, surf the web for videos, podcasts and lectures from creatives online sharing their craft, and even involve little ones to curate creative experiences and boost their awareness of their mindfully designed surroundings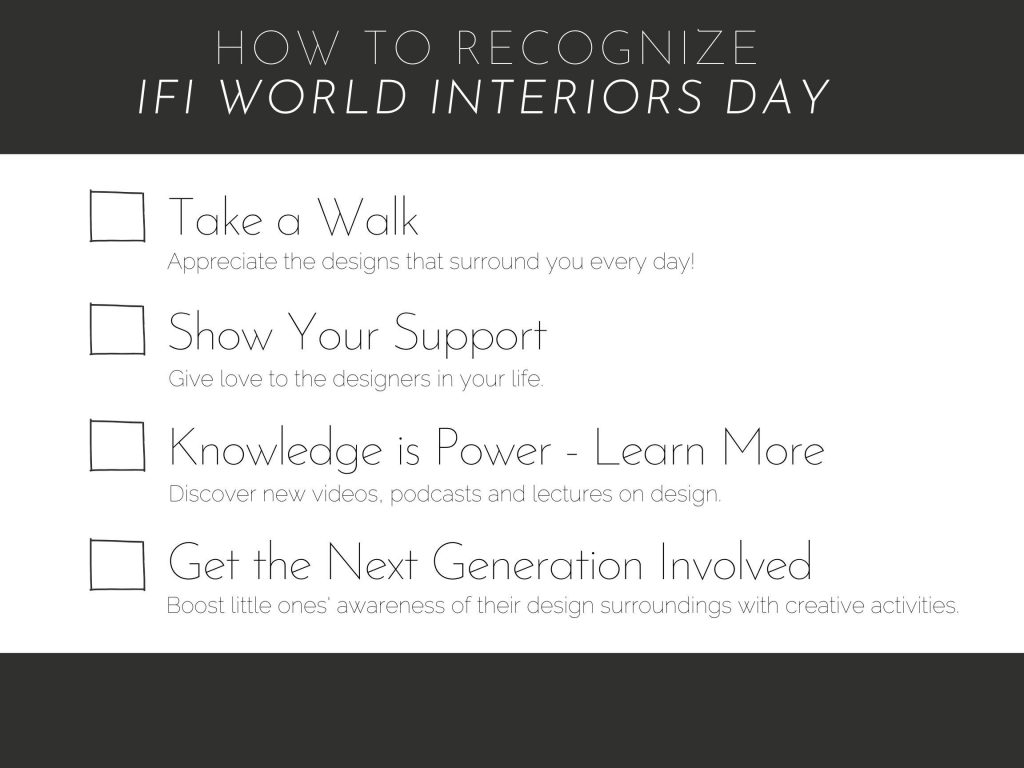 . 
Our founder, Juliana, was working primarily out of her Uptown Dallas office and when her home office became redundant, she gave it to her son for a more spacious bedroom. Given the latest circumstances, she and the rest of our Beyond ID team have adjusted from the comforts of the McKinney Avenue studio to create make-shift spaces and reevaluate our existing home offices. However, with full houses and minimal spare space, this can be a daunting challenge.
Juliana, recently spoke with one of our go-to home design sites, Houzz, offering a peek into her new work-from-home (WFH) set-up and expert advice to make the most of any at-home workspace. Like so many, we're striving to create a serene, functional area to complete our work efficiently and without obstructing our plugged-off hours. Read on to discover how to refresh and curate a work-friendly home, with a home office or without.
1. Establish a Designated Area for Work:
Carving out a place for work items, devices and chargers to live is priority number one. 
It can be as simple as a decorative basket, a chair in your living room or a corner of your dining table, but ensure that the dedicated place is reserved for you to keep your work materials. Avoiding the urge to spread work gear across your home will make it easier to plug off during the end of a work day and reduce anxiety when trying to lounge at home in your free time. Not to mention your designated area will minimize clutter (check out our resident professional organizer's WFH mobile storage tips).
2. Utilize the Space You Have:
If WFH feels more long-term, then it may be time to go beyond your dining table set-up and establish a permanent office space. This may look like repurposing a coat closet, hallway or built-in bookshelf to include a desk and storage. As many of us are passing the time with home organization projects and purging, we are quickly gaining free closet space. This is a quick fix without giving-up any highly coveted real estate in your home.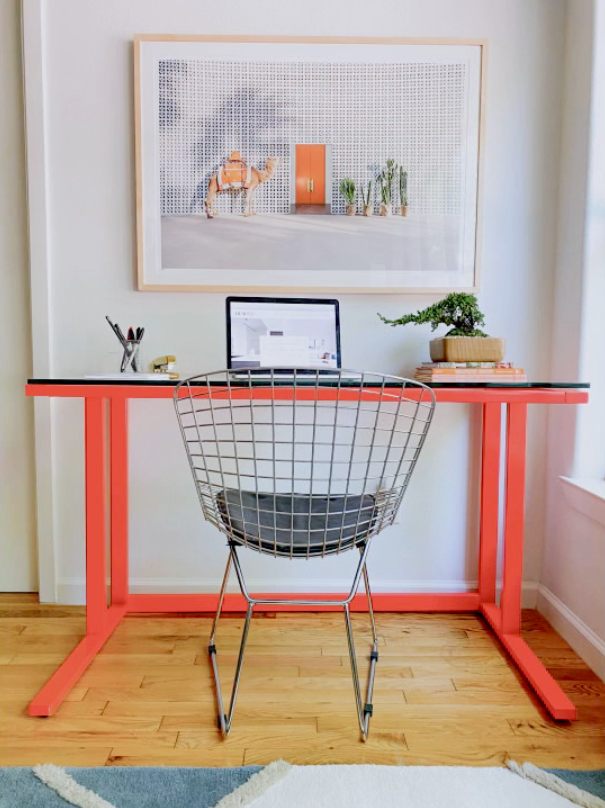 3. Choose the right WFH desk:
If a new desk is in order, the selection process is crucial. We recommend steering clear of materials and designs that feel heavy or bulky. Instead, opt for lighter materials like acrylic and glass. A clear, clean lined desk can easily be tucked away in an underutilized corner of your home without feeling cramped. Choosing a work desk with thin legs also minimizes distraction and attracts the eye upward, creating a feeling of open space. Here are some of our recommended desks for smaller spaces:
4. Refresh Your Current Office:
For those ahead of the curve with a home office, now is the chance to decide what is functional and what can be improved. Dedicating time to create an optimal space is sure to aid productivity and serve as a mood booster (even on those especially long days). Position your desk near a window to take in the view and take advantage of natural light during video conference calls. Adding in natural elements like fresh plants can also liven up an office space and offer some serious health benefits.
We're setting the record straight on all things European Cabinetry.
1. They have limited finishes

. 
This couldn't be farther from the truth. European Cabinetry makes customizations easy. The finishes are offered in a variety of styles including lacquers, wood veneers, metals, glass, and laminates. There's also a range of door styles from traditional, rustic, modern, industrial, transitional, contemporary, modern and nearly anything else in between. The cabinetry can also be stained and painted to any color.
2. They aren't solid wood

.
Okay, you got us. This is technically not a myth, however, the construction of European cabinetry is often misunderstood. When most hear particleboard or MDF (medium-density fiberboard), the words cheap and low-quality usually follow. This is far from the truth! In fact, the constructions of both are extremely sturdy. MDF is composed of very small wood fibers like flour, while particleboard is made from larger, coarser fibers. MDF's high-level density and waterproofing features also lend themselves to be extremely durable and predictable. While MDF expands and contracts as temperature and humidity fluctuates (similarly to wood), it does not warp or crack like wood.
3. They are hard to install

.
With typical American construction, cabinets are screwed into place permanently with minimal room for error. Contrary to this detailed process, European cabinetry is developed to be treated like a mobile piece of furniture. The cabinets are able to be installed and moved from home to home, installed on a track to allow the cabinets to slide in place and be removed easily without damaging the pieces. 
Bonus fact, American cabinetry has bulky door mullions at every door and drawer face that take up valuable space. Frameless, European cabinets have significantly less bulk and offer more usable storage.
4. They are more expensive

.
European cabinetry is built around precision, quality and durability, which generally translates to higher prices. And yes, many times they are more expensive than your local, custom cabinet maker. However, you can buy European cabinets at the same price or sometimes less than your average trades.  
While the initial investment can be significant, the return on your investment is well worth it. Given the high level quality of the cabinets, the set is built to last and the warranty is made to match. Here are a few of our favorite vendors:  SieMatic, Ornare, and bulthaup. 
Plus, if your European cabinetry is in need of a refresh, it is far less expensive to replace the faces rather than completing demolition and starting the old cabinet and countertop search. The same goes for replacing a scratched or damaged piece.
5. They are built with inferior quality and technique. 
Please refer to myth number two for a refresher on the quality and benefits of particleboard and MDF. 
Companies like Porcelanosa and Nobilia have run thriving businesses, producing cabinets for decades and some of their peers have been doing so for centuries. They have developed state of the art factories, investing in the best engineering technologies and equipment in order to support the demand for their products without sacrificing the quality. The hardware (produced primarily in Germany) is also built to last. With American-style cabinets, the face frame will typically crack where the hinges and slides attach, eventually the doors sag and drop. With European hardware, the pieces are attached to the cabinet box, ensuring that the doors and drawers will maintain their appearance for several years, often multiple decades.
The interconnectedness of interior design and fashion has existed since long before our time. As one category progresses, developing a new artistic vision, it influences and drives the other category and vice versa. From color palettes and textiles to the art of self-expression, the relationship between the two is ever-evolving.

Fashion designer, Lizna Kabani, knew the industry was her calling from a young age, designing garments in her mind in the fifth grade. And while this passion led her to fashion school, it was not until she was home caring for her first child that she realized her dream to develop her own line. Now, a wife and mother of two, she is leading her own label, creating contemporary apparel while also gearing up to pursue her MBA this fall to continue building her business.
For those fluent in interior design or fashion, their eye for style can often help them navigate the sister world. So when Lizna, one of our favorite Dallas fashion designers asked BEYOND id to create a beautiful outdoor space we said yes, knowing this would be a stimulating, creative and collaborative experience for both sides.
And with that deep mutual love for design, this project was off to the races. Our BEYOND id team set out to create an elevated yet practical outdoor living and entertainment space that matched the interior finishes of the Kabani home. With comfortable, modern poolside seating, an a cabana-inspired, all fresco dining space, and an epic, tasteful playhouse for the little ones, we did just that. Browse the new digs below.
This week, we caught up with Lizna to find out how she and her family are living this new normal and quarantining in her BEYOND id-designed space. 
"Truly, the most that we've enjoyed the space is right now, in quarantine, '' says Lizna. "We are outside every day. We eat outside with the kids, when the kids go to bed, my husband and I enjoy the firepit and the playground is an everyday favorite."
True to her profession, Lizna's favorite feature of the new space is the mixing of high and low pieces. While a popular trend in fashion, integrating upscale, statement items and less-expensive items is often seen in interior design as well. Lizna mentions that their eye-catching, grey-finished table is Elite Modern while the dining table chairs are from Wayfair. The rope-textured chairs complement the modern, concrete-inspired table wonderfully but are easily replaceable if needed. 
Lizna also can't get enough of the color palette. In contrast to the bright outdoors, we created a soothing, neutral environment in a sea of gray but added statement moments with pops of black and white. You can see this style throughout the home, and we wanted to ensure a sense of continuity in the outdoor space, like with the striped throw pillows on the outdoor seating area. 
"I live and breathe design elements in my everyday life. From garment manufacturing to my bedding at home, the presentation is key to me," says Lizna shared when asked about the importance of design in her life. "To have vision of a design, then watching it unfold and come to life is rewarding beyond words."
Safe to say that when fashion meets interior design, it's a beautiful thing.  
We are especially grateful to have clients like Lizna, who are a joy to work with and fierce matriarchs in their own right. From BEYOND id, thank you and Happy Mother's Day to all! 
Though hidden to the naked eye, the power of indoor air quality should never be underestimated. Poor air quality can trigger some serious health consequences. Delos Living states that air pollution is the 5th leading cause of mortality and can have a critical impact on chronic respiratory diseases, digestive issues, and fatigue, to name a few. 
However, treating the air in your home mindfully comes with serious wellness perks. A better night's rest, enhanced complexion, and improved health are some of the many benefits that go hand-in-hand with good air quality. Who could say no to that?!
It has always been a BEYOND priority to create beautiful designs with sustainable, healthy living in mind. Now more than ever, we are spending every day indoors and want to do our part to ensure spaces are as beautiful and health-conscious as possible. So we've developed an easy checklist with some of the best ways to improve your home's air quality and reap the many benefits that follow!
PLANTS ARE YOUR BEST FRIEND
Remember being outside? Inhaling the crisp air and instantly feeling revitalized. Houseplants are the easiest way to replicate this feeling. Not only does bringing the great outdoors, indoors create a serene, green oasis, but our leafy friends also have natural air purifying qualities.
No need to stress if the green thumb gene skipped you. There is a range of low maintenance houseplants to brighten your space and feed your lungs. What's more, they can easily land at your doorstep with these effortless botanical designs or this white glove house plant delivery service. Some plants that clean air and pack a design-punch include sleek, modern snake plants, statement fiddle figs, the edgy dracaenas! 
CHANGE HVAC FILTERS REGULARLY
There are several factors to consider when changing your HVAC filters. Depending on the type of filter, fiberglass options are more economical but need to be replaced approximately every 30 days. Experts estimate better quality, pleated air filters should be switched out every three to six months. Why change out these filters, you may ask?  
Home & Household Size: the larger the square footage of a home, the more air there is to filter and the faster the filters are used. The same goes for the household size. The more residents and pets in your home, tracking faster dust and particles are tracked in and caught in your filters. 
Location: homes in more densely populated areas and cities tend to also be more populated due to increased levels of smog and dust. This will also shorten the lifespan of your filters. 
Health Conditions: if someone in your household has allergies or other respiratory conditions, it could be beneficial to replace HVAC filters more often to ensure they are working at their optimal level and keeping your loved ones feeling their best. 
MINDFUL DESIGN CHOICES BENEFIT AIR QUALITY
There are several decisions that can be made by interior designers to improve air quality without sacrificing a home's look and feel. Reduce air pollution with low-VOC paint and formaldehyde-free cabinets, minimize dust and allergens with hardwood flooring. Add texture and warmth without trapping in more dust, dirt and chemicals with organic, non-toxic bedding and wool rugs. 
INVEST IN THE BEST TOOLS
Keeping your home's air fresh does not need to look sterile or medical. Modern home purifiers and humidifiers can get the job done without spoiling the style and ambiance of your space. We've already done the legwork to identify a few favorites, including the Dyson humidifier and purifier, Noma air purifier, and Missed Global humidifiers.
ALLOW FRESH AIR INSIDE YOUR HOME EVERY DAY
Pull aside those gorgeous curtains and crack open those windows. This is the simplest, cost-free option to push the stale air out and make room for a fresh breeze. If the weather does allow for this option, it's pollen season or maybe you live in a metropolis, invest in the neighboring checklist items. Improved air quality is calling!