Through our years, trends have rotated, but a statement modern kitchen has always remained a design constant. There's nothing quite like it.  Designing a kitchen is undoubtedly in our wheelhouse, however, we take extra pride in the fact that the kitchen is often the soul of our client's home and these projects require expertise and the utmost care. The kitchen has evolved into a space that not only offers a place for food preparation, but a space to gather around the island, enjoy a morning meal, conquer the work day and so much more.
Our BEYOND id clients often ask for this sleek, luxurious look in their cookery, so we are here to share the inside scoop on five essential components to capturing the iconic, modern kitchen look in your very own digs.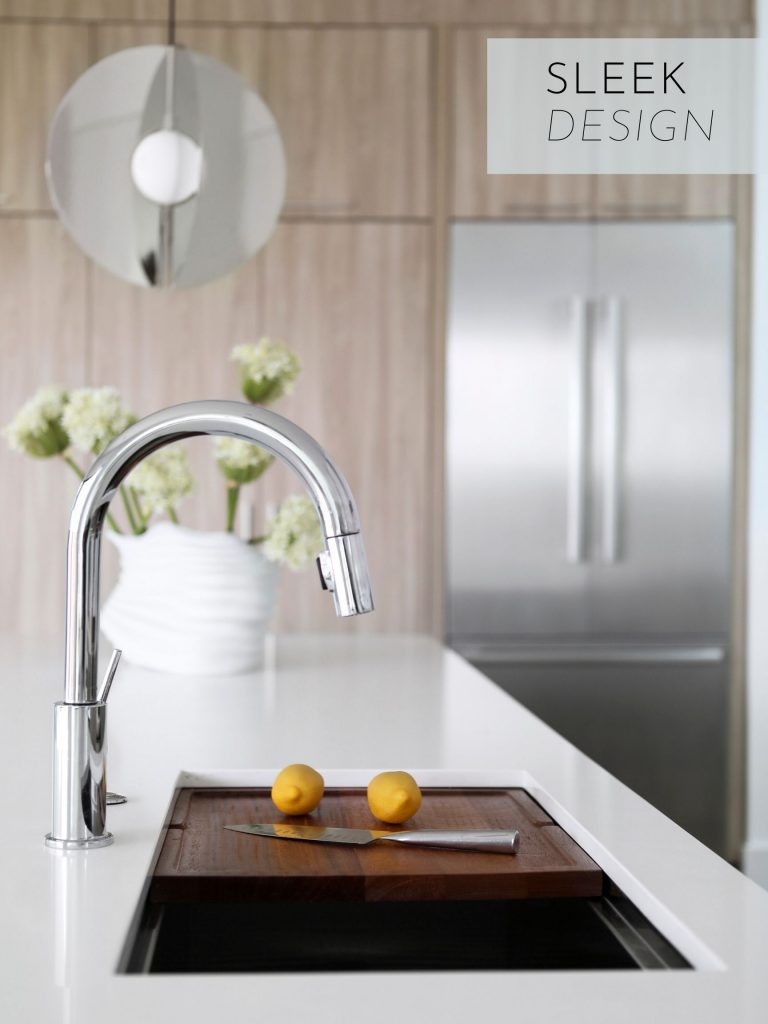 1. TOP OF THE LINE APPLIANCES 
A beautiful kitchen is just that without the best appliances to ensure its functionality as well. With a modern look, the appliances should often seamlessly blend into the design. Sometimes this calls for a refrigeration cabinet that can be concealed by the cabinetry, This offers a customized, high-end finish while providing continuity throughout the space. 
Additionally, for those of us looking at alternative cooking method appliances, a combi-oven could be a viable option. Combination ovens include various features like baking, broiling, poaching, roasting, steaming, and warming and can prove useful for those who are often preparing food for bigger families or hosting events. 
Some of our tried and true kitchen appliances are included below. Not only are they built to last, but they are crafted beautifully to further enhance the refined aesthetic.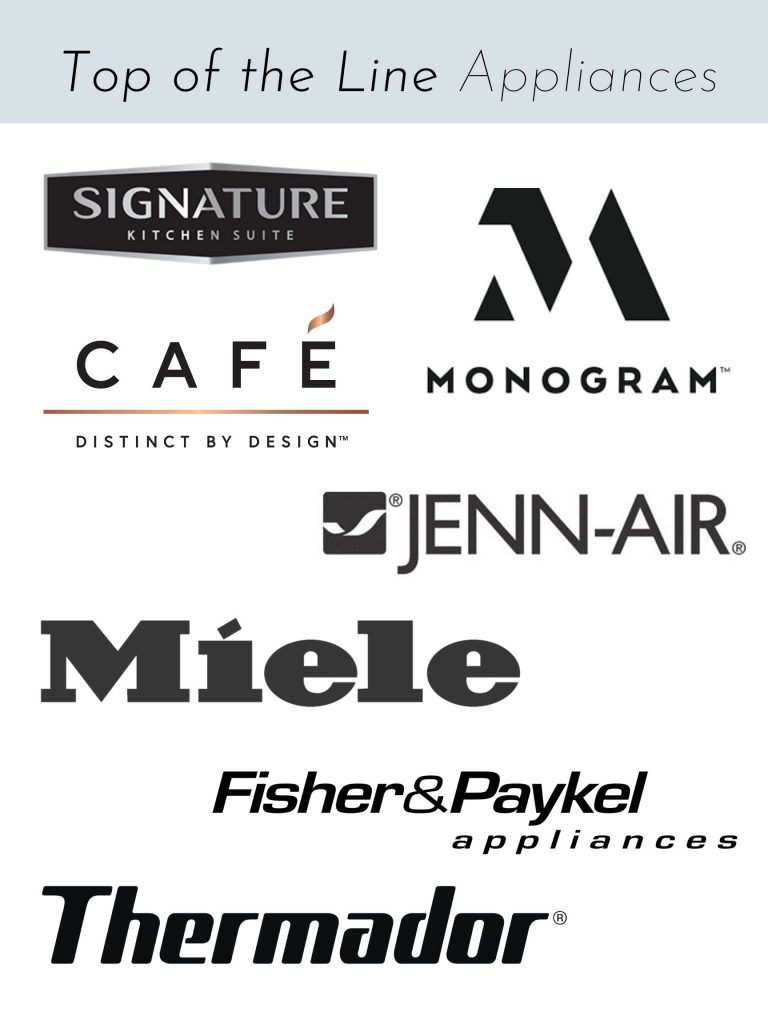 2. STATEMENT HOODS 
Another appliance every modern kitchen can not be without is a chef-style hood range. This deserves its very own category due to the fact that the hood range serves as a major design accent within our sleek designs. From a minimalistic cylinder to a bold, custom, mirrored option, each hood should serve as a masterful design piece, elevating the space. To ensure that the thoughtfully chosen statement hood is highlighted further, we recommend integrating open upper cabinets like floating shelves or just removing the cabinets to allow for negative space surrounding the hood. This spotlights the oversized, decorative hood without forcing too many elements to compete for attention.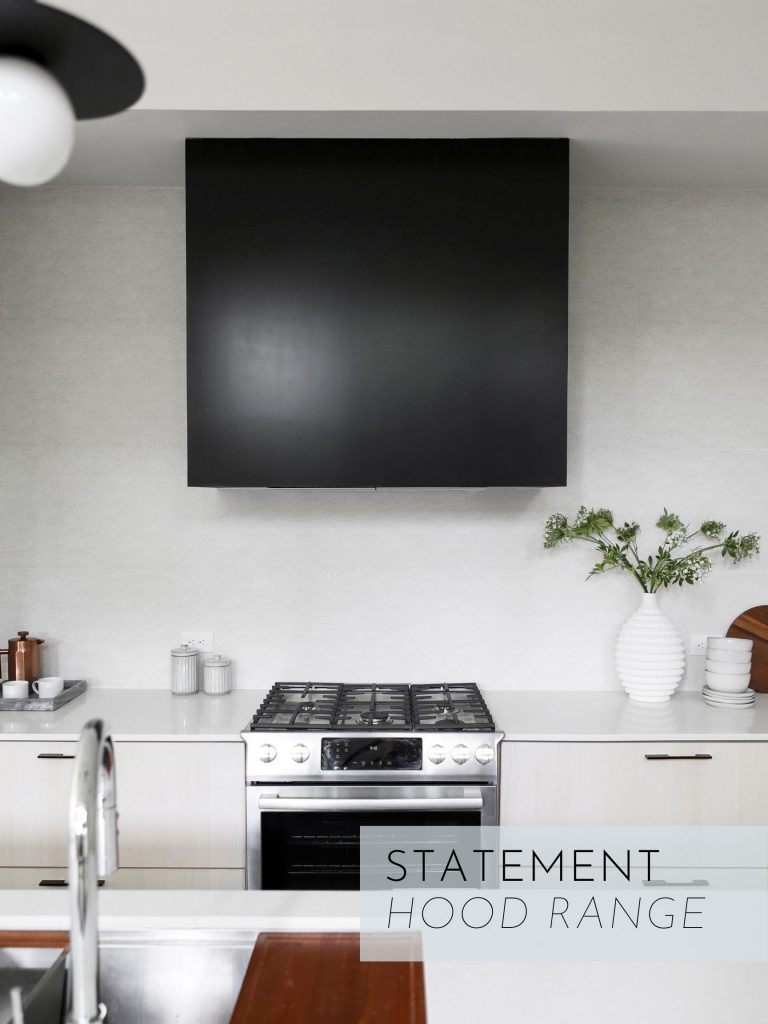 3. OVERSIZED ISLANDS
While this may seem a bit on the nose, an oversized island is integral to this coveted look. As we mentioned earlier, the kitchen has transformed into a multi-use space, thus significant surface area is key. The oversized island must include plenty of space for cooking and lounging, not to mention being finished with an eye-catching countertop (which we will get to momentarily). Regardless of whether you choose a glossy or matte counter, it should be surrounded by bountiful, comfortable seating. For more insights on how to choose the ideal countertop stools, check out our previous blog. 
And while an oversized island presents an unmistakable sense of luxury, there is something even more deluxe. Two islands, of course! A double island is a sumptuous feature that will offer a jaw-dropping statement in addition to more space for congregating within the heart of your home.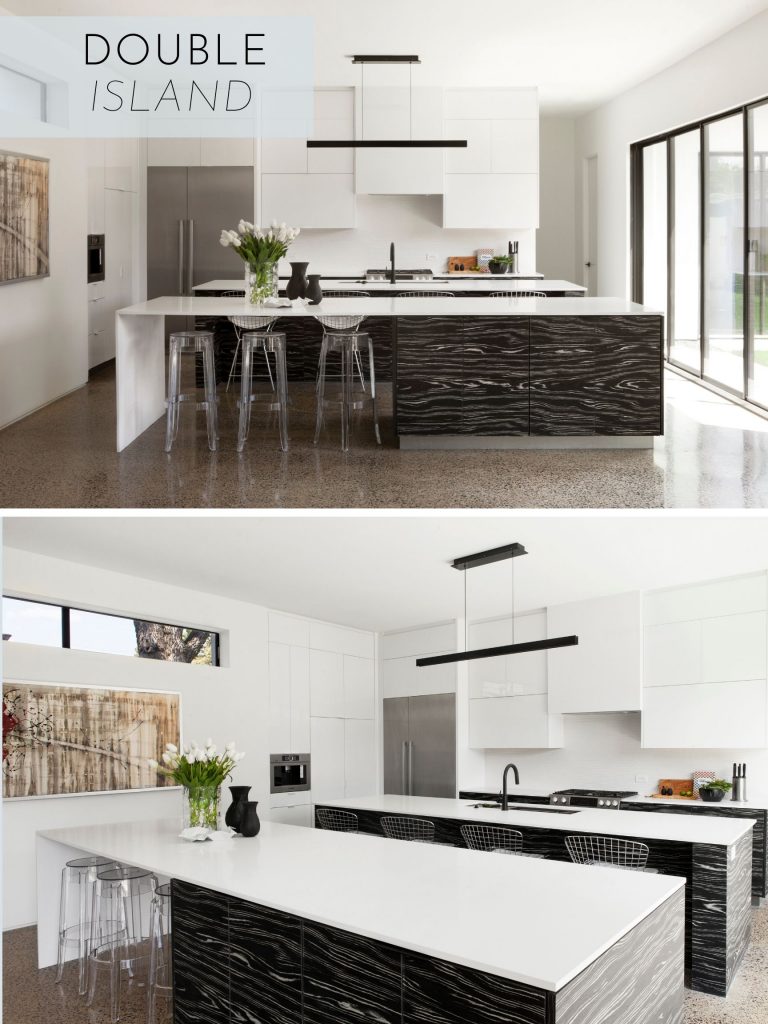 4. AUXILIARY SPACES
One of the most important factors of modern design is the efficient usage of space. Some of the mindful kitchen storage elements that we're partial toward include towers of cabinetry that draw the eyes upward, concealed pantries (hidden storage is always a good thing!), passthrough and butlers pantries. The latter is an ideal option as it can house most everyday small appliances while keeping the kitchen refined and tidy.
Well-considered storage is one of the great benefits of modern kitchens as it forces us to eliminate the clutter. For detailed tips on how to maintain your kitchen organizational system, explore our NEAT Method partner highlight.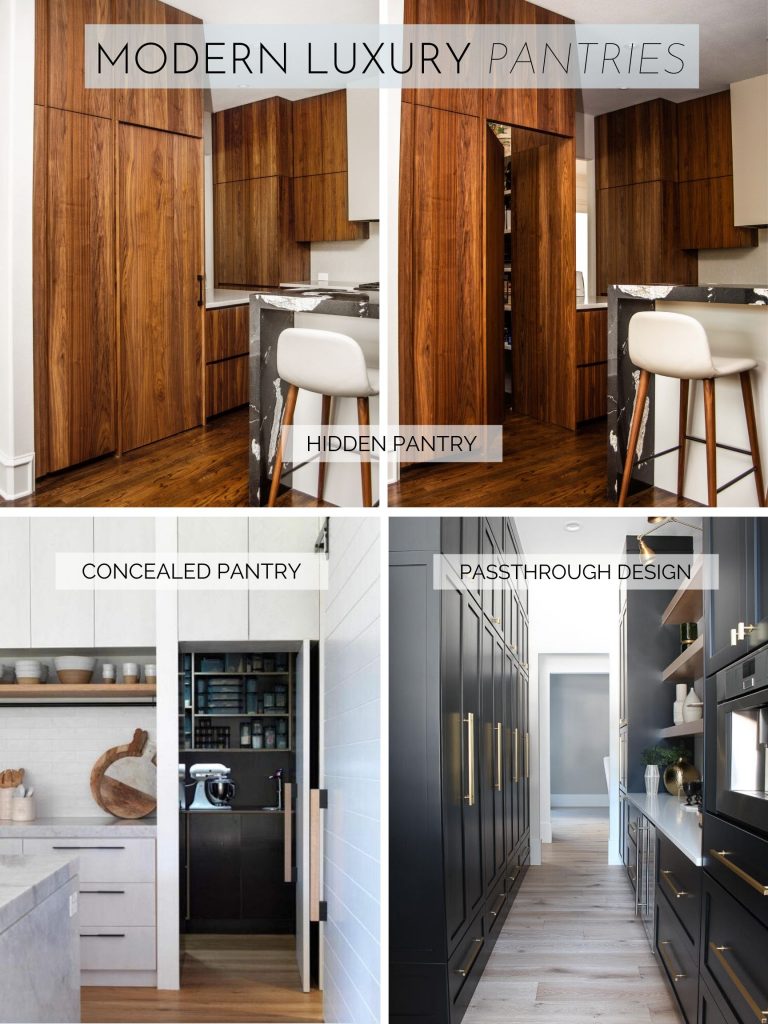 5. BOLD FINISHES
Often the most exciting pieces to harnessing the luxury, modern style, are the finishes. Our BEYOND id team is dedicated to sourcing these features for a tailored design. This includes stunning countertops with mesmerizing veining and bold, intricate finishes on the cabinetry like an exotic wood veneer to complete the space. Every decision made during this process is critical to accomplishing this sought-after style.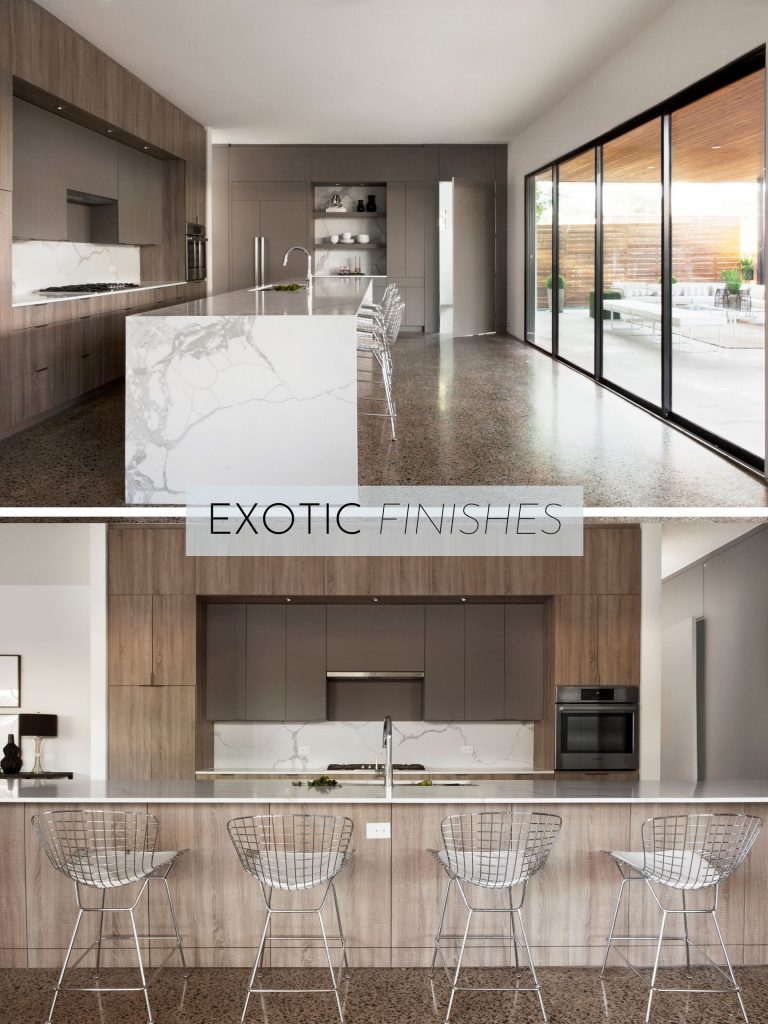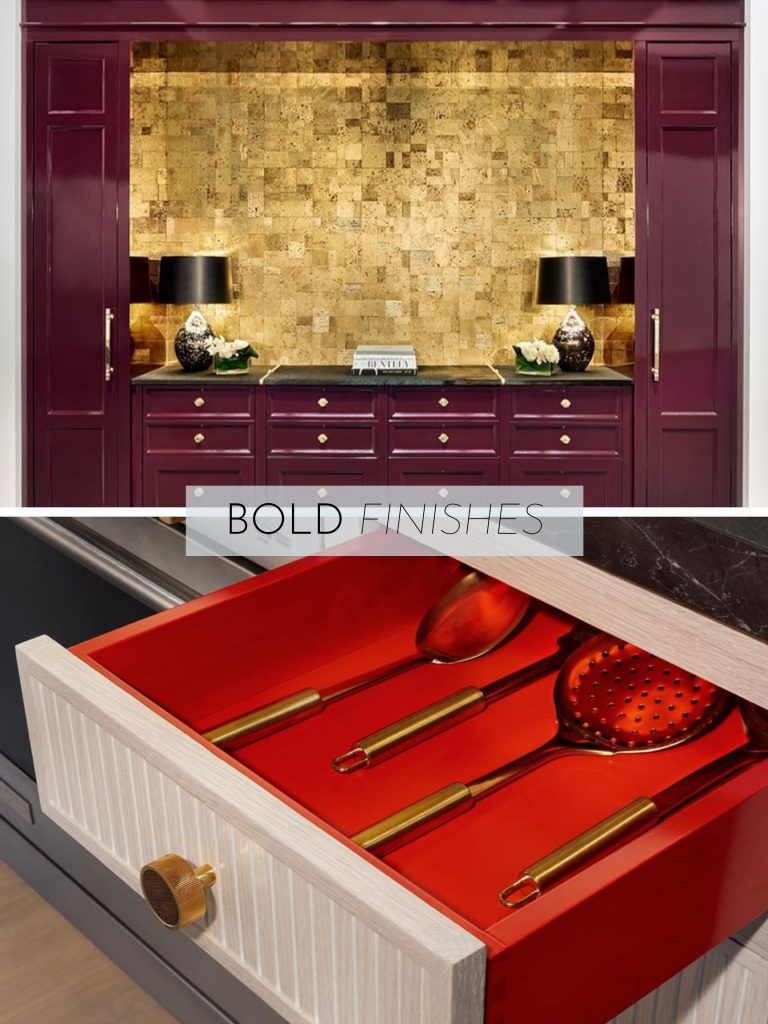 If you're anything like us, keeping a watchful eye on what's "new and now" and mindfully anticipating soon-to-be trends is a favorite pastime. Being in touch with the latest and greatest from our interior design industry is naturally a prerequisite for our BEYOND id team, but it's safe to say that trend spotting is more so a passion point with our crew. So we've taken to the blog to share some of our latest insights on one of the most popular design trends sweeping the interiors and exteriors of homes everywhere.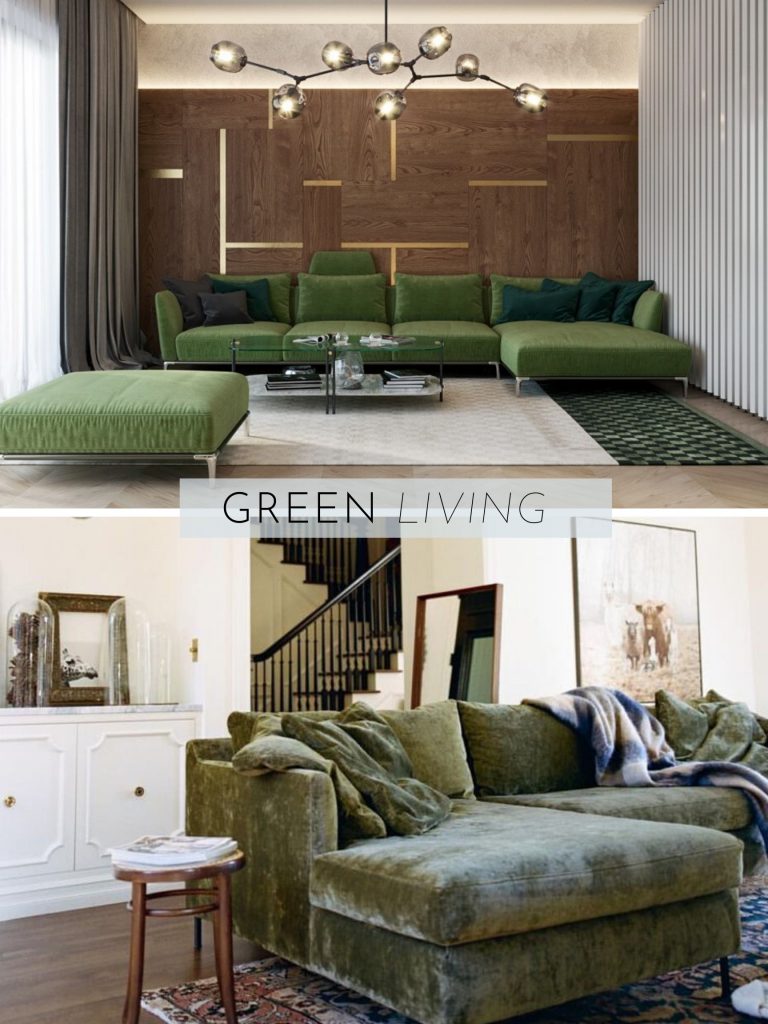 Sometimes soothing, sometimes bold, and sometimes it may leave you feeling oh so green with envy. Not to worry friends, we won't be delving into tales of the green-eyed monster but we will be talking all things green design!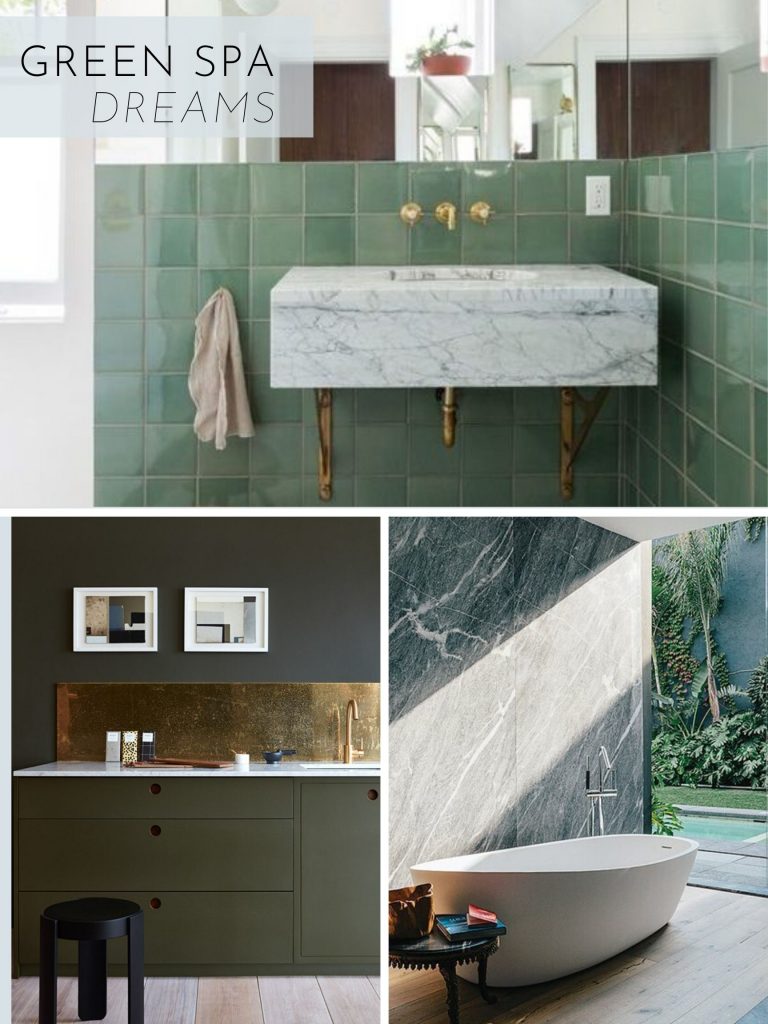 Over the last four years, neutral spaces have quickly made room for bolder moments and one of the most desired choices can be found on your color wheel, between blue and yellow. This gender-neutral hue feels approachable to many as it offers an array of beautiful tones across the spectrum and can exude several sentiments. From a sumptuous, rich emerald, to the millennial pink's fun cousin, neo-mint, to the sophisticated yet comforting sage green that feels reminiscent of a soothing Nancy Meyer set design, we promise you, there is a shade for everyone.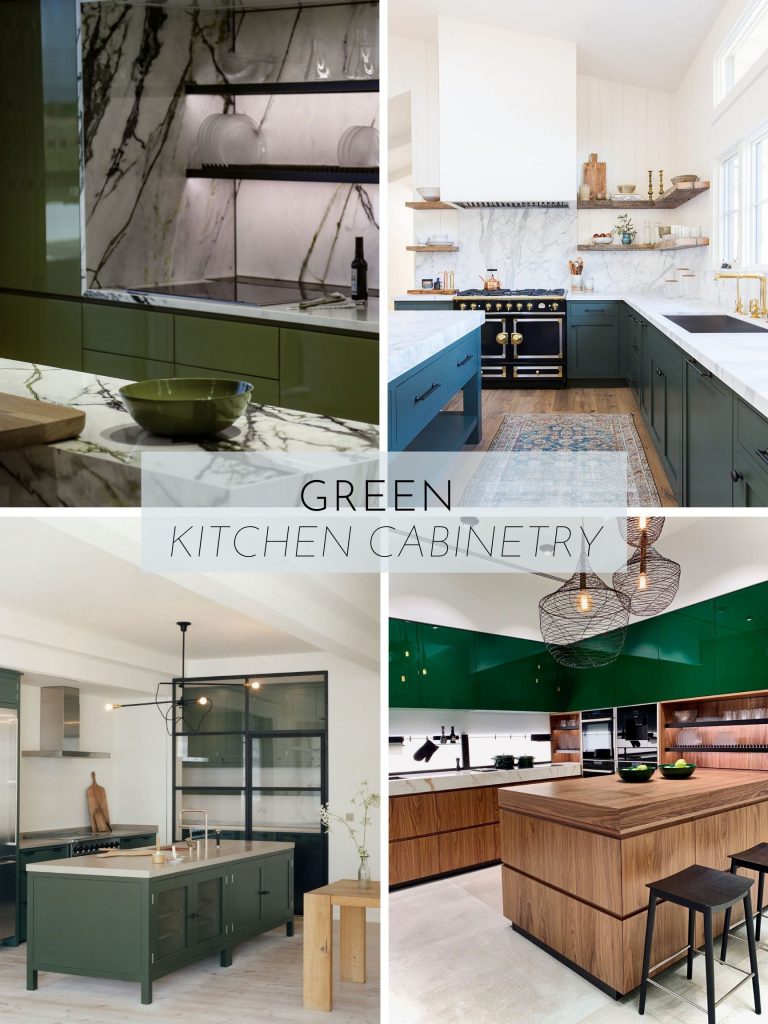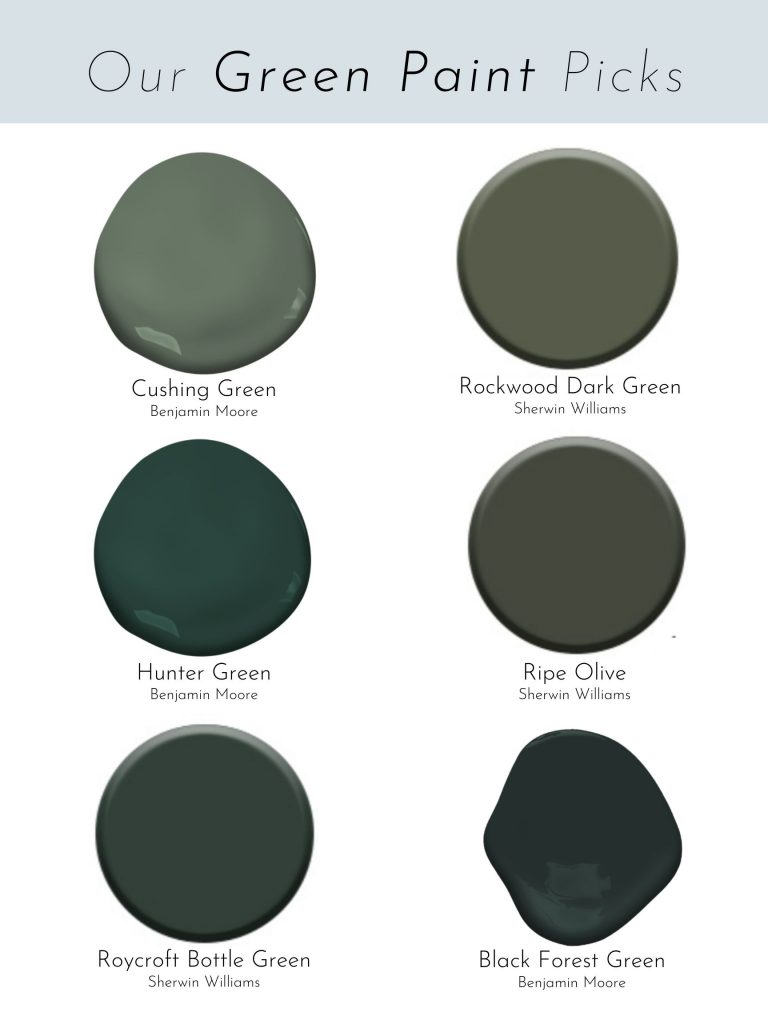 While the most evident place you'll find this color taking over is in the paint department. It's likely you've already spotted our viridescent friend splashed across kitchen cabinetry, interior walls, and homes' exteriors. A more unexpected and especially breathtaking form highlighting this tint is marble.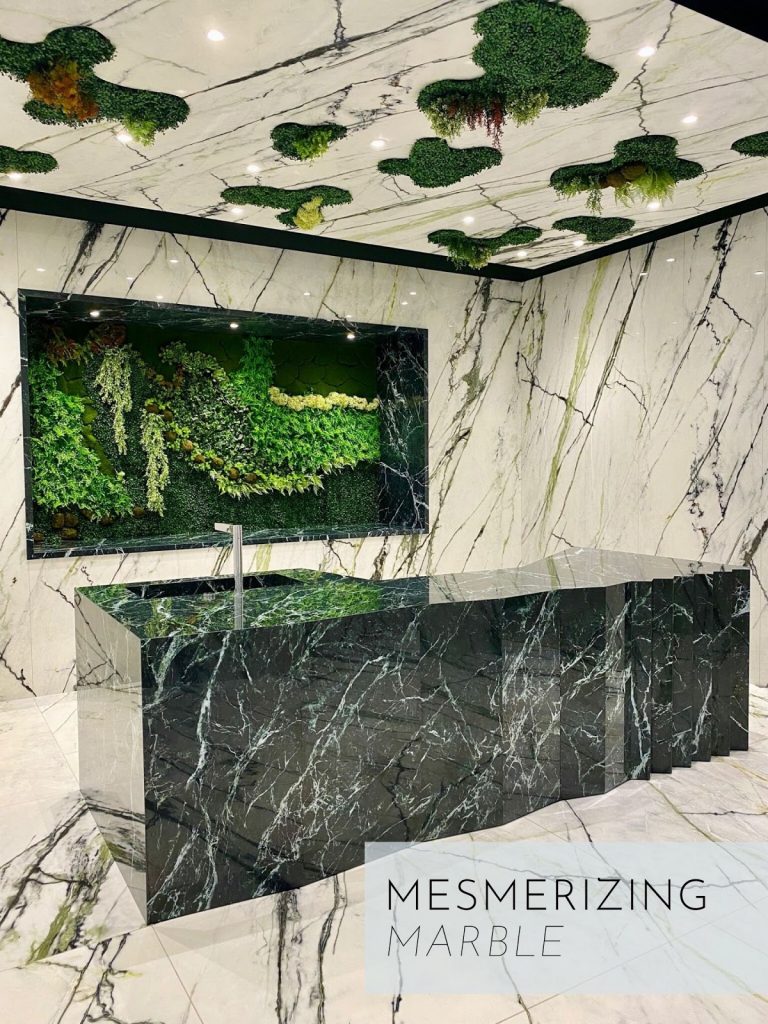 Our BEYOND id head designer had the esteemed pleasure of touring the home facilities of Porcelanosa. We shared a travel highlight on our design adventures in Spain earlier this year and invite you to explore further. One of our biggest obsessions from this industry experience was visiting the mesmerizing green marble and tile selection. These exquisite surfaces not only come in 2020's hottest hues, but can create one of a kind statements on countertops, backsplashes and flooring to name a few.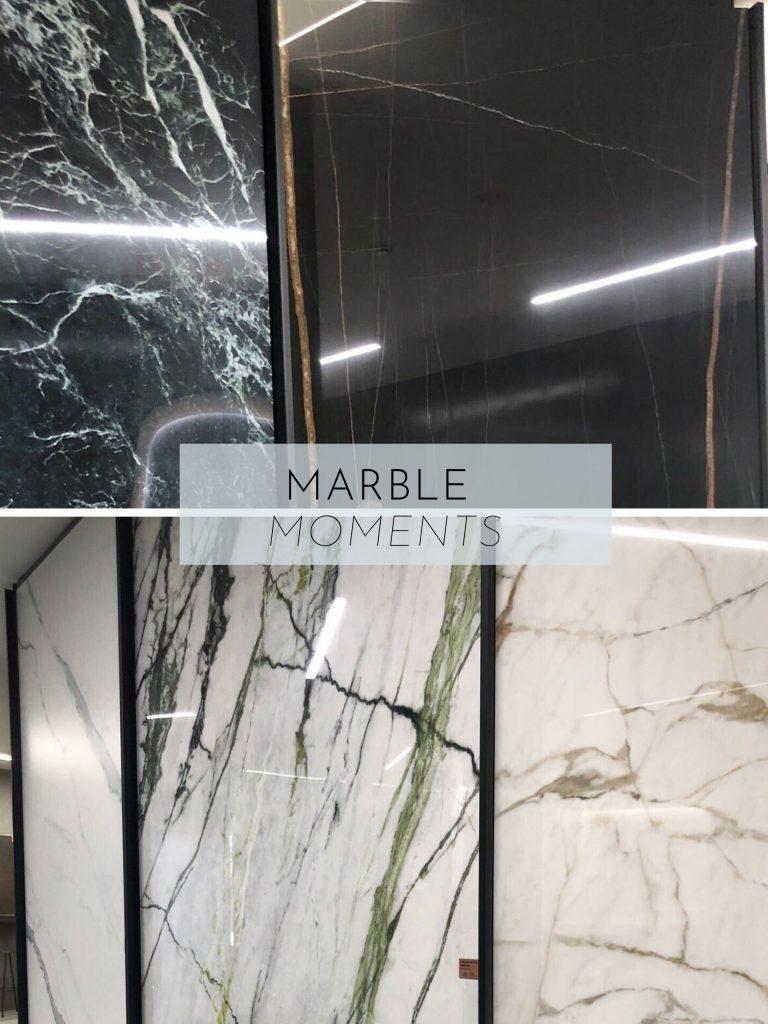 Paint and installing marble seem too great of a commitment for integrating green into your home, so there's countless beautiful furnishings and decor that require less effort and offer an immediate hint of green to your existing spaces. You can dive head first into this trend with a forest, green velvet couch, a marble-inspired outdoor coffee table, or an olive dresser. Perhaps dip your toes with a bright coffee table book, sculptural blue-green vase, or an earthenware, green porcelain candle. The choice is yours!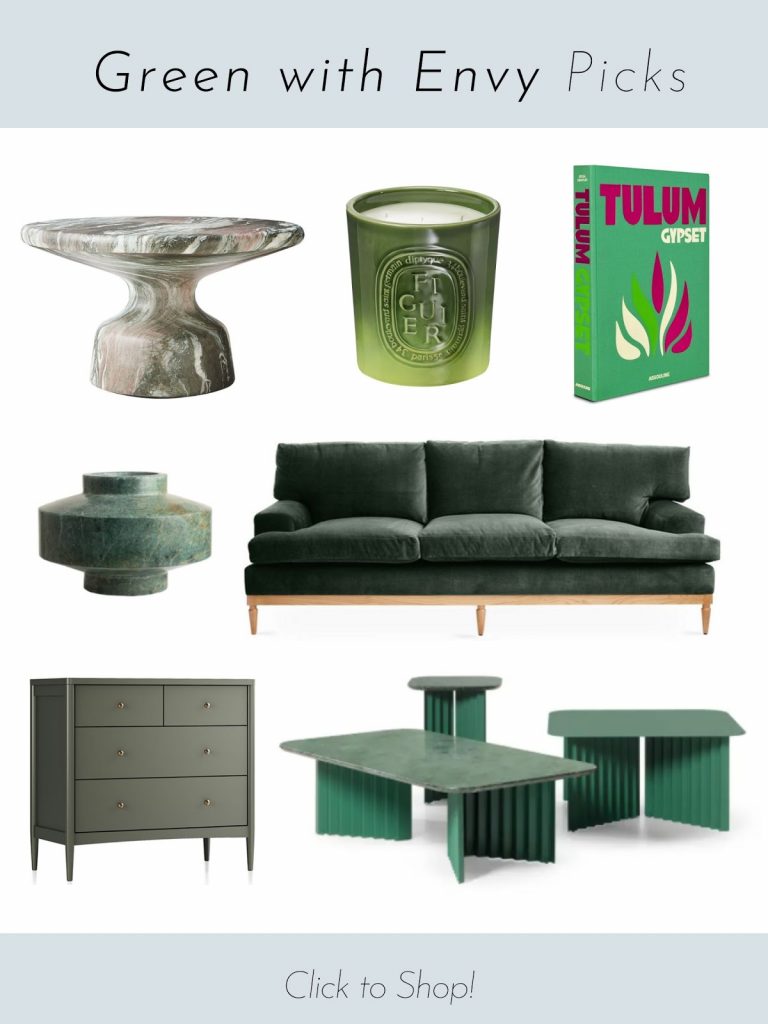 As we officially enter the summer season, it's inevitably time for us to head outside for pool lounging and al fresco dining.  As pleasant as this scene sounds, this may also be the moment when you re-examine those great outdoor living spaces. With the clock ticking, the weather warming and more people opting to stay at home, there's never been a better time to assess the exteriors and ask if you're utilizing the open-air space to its fullest potential. 
We are no strangers to boosting the backyard scenes of our clients and this summer is no different. We spoke with some of the most esteemed exterior designers in our professional network who we consider subject matter experts and whose serene outdoor spaces align with the BEYOND id aesthetic. Read on to learn more from our team and our industry colleagues on the latest trends and necessities, in addition to sought-after advice for creating inspired, impactful visions. 
WHAT ARE SOME COMMON MISSING ELEMENTS IN OUTDOOR SPACES? 
Summer months are paired with a blazing sun. Whether you're mindful of the health hazards that come with sun exposure, or perhaps sensitive to the heat, an outdoor space loses most of its functionality when the hot, direct sunlight hits. 
The need for shade is a common starting point for Randy Angell of Randy Angell Designs. 
Randy Angell and his team know the major improvement covered outdoors can bring to their clients' lifestyle so they can not only utilize the yard on temperate days but utilize it as often as they'd like, regardless of the sun's rays. They opt for custom-style structures, built with metal in a sleek, modern finish like these louvered roof options. We are big fans as these maintain continuity of a refined space from the interior to the exterior. 
One of our favorite heat-fighting discoveries is MistAmerica, an outdoor cooling system that can refresh and chill patios by 30 degrees. We connected with the co-founders Jonathan and Valeri Marsh to share their insights, "When the weather turns hot, we think we have to stay locked inside in the cool AC rather than reclaiming and enjoying our beautiful outdoor spaces we love so much. Our mist systems give you back your backyard."
We are particularly fans of their system as it can be integrated into shade structures, custom painted to match exterior colors, or installed during the remodeling phase for maximal discretion. 
WHAT ELEVATED EXTERIOR TRENDS ARE YOU SEEING THIS SEASON?
While we are witnessing patios and lawns transitioning to cleaner, simple open spaces, the trends follow suit. Jason Osterberger of Jason Osterberger Designs has clients opting for lounging club chairs over table seating to enhance the relaxing element. Greenery has also shifted from a lush, english-country garden to a more tailored, ordered landscape. Jason also notes that flexible lawn spaces are highly desirable as the areas serve for special occasions and events.
Randy Angell specializes in outdoor water designs like swimming pools, spas, water features, not to mention the intricate water systems to support these elements. He is receiving many requests for simple shaped pools. Rectangle and L-shaped pool designs maintain a clean canvas that won't compete for attention, but rather can be layered upon with different elements of greenery and outdoor furniture. 
"It's all about relaxation, you need to have this exhale when you see the pool and the space," says Randy.
More popular than ever are the fire features. While fireplaces can create an excellent statement, they can occasionally feel stagnant and ornamental. Firepits offer families and guests a space to surround and participate in creative activities together, s'mores anyone?
WHAT IS THE BIGGEST PIECE OF ADVICE YOU SHARE WITH CLIENTS?
"Build what you want, what is going to improve your life." 
While Randy understands that resale value is a priority, he wants clients to remember that this investment is for them. With that in mind, invest in the things that will most serve you rather than replicating a page torn from your monthly design magazine subscription. When exterior designers collaborate with interior designers like our BEYOND id team, every material is chosen to create high-end customizations that read fluidly from the home's interiors to the outdoor spaces. Our teams are dedicated to work together to create moments and spaces for you, with your unique vision and needs in mind. 
"I never want a space to be a rubber stamp of someone else's yard, I want each space associated with my client." 
Jason shares that prior to diving into the logistics of budgeting on a new project, he prefers that clients share their wildest exterior design dreams so as not to feel their creativity is hindered by budgets. At that point, he and his team can take his client's inspiration to create grounded in the realities yet something masterful and visionary.
Flipping through the glossy pages of those favorite interior magazines, you've likely found yourself pausing more often on images displaying Raw Modern designs. The two page spread probably features an incredible living space surrounded by concrete walls, softened with wood elements and cushy, off-white furniture. It's easy to question whether this space is modern or rustic, but we're here to set the record straight on all things Raw Modern.
If this is your first time exploring the BEYOND id blog, we invite you to refer to our most recent design spotlight, highlighting the very trendy Grandmillennial style sweeping the homes of twenty and thirty-somethings across the nation. Our team gives an inside look at one of the latest coveted design trends, offers our know-how to spot the style and impress all your design-obsessed friends, in addition to expert advice on how to get the look at home.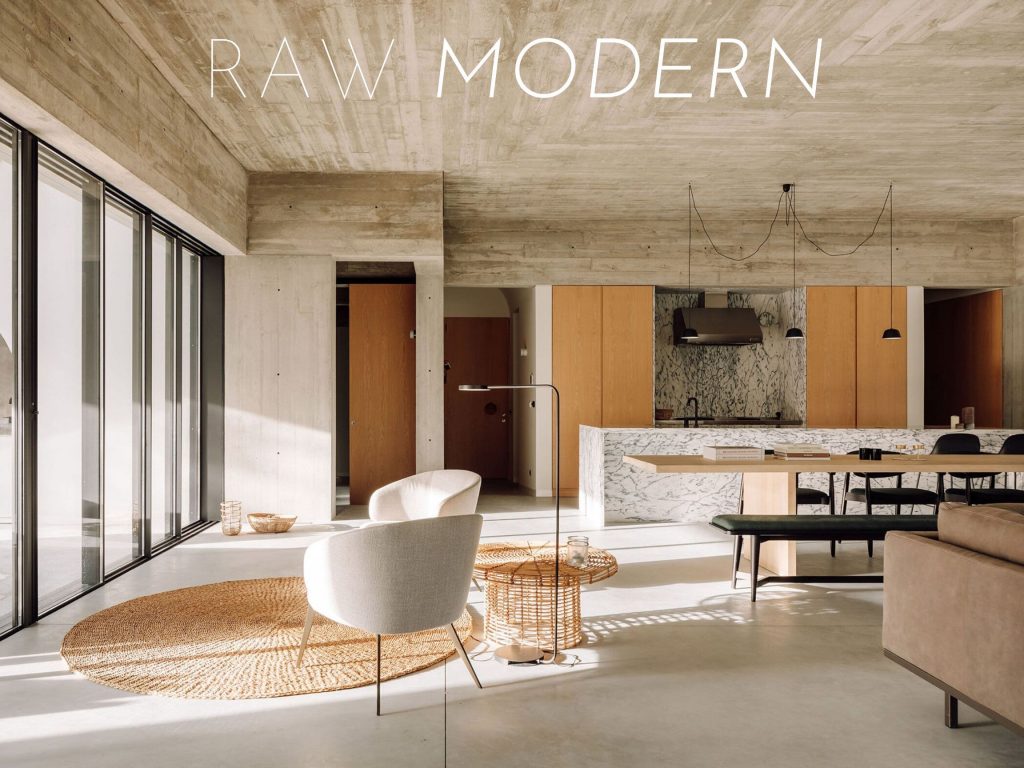 WHAT IS RAW MODERN
Though the style is recognized by a handful of names (Organic Modern, Raw and Refined, Contemporary Organic), the Raw Modern aesthetic is much more clear. This design harmoniously combines the sleek, architectural features of a refined, modern space with the buttery, warmth of unfinished, natural textures. It is the strategic juxtaposition of these two elements that makes the look so identifiable and adored. 
For all of you HGTV fans, this style may seem familiar given that the beloved host and designer, Leanne Ford, is undoubtedly the Raw Modern guru. Her zen-spaces are almost always designed with a contemporary-organic eye, from whitewashed, natural tones as backdrops, to the intentional balance of sculptural furniture and element-inspired decor.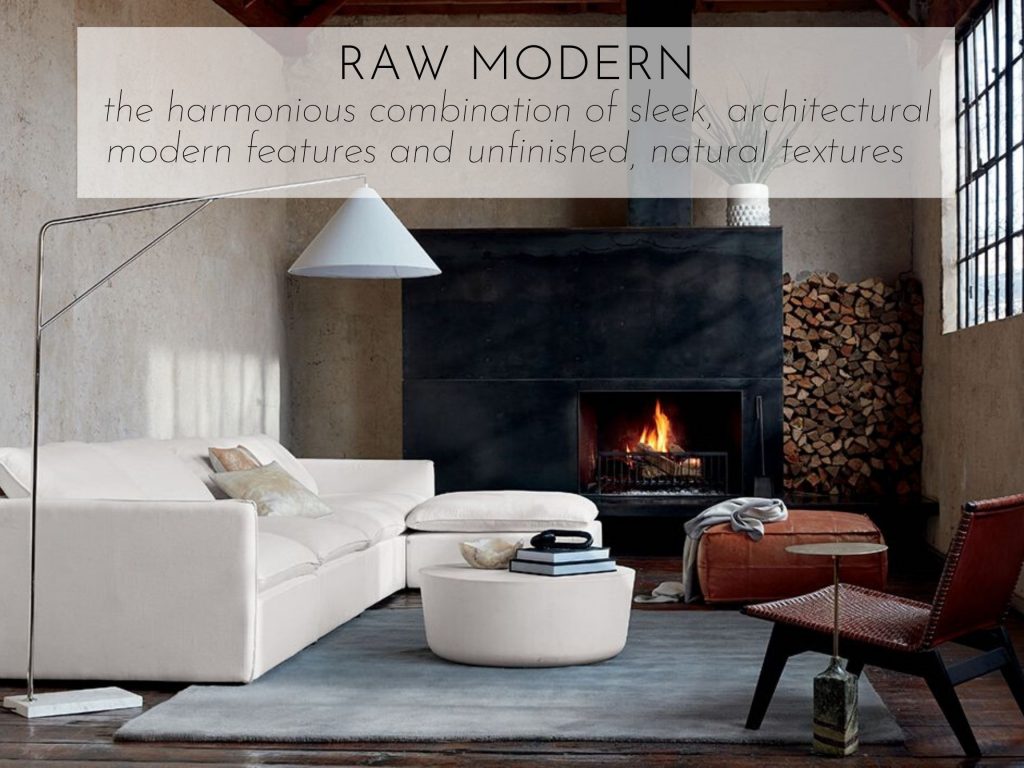 HOW TO GET THE RAW MODERN LOOK
The key to creating raw and refined space relies heavily upon a designer's ability to carefully balance two main elements. While we wish Leanne Ford was at the front door waiting to transform our space as she does on-screen, our BEYOND id team is the next best thing, offering crucial learnings to designing this laid-back, yet edgy look!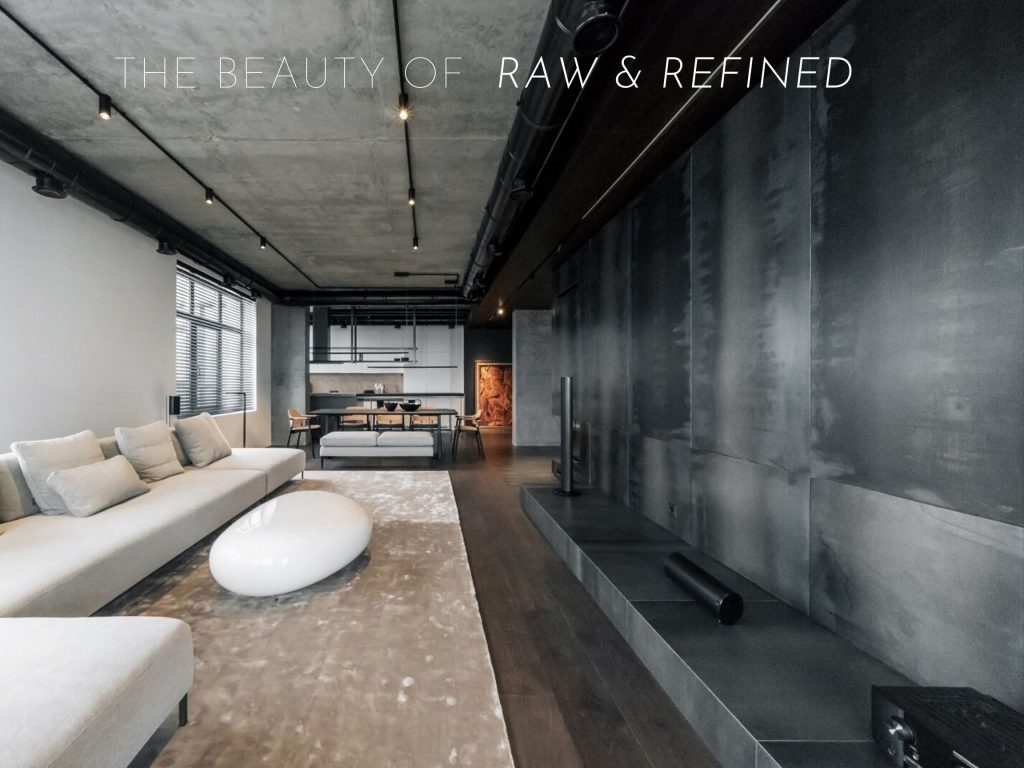 Begin with a well-defined, sleek outline and work from there. A Raw Modern home will often include exposed beams, moments of concrete, and soft, neutral tones. Sculptural features may entail high-gloss marble or polished surfaces. The visual balance is found by integrating additional natural textiles, like rattan, jute, leather, cowhide, washed-cottons, clay and more. Fresh greenery and plants also offer a lot of warmth to these spaces.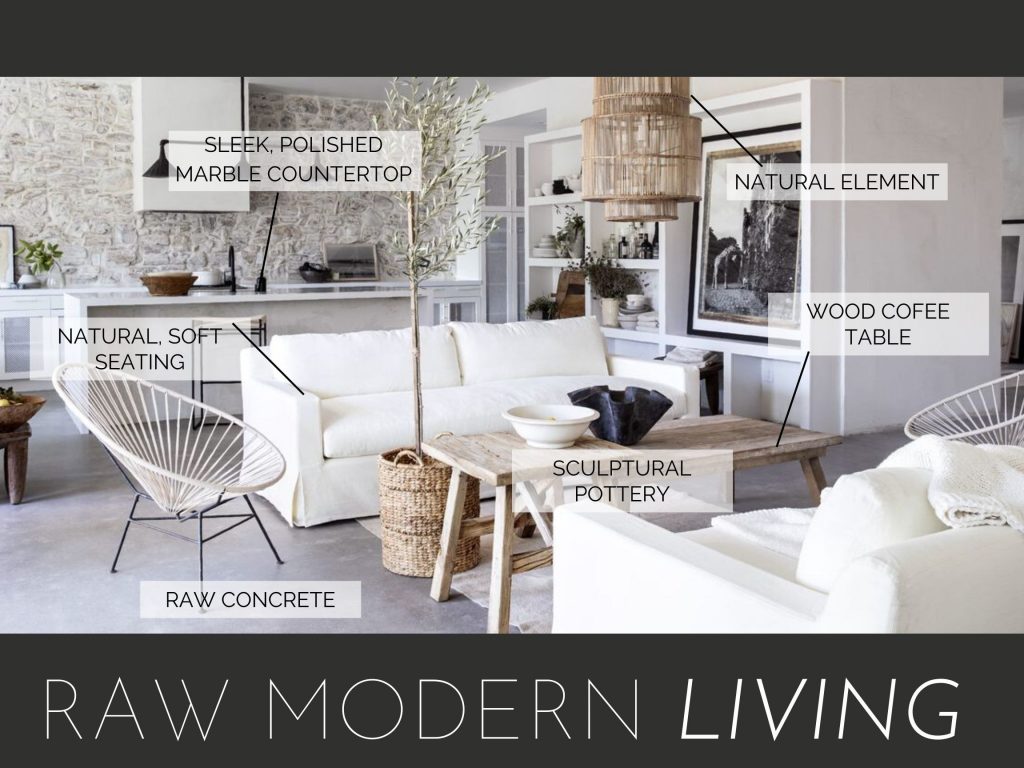 You may already have a cozy, natural sectional that is ready to have its surroundings transformed. From there, you can balance the softness of your seating area with a bold, concrete coffee table or perhaps sculptural, glossy end tables. Layer the space with natural elements like a jute rug, then a sleek floor lamp, add a bright fiddle fig tree and continue the pattern. This method can be used on a larger scale to create permanent, architectural moments that represent the Raw Modern look or even on a micro-scale to create smaller moments in a room with crystals, stones, stacks of wood or pottery. Whatever the space may be our BEYOND id team can curate a well-balanced, masterful moment that could even turn the head of the Raw Modern guru. 
This week has opened our eyes and strengthened our commitment to work harder to support change within our design community. It's no secret that our industry has significant work to do in amplifying diverse creatives. As a person of color, our fierce founder rooted the BEYOND id company in strong values, with diversity as a leading priority. It is those values and the events that have transpired these last weeks that has compelled us to take on bolder actions to ensure our priorities are felt at home, across the industry and beyond. 
Diversity within the art and design world is not a fleeting effort that will be left behind when the trend dies down on social media. While we are supporting grassroots organizations pushing this movement forward, we are also taking action and making a promise to utilize our platform and network to elevate talented black design peers. Here are just 10 of the many black design creatives across the states who you should know, collaborate with and refer! These creators span some of the major thought leaders of our industry, delivering masterful work and significant contributions every day.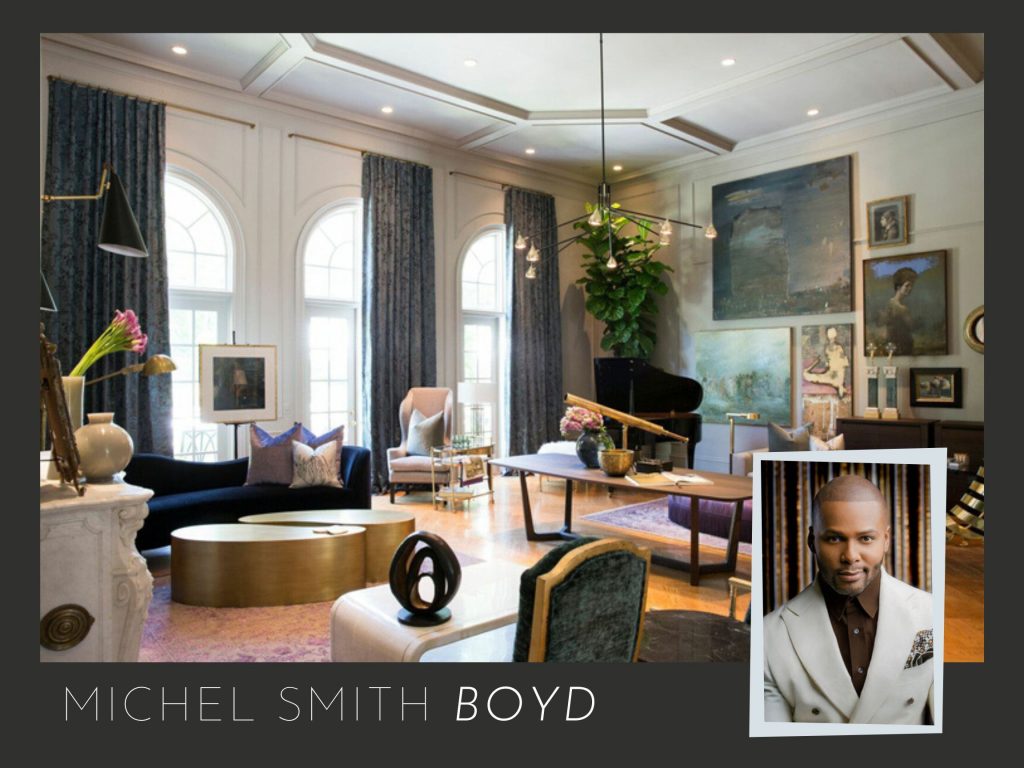 Michel Smith Boyd's residential and commercial projects go hand-in-hand with aspirational luxury. Michel commands the design space of Atlanta with his tailored yet intriguing vision. His spaces are statement-making, layered with rich textiles and sumptuous materials for the signature MSB look.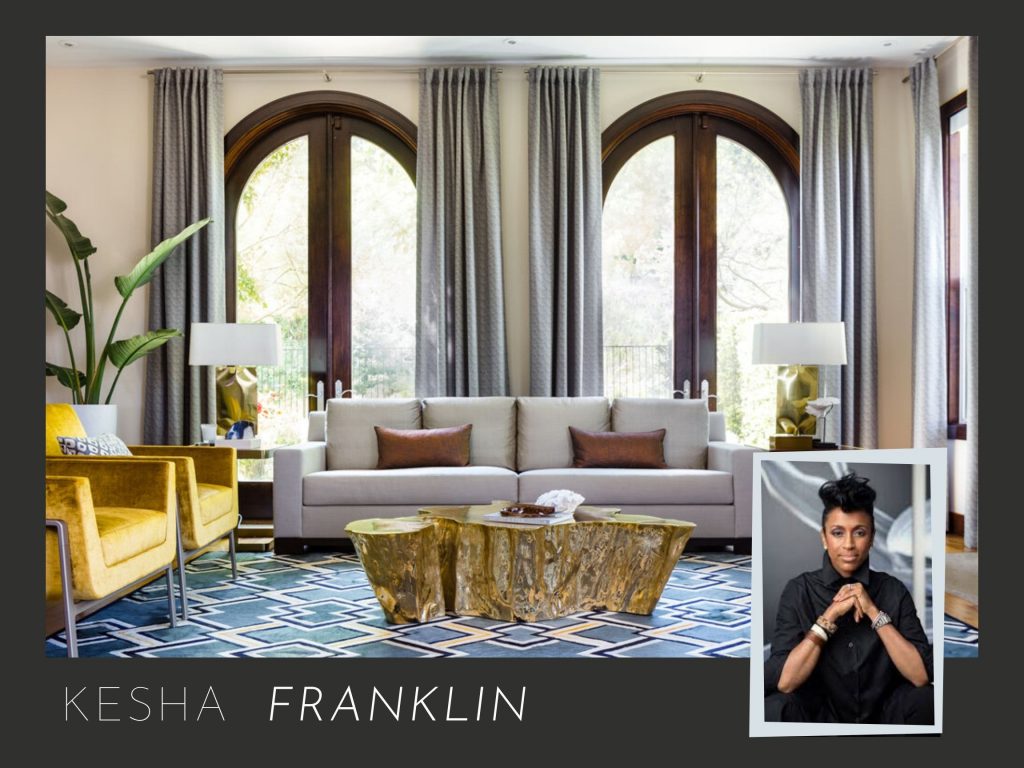 With a striking aesthetic, it's not difficult to know a Kesha Franklin designed space when you see one. Her boutique design firm, Halden Interiors, specializes in residential and corporate event production. With a background in high-fashion, Kesha's attention to detail and sensibility for luxury translates through her impeccable design projects.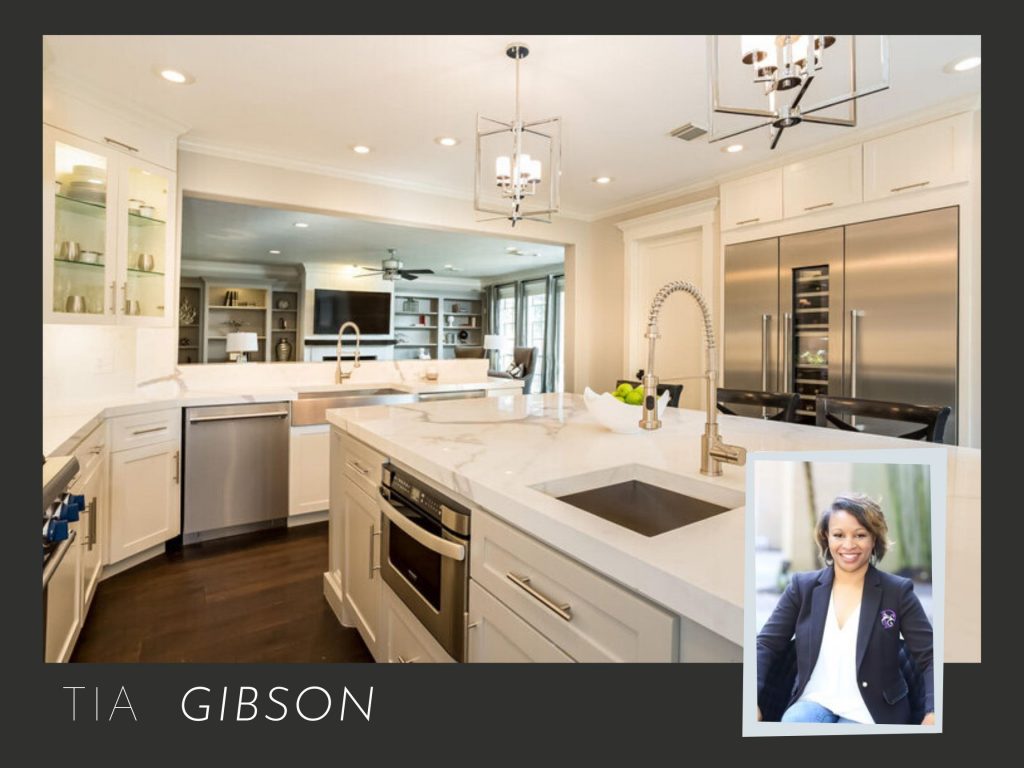 A fellow Texan, Tia Gibson, is the force behind the boutique firm, D. Claire Designs based in Houston. Her expertise revolves around major home renovations from flooring to furnishings. Tia holds a unique eye for finding the synergy between functionality and bold, modern style.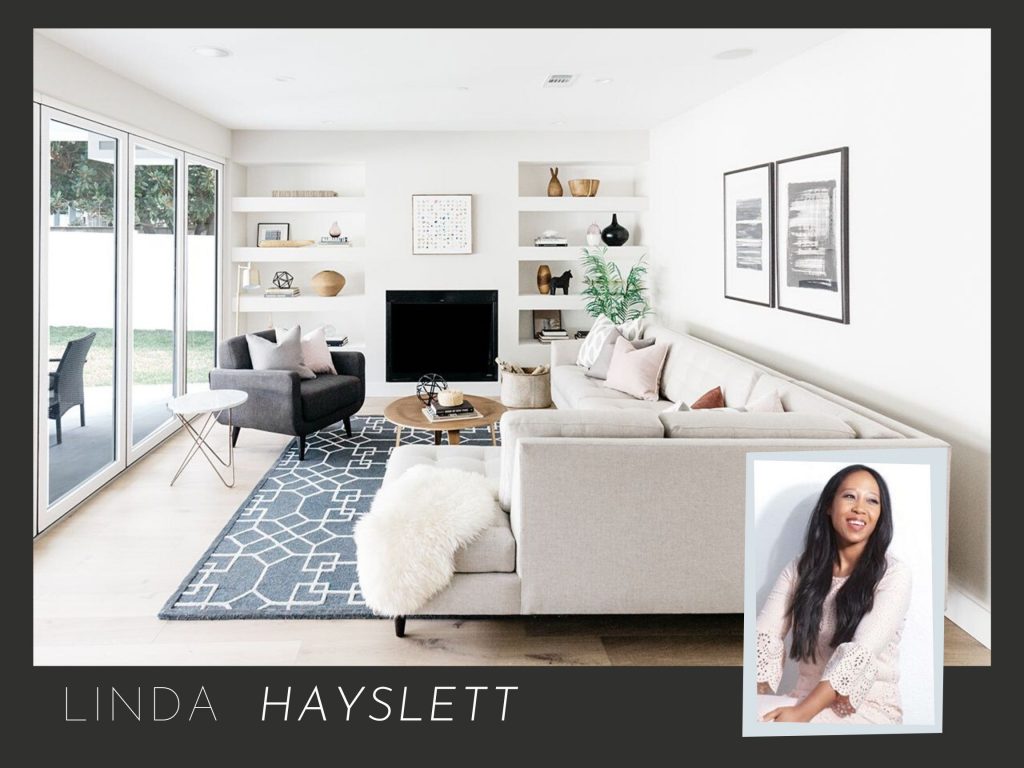 With a background in fashion and entertainment, Linda Hayslett combines her knowledge and eclectic vibe to design beautiful spaces for her Los Angeles clientele. Linda is known for the warm, California-inspired atmosphere she creates, however, even more intriguing is her astute ability to raise property values higher than expected through her strategic design choices, who would ever say no to that?!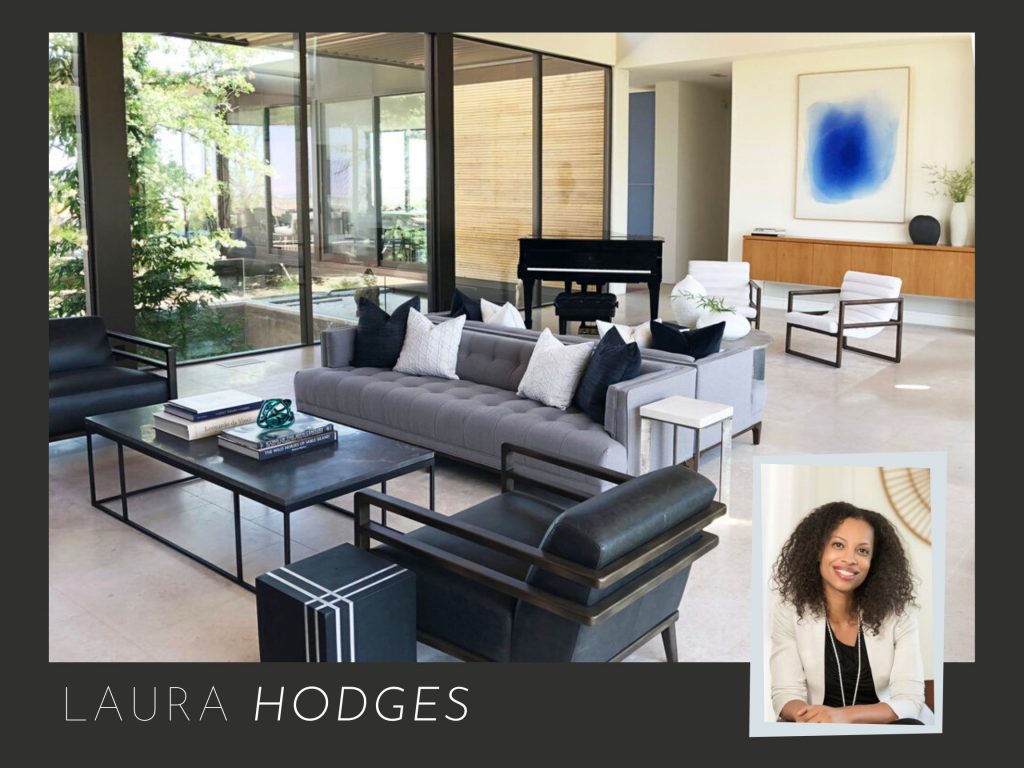 Timeless and tailored, Laura Hodges' classic aesthetic is curated with a twist by incorporating one-of-a-kind, antique elements. Laura has taken her love of design one step further, creating the Domain shop featuring mindfully-sourced home decor. You can find her studio and shop servicing the Baltimore and Washington D.C. area.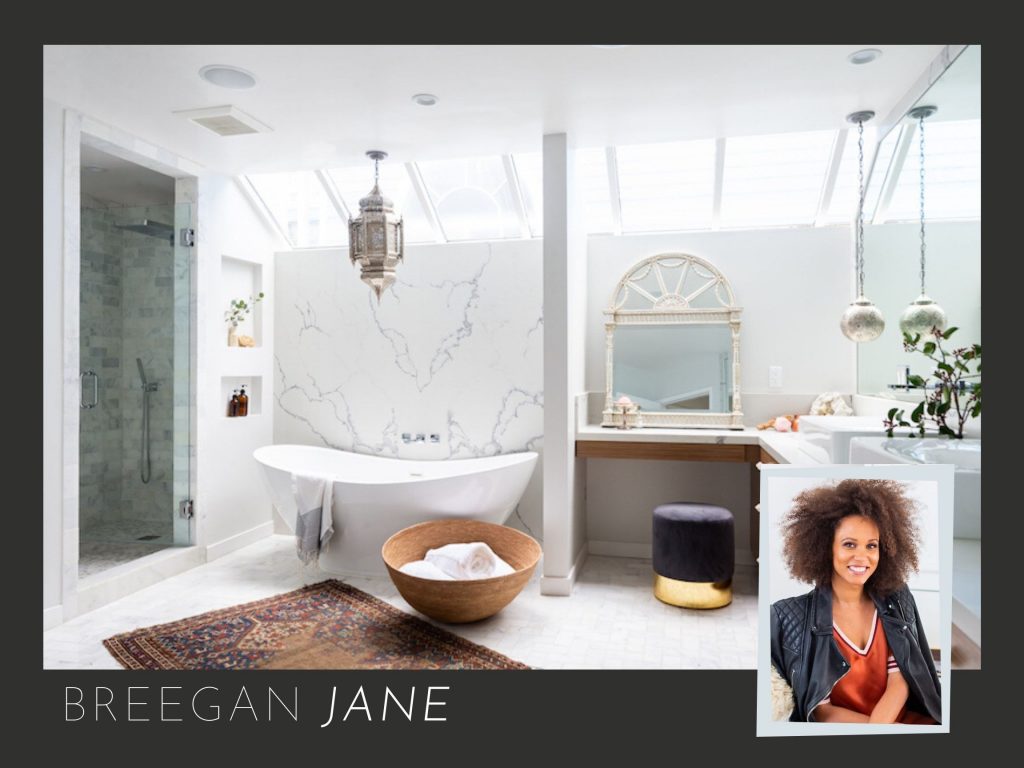 From custom designing music studios to managing international real estate projects, Breegan's experience offers a wide breadth and depth uniquely her own. A prominent interior designer in Los Angeles, Breegan Jane boasts a celebrity clientele and luxury design to match.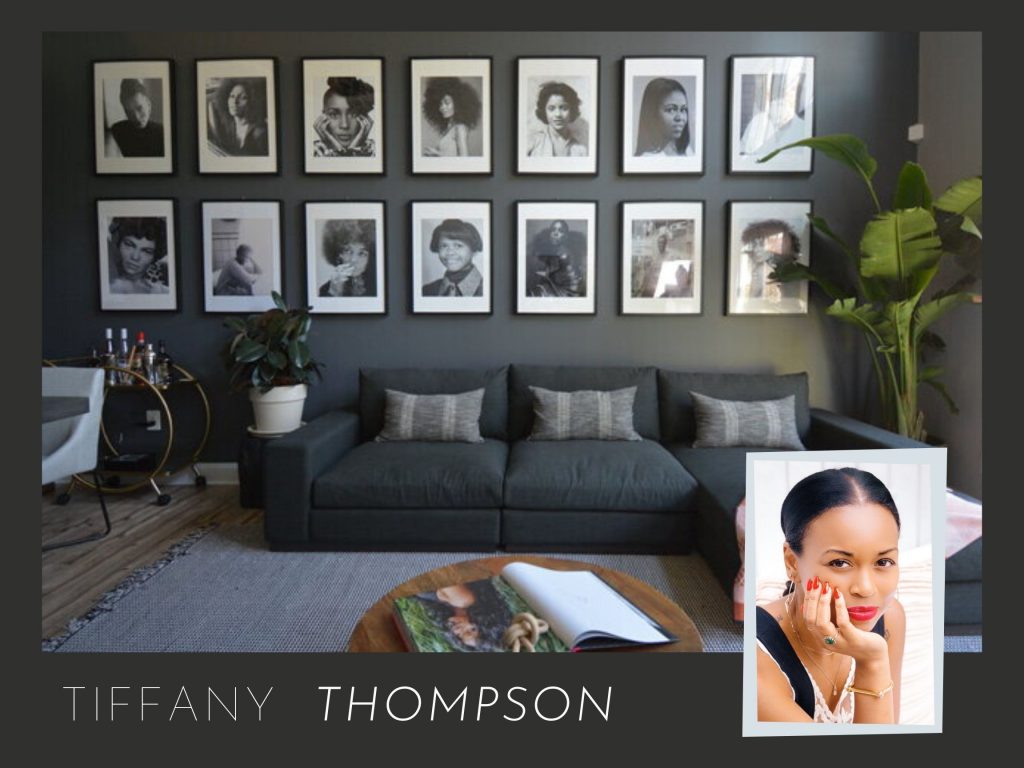 The passion behind New York-based Duett Interiors, Tiffany Thompson, created a firm that puts emotion into design. Focused on residential projects and home decor, Tiffany Thompson's passion is creating safe and beautiful spaces.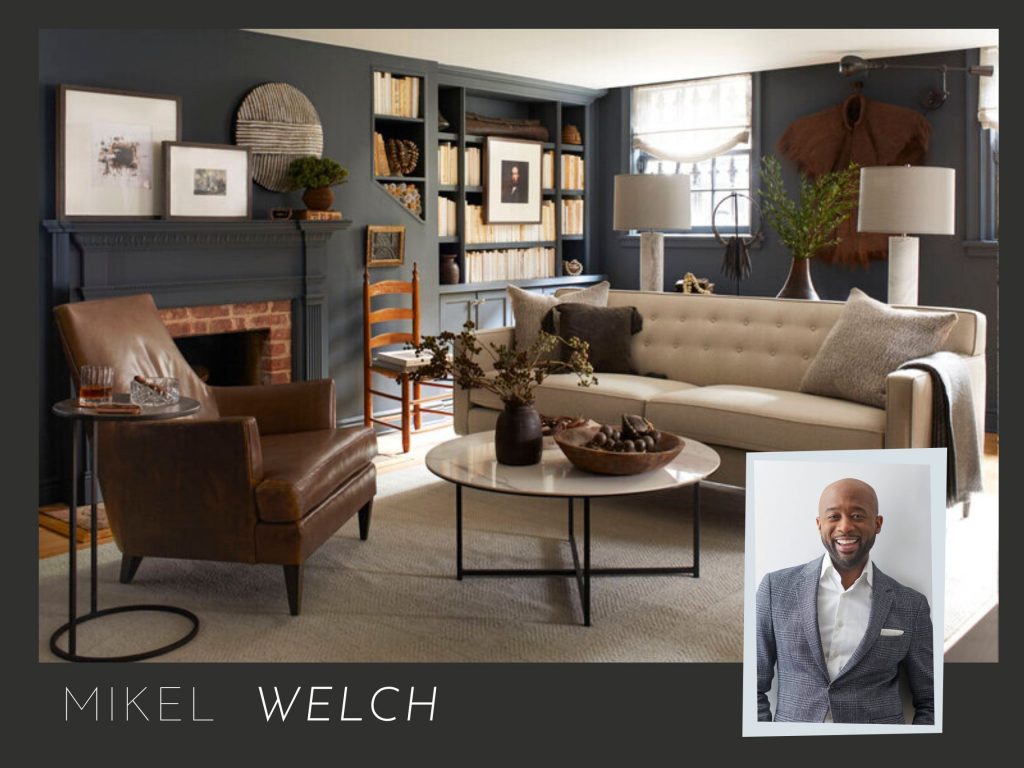 With his New York based interior design business, Mikel Welch, creates sophisticated residential spaces with a luxury filter. His creations tell a story with inviting color palettes and layers of textures throughout. Mikel also creates lavish VIP greenrooms for prominent celebrities and influential leaders. We won't name drop, but wow, we are impressed!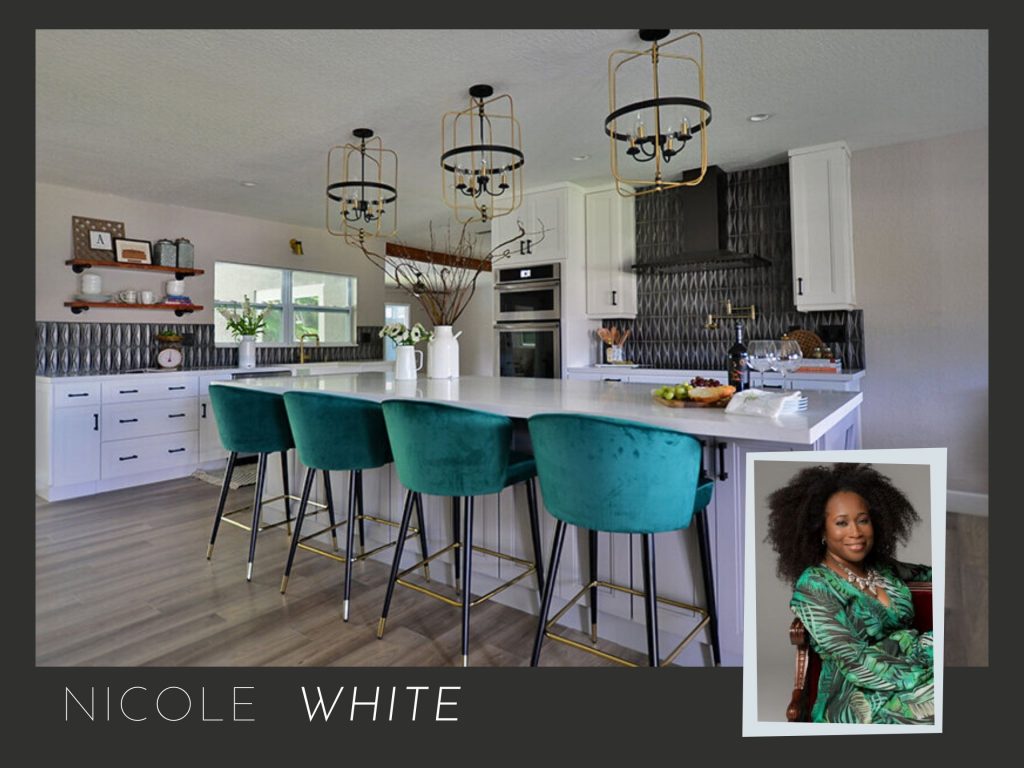 A Jamaican native, Nicole White has established herself as South Florida's premier interior designer. Inspired by the bright backdrop of her Caribbean roots, Nicole transforms her clients spaces by infusing bold color and texture-enhanced designs.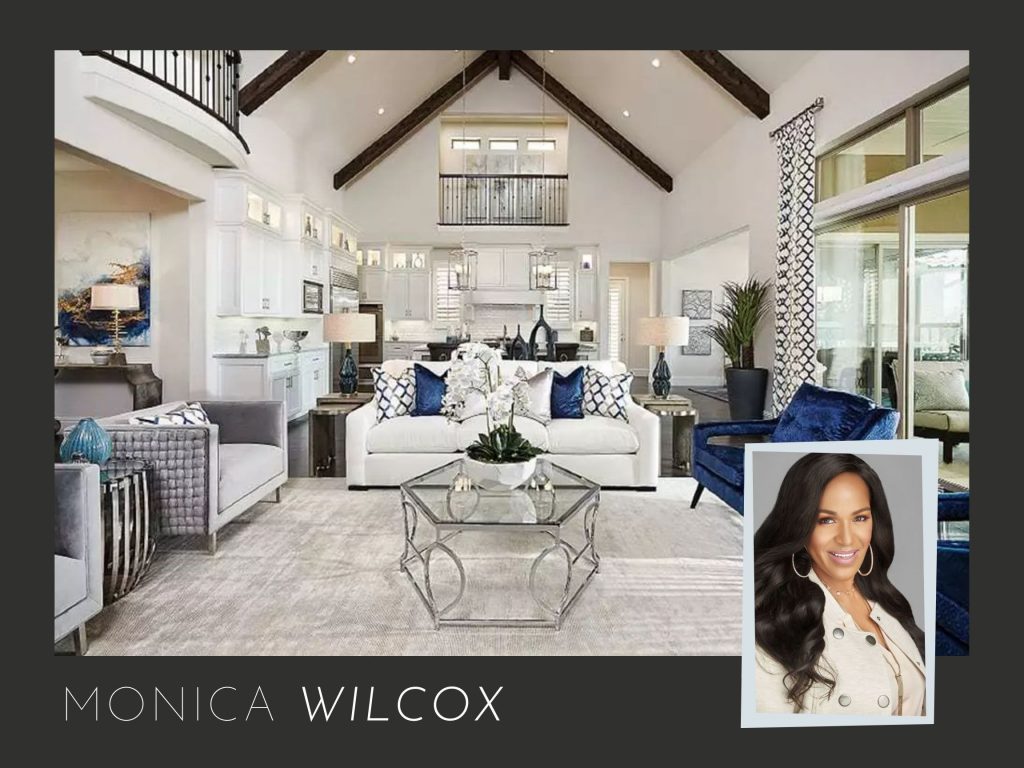 Monica's expertise spans the gamut, including residential, commercial, corporate campuses, and retail destination interior design. Based in Dallas (Hi, neighbor!) Monica's vision and particular attention to detail is highly-sought after in the DFW area and far beyond.
May is a momentous time in our design community. Recognizing the 57th annual World Interiors Day (IFI WID), officially celebrated on May 23rd, the architectural and interior design world gathers across the globe to celebrate the power of this creative art.
WHAT IS WORLD INTERIORS DAY (IFI WID) 
Founded in Copenhagen, Denmark in 1963, WID is a long-time movement established by the International Federation of Interior Architects/Designers. IFI WID gathers its community of professionals, students and enthusiasts, in order to recognize the influence of interior design and to participate in a number of activities inspired by the annual theme.
With past themes like Design Without Borders, Interior Design for Generations, Finding the New and Old, the themes can take on any mission, and insight a myriad of activities.

2020 has called for the theme, 'Nexus Interiors,' aiming to understand the breath of interior design and identify how we are harnessing design and architecture to create positive impact beyond our spaces and amongst the broader environment. Participants are invited to join in "exploring the connection of the built environment to shaping relationships and human behavior."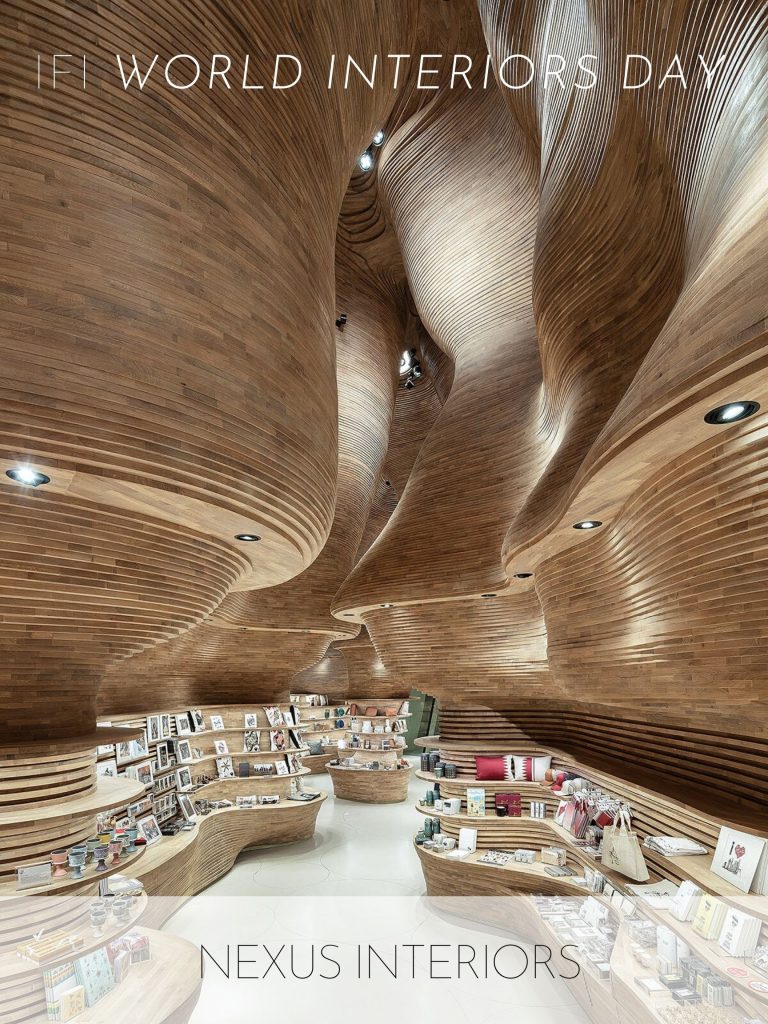 WHAT THIS DAY MEANS TO BEYOND ID 
It's no secret that BEYOND id loves a good theme and IFI WID's is no exception. This yearly ritual offers our team a chance to reflect on how interior design has brought a positive impact on our lives and the lives of our clients, not to mention we are able take part in some of the latest activities with our design friends, students, hobbyists and general community. 
Our leading lady, Juliana Oliveira, shared how interior design has become an integral part of her life, in addition to how she has seen design reach past an immediate space and shape human beings' lives. 
"I really enjoy solving client challenges both aesthetically and logically. But once I realized how much impact I could have in my client's homes, businesses, and subsequently their lives - I was hooked!"
That is the unyielding power of design, it can transform a room along with the human being sitting there. Juliana finds it particularly special, how mindful, clean and sustainable design can offer major mind and body wellness perks. The right design serves as a mood improver, in addition to a better quality of life for its residents. This exceptional quality is what keeps the BEYOND id team inspired to push our designs and create a space that goes further than what meets the eye. 
HOW TO CELEBRATE
We invite you and yours to join our BEYOND id team in exploring the ties between networks, relationships, and individuals through the lens of 'Nexus Interiors.'  While we keep to the confines of our home, we are discovering new ways to pay homage to the incredible practice that has inspired our lives and to value how interiors play a critical role in our connections. Take a walk to actively appreciate your neighborhood digs, show support and love to the designers in your life, surf the web for videos, podcasts and lectures from creatives online sharing their craft, and even involve little ones to curate creative experiences and boost their awareness of their mindfully designed surroundings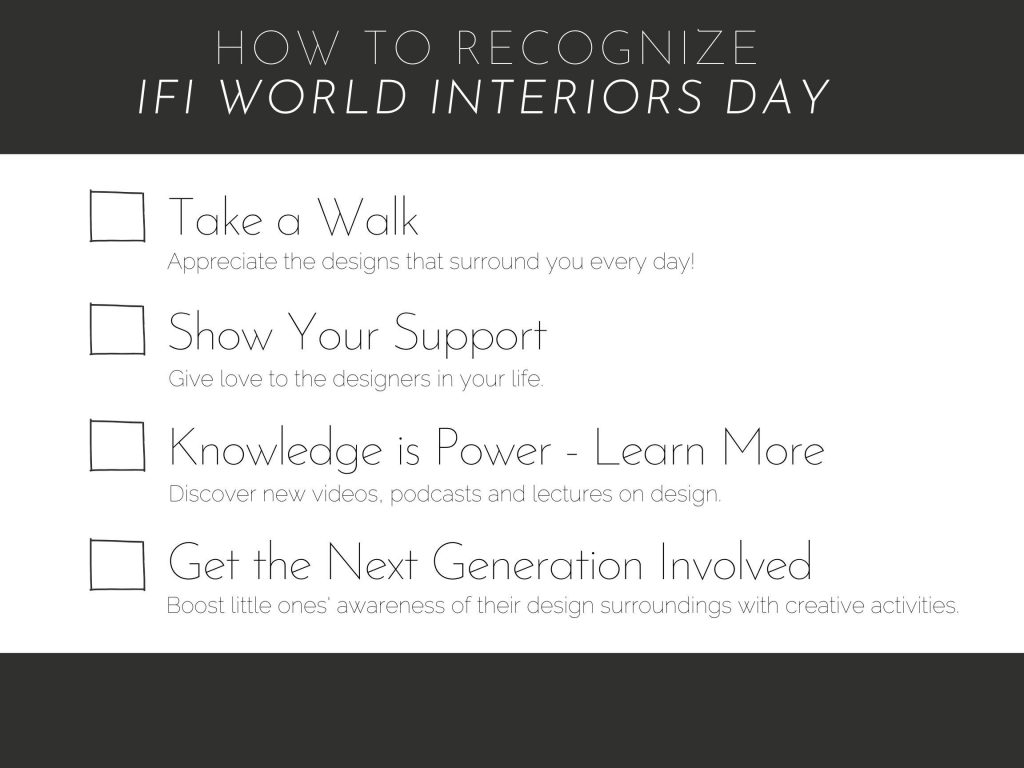 . 
Our founder, Juliana, was working primarily out of her Uptown Dallas office and when her home office became redundant, she gave it to her son for a more spacious bedroom. Given the latest circumstances, she and the rest of our Beyond ID team have adjusted from the comforts of the McKinney Avenue studio to create make-shift spaces and reevaluate our existing home offices. However, with full houses and minimal spare space, this can be a daunting challenge.
Juliana, recently spoke with one of our go-to home design sites, Houzz, offering a peek into her new work-from-home (WFH) set-up and expert advice to make the most of any at-home workspace. Like so many, we're striving to create a serene, functional area to complete our work efficiently and without obstructing our plugged-off hours. Read on to discover how to refresh and curate a work-friendly home, with a home office or without.
1. Establish a Designated Area for Work:
Carving out a place for work items, devices and chargers to live is priority number one. 
It can be as simple as a decorative basket, a chair in your living room or a corner of your dining table, but ensure that the dedicated place is reserved for you to keep your work materials. Avoiding the urge to spread work gear across your home will make it easier to plug off during the end of a work day and reduce anxiety when trying to lounge at home in your free time. Not to mention your designated area will minimize clutter (check out our resident professional organizer's WFH mobile storage tips).
2. Utilize the Space You Have:
If WFH feels more long-term, then it may be time to go beyond your dining table set-up and establish a permanent office space. This may look like repurposing a coat closet, hallway or built-in bookshelf to include a desk and storage. As many of us are passing the time with home organization projects and purging, we are quickly gaining free closet space. This is a quick fix without giving-up any highly coveted real estate in your home.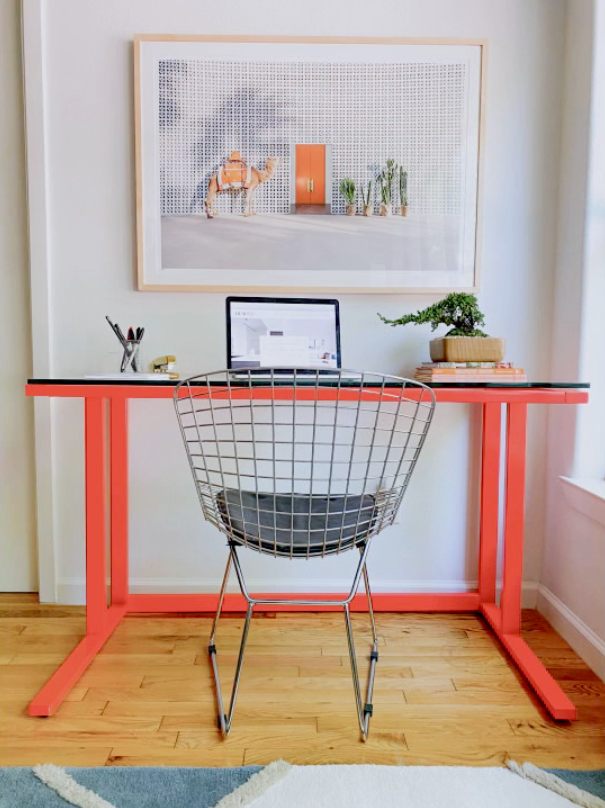 3. Choose the right WFH desk:
If a new desk is in order, the selection process is crucial. We recommend steering clear of materials and designs that feel heavy or bulky. Instead, opt for lighter materials like acrylic and glass. A clear, clean lined desk can easily be tucked away in an underutilized corner of your home without feeling cramped. Choosing a work desk with thin legs also minimizes distraction and attracts the eye upward, creating a feeling of open space. Here are some of our recommended desks for smaller spaces:
4. Refresh Your Current Office:
For those ahead of the curve with a home office, now is the chance to decide what is functional and what can be improved. Dedicating time to create an optimal space is sure to aid productivity and serve as a mood booster (even on those especially long days). Position your desk near a window to take in the view and take advantage of natural light during video conference calls. Adding in natural elements like fresh plants can also liven up an office space and offer some serious health benefits.
We're setting the record straight on all things European Cabinetry.
1. They have limited finishes

. 
This couldn't be farther from the truth. European Cabinetry makes customizations easy. The finishes are offered in a variety of styles including lacquers, wood veneers, metals, glass, and laminates. There's also a range of door styles from traditional, rustic, modern, industrial, transitional, contemporary, modern and nearly anything else in between. The cabinetry can also be stained and painted to any color.
2. They aren't solid wood

.
Okay, you got us. This is technically not a myth, however, the construction of European cabinetry is often misunderstood. When most hear particleboard or MDF (medium-density fiberboard), the words cheap and low-quality usually follow. This is far from the truth! In fact, the constructions of both are extremely sturdy. MDF is composed of very small wood fibers like flour, while particleboard is made from larger, coarser fibers. MDF's high-level density and waterproofing features also lend themselves to be extremely durable and predictable. While MDF expands and contracts as temperature and humidity fluctuates (similarly to wood), it does not warp or crack like wood.
3. They are hard to install

.
With typical American construction, cabinets are screwed into place permanently with minimal room for error. Contrary to this detailed process, European cabinetry is developed to be treated like a mobile piece of furniture. The cabinets are able to be installed and moved from home to home, installed on a track to allow the cabinets to slide in place and be removed easily without damaging the pieces. 
Bonus fact, American cabinetry has bulky door mullions at every door and drawer face that take up valuable space. Frameless, European cabinets have significantly less bulk and offer more usable storage.
4. They are more expensive

.
European cabinetry is built around precision, quality and durability, which generally translates to higher prices. And yes, many times they are more expensive than your local, custom cabinet maker. However, you can buy European cabinets at the same price or sometimes less than your average trades.  
While the initial investment can be significant, the return on your investment is well worth it. Given the high level quality of the cabinets, the set is built to last and the warranty is made to match. Here are a few of our favorite vendors:  SieMatic, Ornare, and bulthaup. 
Plus, if your European cabinetry is in need of a refresh, it is far less expensive to replace the faces rather than completing demolition and starting the old cabinet and countertop search. The same goes for replacing a scratched or damaged piece.
5. They are built with inferior quality and technique. 
Please refer to myth number two for a refresher on the quality and benefits of particleboard and MDF. 
Companies like Porcelanosa and Nobilia have run thriving businesses, producing cabinets for decades and some of their peers have been doing so for centuries. They have developed state of the art factories, investing in the best engineering technologies and equipment in order to support the demand for their products without sacrificing the quality. The hardware (produced primarily in Germany) is also built to last. With American-style cabinets, the face frame will typically crack where the hinges and slides attach, eventually the doors sag and drop. With European hardware, the pieces are attached to the cabinet box, ensuring that the doors and drawers will maintain their appearance for several years, often multiple decades.
The interconnectedness of interior design and fashion has existed since long before our time. As one category progresses, developing a new artistic vision, it influences and drives the other category and vice versa. From color palettes and textiles to the art of self-expression, the relationship between the two is ever-evolving.

Fashion designer, Lizna Kabani, knew the industry was her calling from a young age, designing garments in her mind in the fifth grade. And while this passion led her to fashion school, it was not until she was home caring for her first child that she realized her dream to develop her own line. Now, a wife and mother of two, she is leading her own label, creating contemporary apparel while also gearing up to pursue her MBA this fall to continue building her business.
For those fluent in interior design or fashion, their eye for style can often help them navigate the sister world. So when Lizna, one of our favorite Dallas fashion designers asked BEYOND id to create a beautiful outdoor space we said yes, knowing this would be a stimulating, creative and collaborative experience for both sides.
And with that deep mutual love for design, this project was off to the races. Our BEYOND id team set out to create an elevated yet practical outdoor living and entertainment space that matched the interior finishes of the Kabani home. With comfortable, modern poolside seating, an a cabana-inspired, all fresco dining space, and an epic, tasteful playhouse for the little ones, we did just that. Browse the new digs below.
This week, we caught up with Lizna to find out how she and her family are living this new normal and quarantining in her BEYOND id-designed space. 
"Truly, the most that we've enjoyed the space is right now, in quarantine, '' says Lizna. "We are outside every day. We eat outside with the kids, when the kids go to bed, my husband and I enjoy the firepit and the playground is an everyday favorite."
True to her profession, Lizna's favorite feature of the new space is the mixing of high and low pieces. While a popular trend in fashion, integrating upscale, statement items and less-expensive items is often seen in interior design as well. Lizna mentions that their eye-catching, grey-finished table is Elite Modern while the dining table chairs are from Wayfair. The rope-textured chairs complement the modern, concrete-inspired table wonderfully but are easily replaceable if needed. 
Lizna also can't get enough of the color palette. In contrast to the bright outdoors, we created a soothing, neutral environment in a sea of gray but added statement moments with pops of black and white. You can see this style throughout the home, and we wanted to ensure a sense of continuity in the outdoor space, like with the striped throw pillows on the outdoor seating area. 
"I live and breathe design elements in my everyday life. From garment manufacturing to my bedding at home, the presentation is key to me," says Lizna shared when asked about the importance of design in her life. "To have vision of a design, then watching it unfold and come to life is rewarding beyond words."
Safe to say that when fashion meets interior design, it's a beautiful thing.  
We are especially grateful to have clients like Lizna, who are a joy to work with and fierce matriarchs in their own right. From BEYOND id, thank you and Happy Mother's Day to all! 
Though hidden to the naked eye, the power of indoor air quality should never be underestimated. Poor air quality can trigger some serious health consequences. Delos Living states that air pollution is the 5th leading cause of mortality and can have a critical impact on chronic respiratory diseases, digestive issues, and fatigue, to name a few. 
However, treating the air in your home mindfully comes with serious wellness perks. A better night's rest, enhanced complexion, and improved health are some of the many benefits that go hand-in-hand with good air quality. Who could say no to that?!
It has always been a BEYOND priority to create beautiful designs with sustainable, healthy living in mind. Now more than ever, we are spending every day indoors and want to do our part to ensure spaces are as beautiful and health-conscious as possible. So we've developed an easy checklist with some of the best ways to improve your home's air quality and reap the many benefits that follow!
PLANTS ARE YOUR BEST FRIEND
Remember being outside? Inhaling the crisp air and instantly feeling revitalized. Houseplants are the easiest way to replicate this feeling. Not only does bringing the great outdoors, indoors create a serene, green oasis, but our leafy friends also have natural air purifying qualities.
No need to stress if the green thumb gene skipped you. There is a range of low maintenance houseplants to brighten your space and feed your lungs. What's more, they can easily land at your doorstep with these effortless botanical designs or this white glove house plant delivery service. Some plants that clean air and pack a design-punch include sleek, modern snake plants, statement fiddle figs, the edgy dracaenas! 
CHANGE HVAC FILTERS REGULARLY
There are several factors to consider when changing your HVAC filters. Depending on the type of filter, fiberglass options are more economical but need to be replaced approximately every 30 days. Experts estimate better quality, pleated air filters should be switched out every three to six months. Why change out these filters, you may ask?  
Home & Household Size: the larger the square footage of a home, the more air there is to filter and the faster the filters are used. The same goes for the household size. The more residents and pets in your home, tracking faster dust and particles are tracked in and caught in your filters. 
Location: homes in more densely populated areas and cities tend to also be more populated due to increased levels of smog and dust. This will also shorten the lifespan of your filters. 
Health Conditions: if someone in your household has allergies or other respiratory conditions, it could be beneficial to replace HVAC filters more often to ensure they are working at their optimal level and keeping your loved ones feeling their best. 
MINDFUL DESIGN CHOICES BENEFIT AIR QUALITY
There are several decisions that can be made by interior designers to improve air quality without sacrificing a home's look and feel. Reduce air pollution with low-VOC paint and formaldehyde-free cabinets, minimize dust and allergens with hardwood flooring. Add texture and warmth without trapping in more dust, dirt and chemicals with organic, non-toxic bedding and wool rugs. 
INVEST IN THE BEST TOOLS
Keeping your home's air fresh does not need to look sterile or medical. Modern home purifiers and humidifiers can get the job done without spoiling the style and ambiance of your space. We've already done the legwork to identify a few favorites, including the Dyson humidifier and purifier, Noma air purifier, and Missed Global humidifiers.
ALLOW FRESH AIR INSIDE YOUR HOME EVERY DAY
Pull aside those gorgeous curtains and crack open those windows. This is the simplest, cost-free option to push the stale air out and make room for a fresh breeze. If the weather does allow for this option, it's pollen season or maybe you live in a metropolis, invest in the neighboring checklist items. Improved air quality is calling!