If you're anything like us, keeping a watchful eye on what's "new and now" and mindfully anticipating soon-to-be trends is a favorite pastime. Being in touch with the latest and greatest from our interior design industry is naturally a prerequisite for our BEYOND id team, but it's safe to say that trend spotting is more so a passion point with our crew. So we've taken to the blog to share some of our latest insights on one of the most popular design trends sweeping the interiors and exteriors of homes everywhere.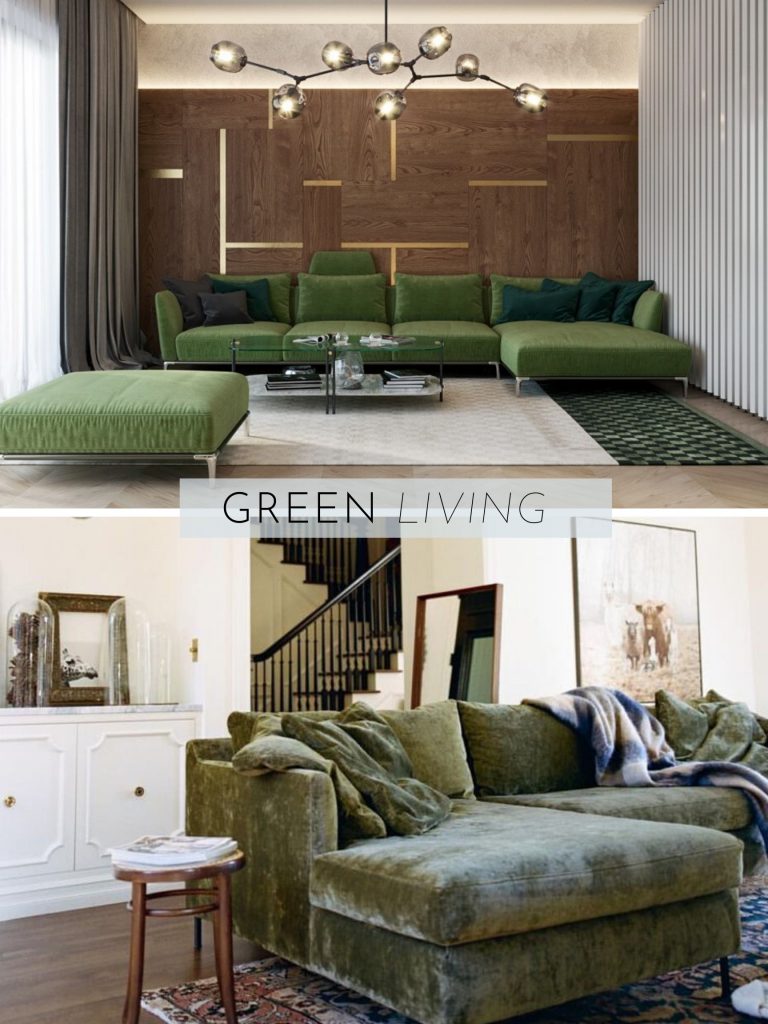 Sometimes soothing, sometimes bold, and sometimes it may leave you feeling oh so green with envy. Not to worry friends, we won't be delving into tales of the green-eyed monster but we will be talking all things green design!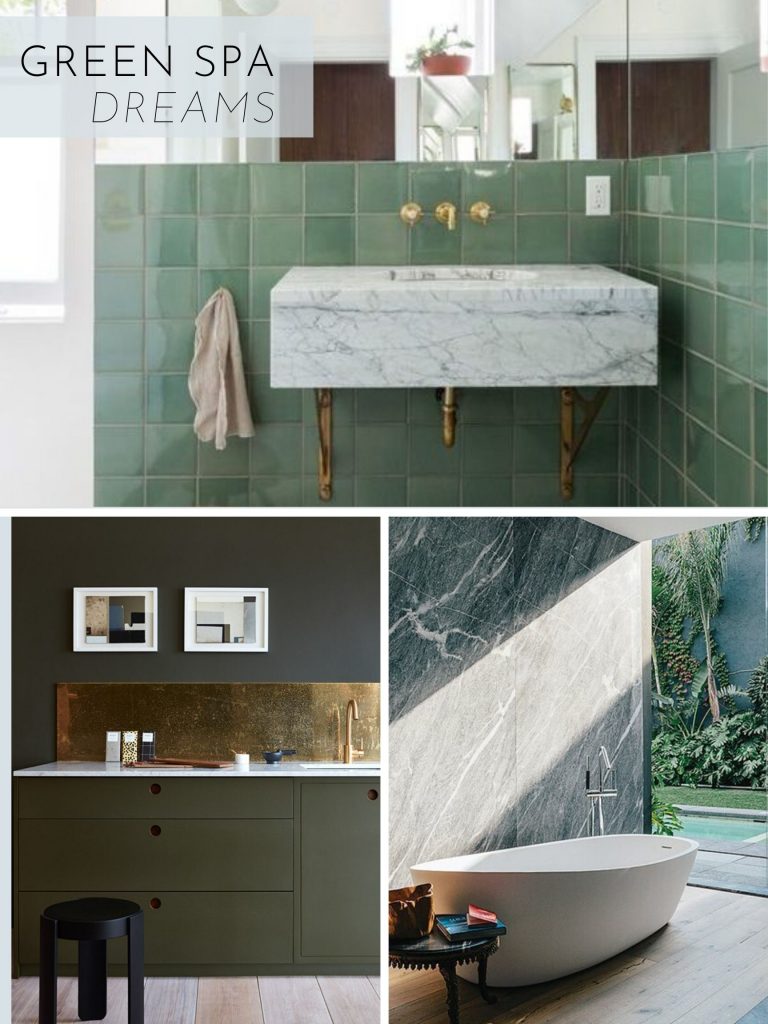 Over the last four years, neutral spaces have quickly made room for bolder moments and one of the most desired choices can be found on your color wheel, between blue and yellow. This gender-neutral hue feels approachable to many as it offers an array of beautiful tones across the spectrum and can exude several sentiments. From a sumptuous, rich emerald, to the millennial pink's fun cousin, neo-mint, to the sophisticated yet comforting sage green that feels reminiscent of a soothing Nancy Meyer set design, we promise you, there is a shade for everyone.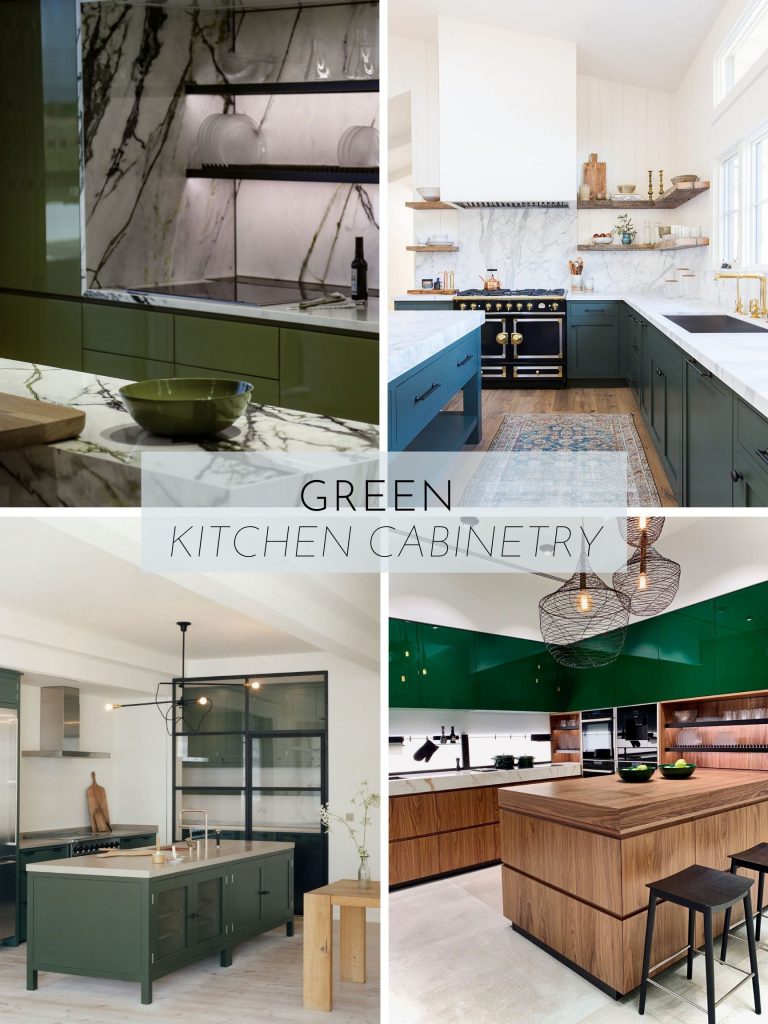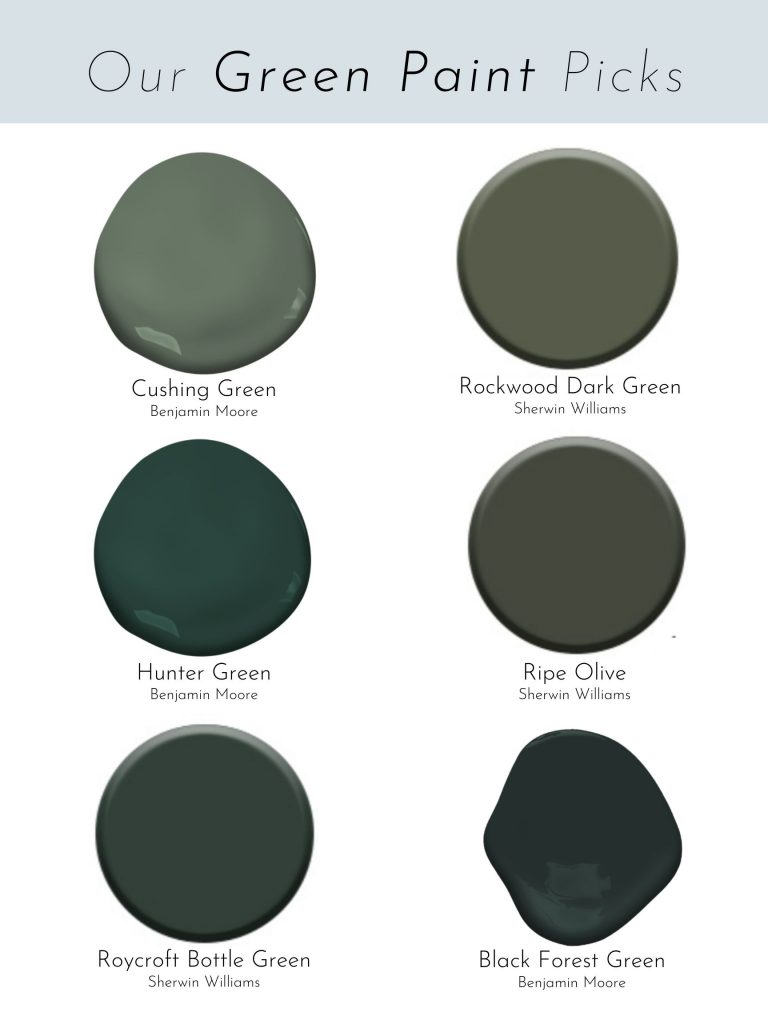 While the most evident place you'll find this color taking over is in the paint department. It's likely you've already spotted our viridescent friend splashed across kitchen cabinetry, interior walls, and homes' exteriors. A more unexpected and especially breathtaking form highlighting this tint is marble.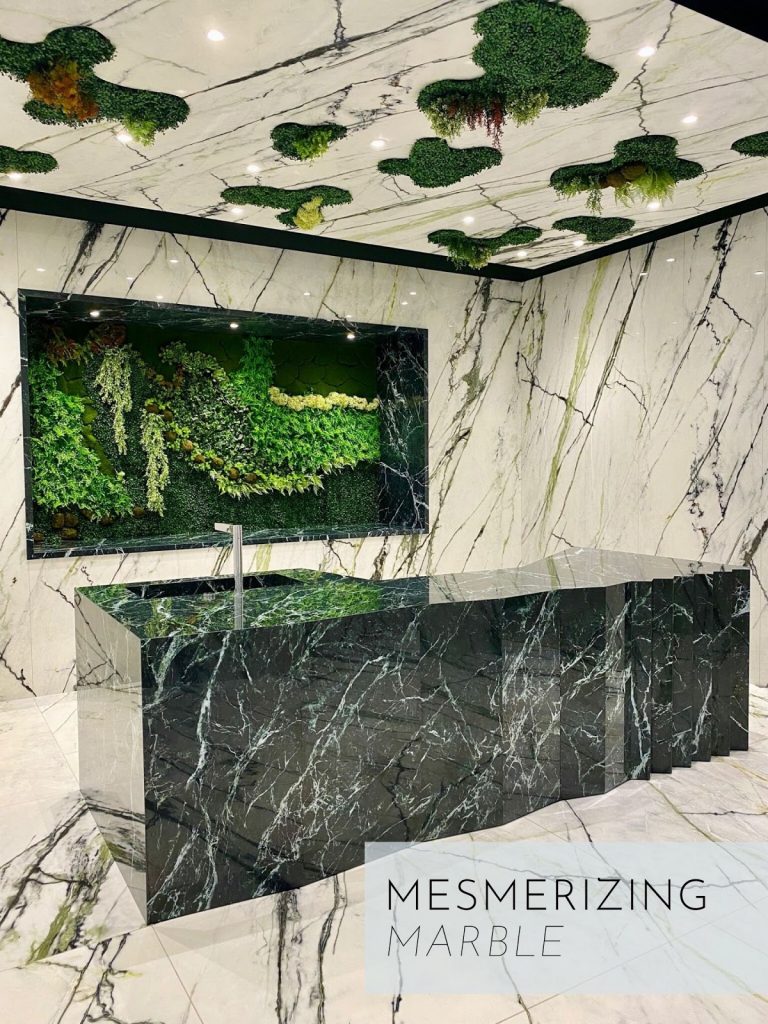 Our BEYOND id head designer had the esteemed pleasure of touring the home facilities of Porcelanosa. We shared a travel highlight on our design adventures in Spain earlier this year and invite you to explore further. One of our biggest obsessions from this industry experience was visiting the mesmerizing green marble and tile selection. These exquisite surfaces not only come in 2020's hottest hues, but can create one of a kind statements on countertops, backsplashes and flooring to name a few.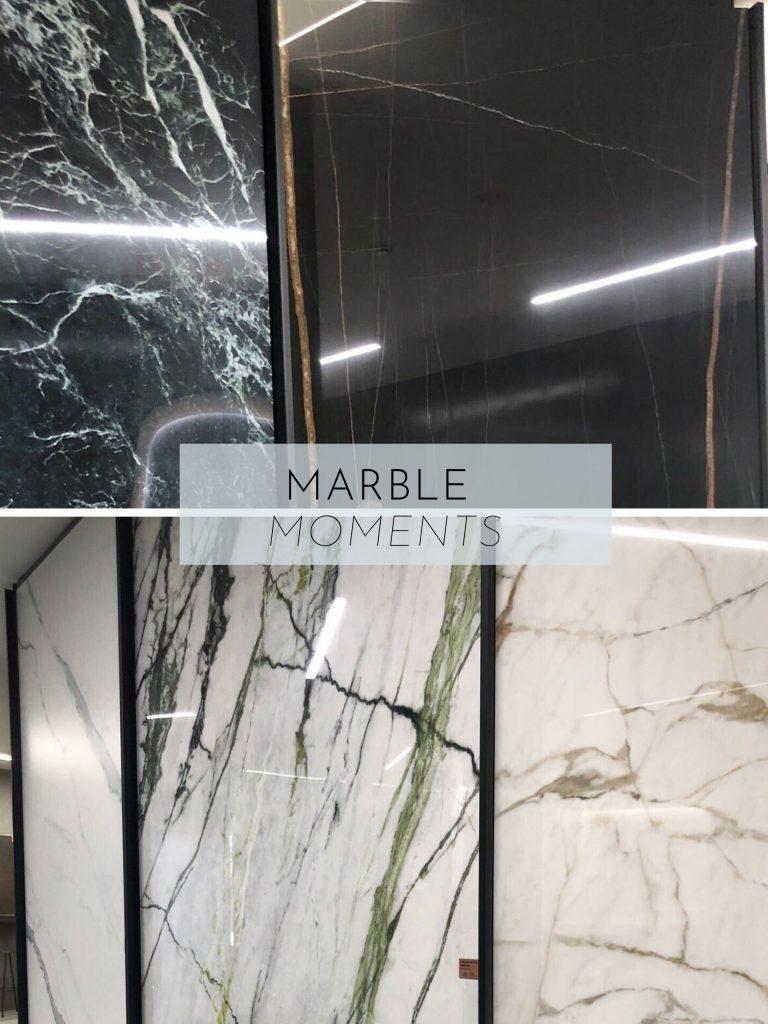 Paint and installing marble seem too great of a commitment for integrating green into your home, so there's countless beautiful furnishings and decor that require less effort and offer an immediate hint of green to your existing spaces. You can dive head first into this trend with a forest, green velvet couch, a marble-inspired outdoor coffee table, or an olive dresser. Perhaps dip your toes with a bright coffee table book, sculptural blue-green vase, or an earthenware, green porcelain candle. The choice is yours!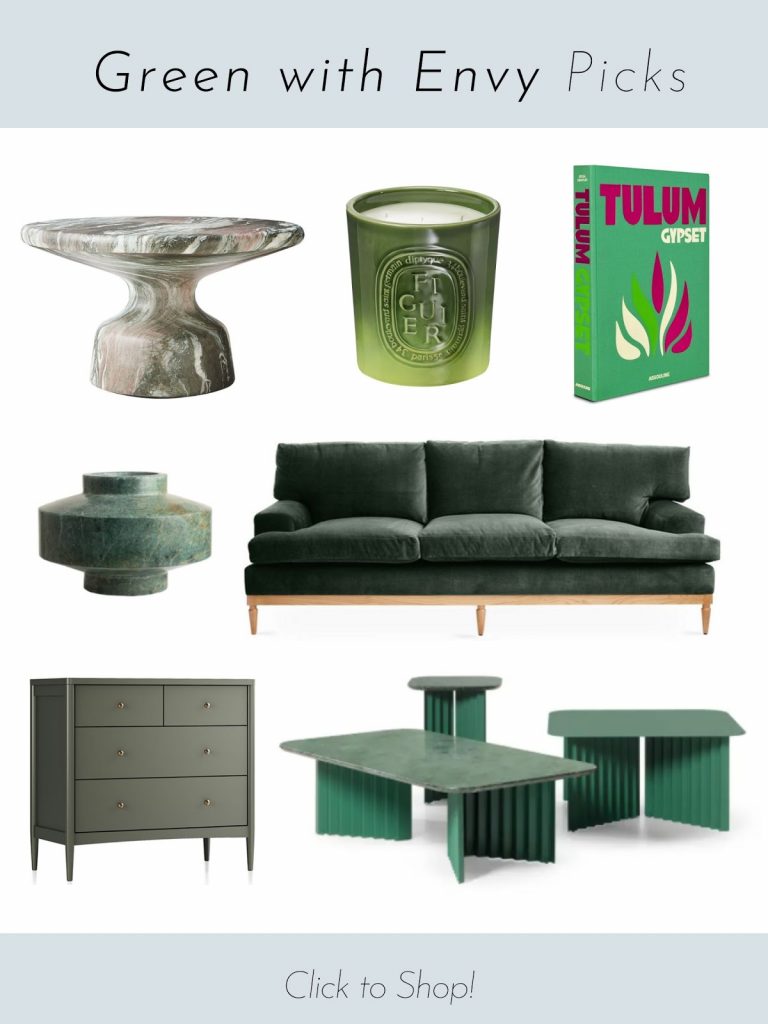 In some ways, designers have the easy job when it comes to healthy design. We make decisions about what materials to use, what kind of lighting to put in one's space, and how many plants to spread throughout the home. Once the decision has been made, approved, and implemented, that's it — we've created an environment meant to reduce stress and increase overall wellness.
Once we're done with a project, however, that's when one of the most important elements of healthy design comes in — maintenance. The products we use to maintain our spaces, AKA cleaning supplies, can make or break the healthiness of a home. We, as designers, can only recommend which chemicals to be aware of, but it's the space's occupants who must be disciplined in the products they use on a daily basis.
INTERACTING WITH CHEMICALS
Any time one inhales the eye-watering smell of their bathroom bleach, touches the window cleaner as it seeps through the paper towel, or eats off a plate cleaned by their super-powered dishwashing pod, they're consuming the chemicals released by the given product. That's why, if wanting to maintain a healthy space, the cleaning products used are extremely important.
In addition, because interior spaces are typically enclosed, they have relatively poor air circulation and filtration. Consequentially, chemicals released by household products linger in a space. While plants and air purifiers can assist in cleaning the air, the best way to avoid harmful chemicals is to not introduce them into the space's atmosphere.
WHAT TO LOOK FOR
Ammonia and bleach are common, harmful ingredients found in cleaning supplies. Thankfully, these products are easy to avoid as the two chemicals are usually highlighted on the label or listed under the product's ingredients (look for ammonium chloride for ammonia).
It's not as easy, however, to identify which ingredients emit dangerous chemicals called volatile organic compounds (VOCs), even though these are extremely common in everyday cleaning supplies. In fact, when the University of Washington studied 25 popular, scented household products (air fresheners, laundry detergents, disinfectants, dish detergents, all-purpose cleaners, soaps, etc.), they identified over 133 unique VOCs, 24 of which were classified as toxic or hazardous under at least one federal law, and yet only one was listed under the corresponding product's ingredients.
If there's 133 unique VOCs in just 25 popular products, one can assume many more exist given all the types of household cleaning products there are on the market. And if nearly all of those products omit VOCs under their ingredients, how would any consumer be able to make an informed decision about the products they're buying? Don't worry, it's not as daunting as it seems.
HEALTHY ALTERNATIVES
As people become increasingly more aware of the harmful chemicals in everyday cleaning supplies, consumers have created a high demand for natural solutions. And, as you can imagine, companies who supply these products are more than happy to loudly advertise their healthy alternatives.
Because this demand for natural, or organic, supplies has rapidly increased, consumers should still apply a critical eye to a product's ingredients. Some companies advertise as "green" but that doesn't mean the chemicals are VOC-free or natural. A good rule of thumb is if you can't pronounce the ingredients in a product, it's best to leave it on the shelf.
Another alternative people have turned to is making their own solutions. While not emitting the pleasant smells of Tropical Breeze or April Fresh, people can take comfort in knowing the exact ingredients being used throughout their space.
There are many things designers can do to help you improve the healthiness of your space, but this responsibility is on you. But that's ok, because we know you got this!