Through our years, trends have rotated, but a statement modern kitchen has always remained a design constant. There's nothing quite like it.  Designing a kitchen is undoubtedly in our wheelhouse, however, we take extra pride in the fact that the kitchen is often the soul of our client's home and these projects require expertise and the utmost care. The kitchen has evolved into a space that not only offers a place for food preparation, but a space to gather around the island, enjoy a morning meal, conquer the work day and so much more.
Our BEYOND id clients often ask for this sleek, luxurious look in their cookery, so we are here to share the inside scoop on five essential components to capturing the iconic, modern kitchen look in your very own digs.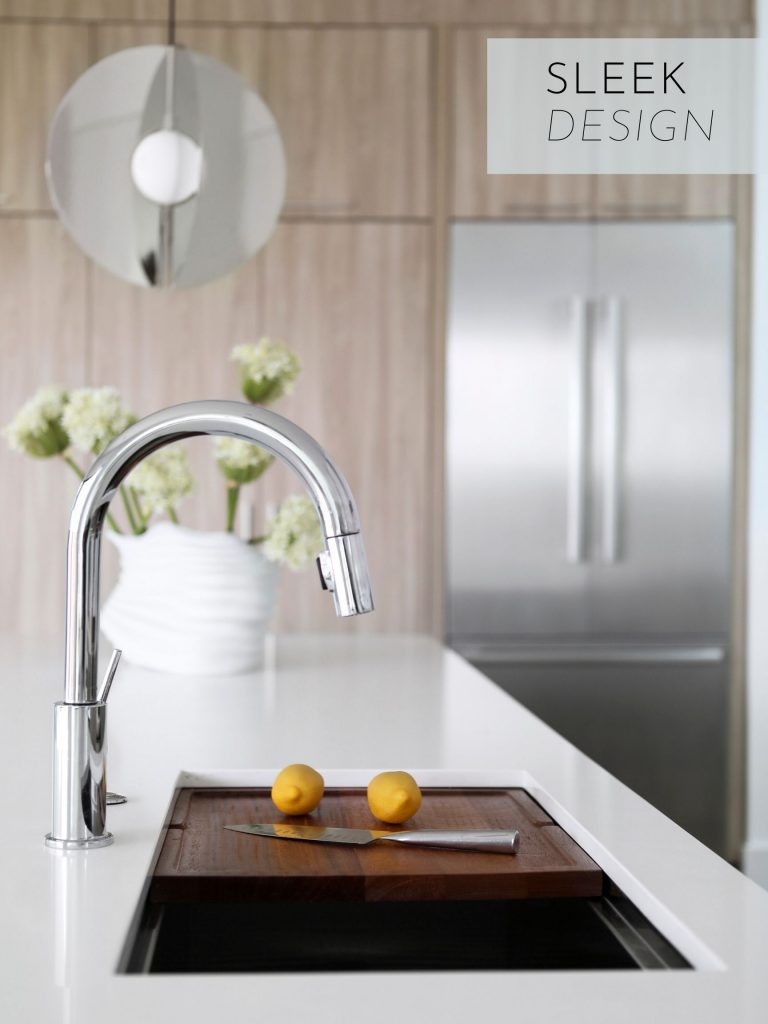 1. TOP OF THE LINE APPLIANCES 
A beautiful kitchen is just that without the best appliances to ensure its functionality as well. With a modern look, the appliances should often seamlessly blend into the design. Sometimes this calls for a refrigeration cabinet that can be concealed by the cabinetry, This offers a customized, high-end finish while providing continuity throughout the space. 
Additionally, for those of us looking at alternative cooking method appliances, a combi-oven could be a viable option. Combination ovens include various features like baking, broiling, poaching, roasting, steaming, and warming and can prove useful for those who are often preparing food for bigger families or hosting events. 
Some of our tried and true kitchen appliances are included below. Not only are they built to last, but they are crafted beautifully to further enhance the refined aesthetic.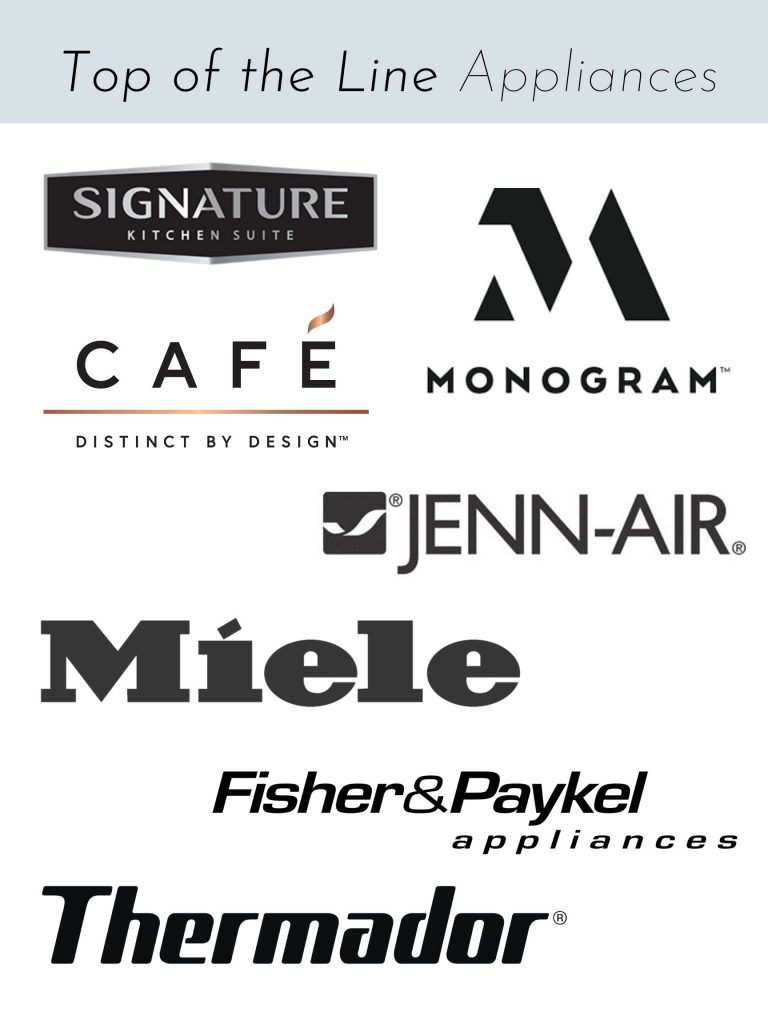 2. STATEMENT HOODS 
Another appliance every modern kitchen can not be without is a chef-style hood range. This deserves its very own category due to the fact that the hood range serves as a major design accent within our sleek designs. From a minimalistic cylinder to a bold, custom, mirrored option, each hood should serve as a masterful design piece, elevating the space. To ensure that the thoughtfully chosen statement hood is highlighted further, we recommend integrating open upper cabinets like floating shelves or just removing the cabinets to allow for negative space surrounding the hood. This spotlights the oversized, decorative hood without forcing too many elements to compete for attention.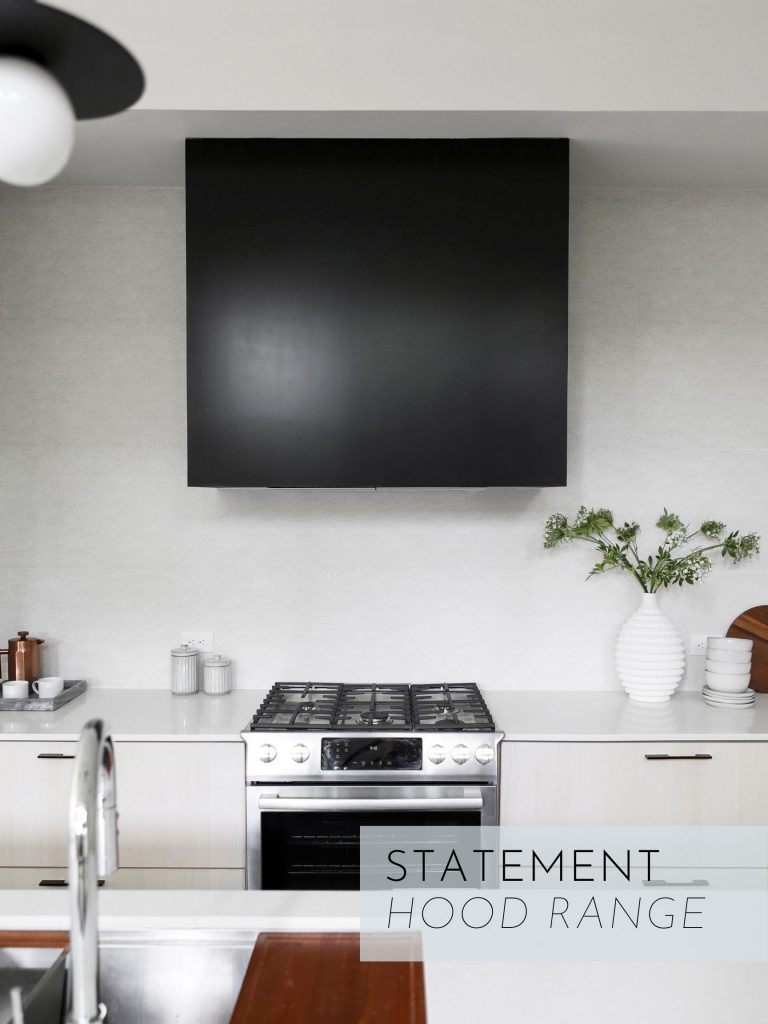 3. OVERSIZED ISLANDS
While this may seem a bit on the nose, an oversized island is integral to this coveted look. As we mentioned earlier, the kitchen has transformed into a multi-use space, thus significant surface area is key. The oversized island must include plenty of space for cooking and lounging, not to mention being finished with an eye-catching countertop (which we will get to momentarily). Regardless of whether you choose a glossy or matte counter, it should be surrounded by bountiful, comfortable seating. For more insights on how to choose the ideal countertop stools, check out our previous blog. 
And while an oversized island presents an unmistakable sense of luxury, there is something even more deluxe. Two islands, of course! A double island is a sumptuous feature that will offer a jaw-dropping statement in addition to more space for congregating within the heart of your home.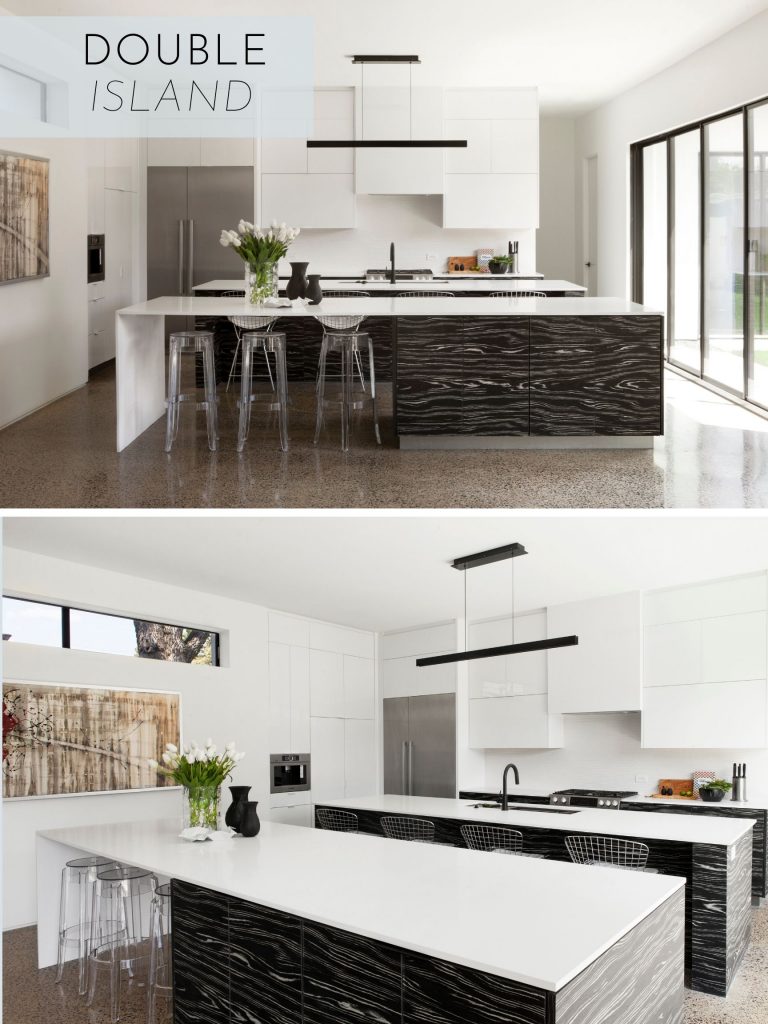 4. AUXILIARY SPACES
One of the most important factors of modern design is the efficient usage of space. Some of the mindful kitchen storage elements that we're partial toward include towers of cabinetry that draw the eyes upward, concealed pantries (hidden storage is always a good thing!), passthrough and butlers pantries. The latter is an ideal option as it can house most everyday small appliances while keeping the kitchen refined and tidy.
Well-considered storage is one of the great benefits of modern kitchens as it forces us to eliminate the clutter. For detailed tips on how to maintain your kitchen organizational system, explore our NEAT Method partner highlight.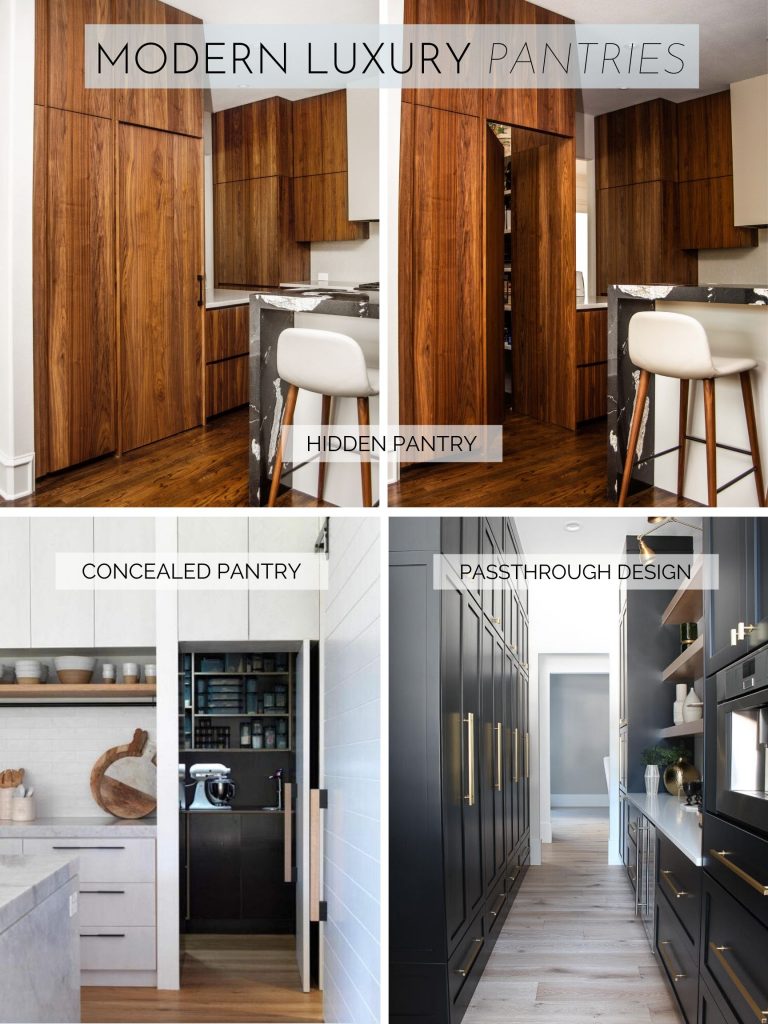 5. BOLD FINISHES
Often the most exciting pieces to harnessing the luxury, modern style, are the finishes. Our BEYOND id team is dedicated to sourcing these features for a tailored design. This includes stunning countertops with mesmerizing veining and bold, intricate finishes on the cabinetry like an exotic wood veneer to complete the space. Every decision made during this process is critical to accomplishing this sought-after style.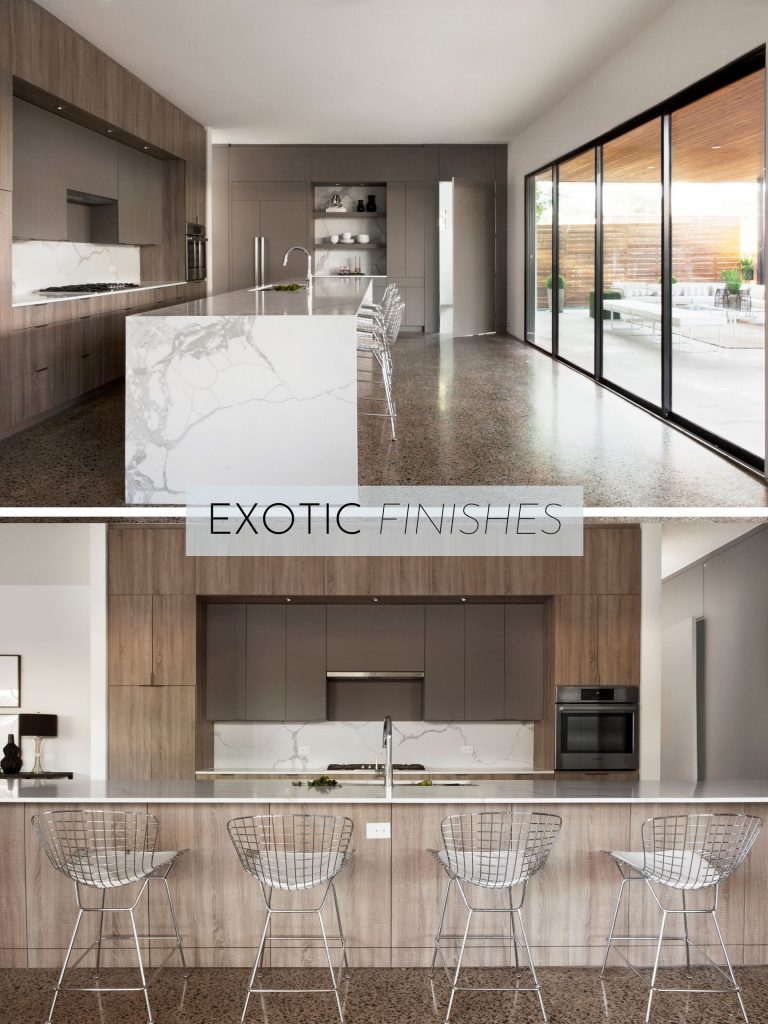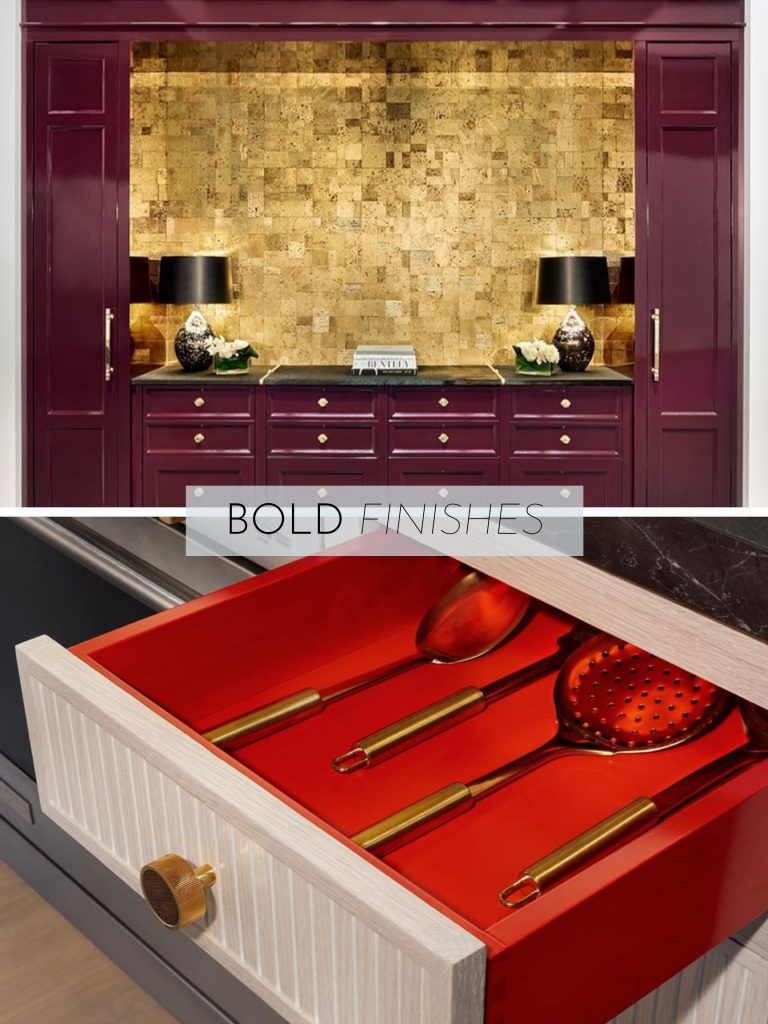 PROJECT: Tamarisk
Amy and her family had been living in their Plano home for over 25 years, and it came to the point where they were either going to buy a new house or remodel their current one. Amy and her husband made a beautiful life in this house. They raised three kids in it. It was truly their home.
So, they decided to stay and called us to bring their 1978 home into the 21st century.
Having lived in the house for so long, Amy knew exactly how she wanted to improve her space — open up the galley kitchen to the living room and dining room. She also wanted to give the 40-year-old home a makeover — update the style and give it a fresh, clean look that would last for decades to come. We took her suggestions and ran with them, giving her the space of her dreams in the home her family filled with memories.
KITCHEN
The biggest task in the remodel was knocking down the wall that separated Amy's kitchen from the surrounding primary spaces. Opening up that area brought in an incredible amount of light, which accentuated the white kitchen we designed for her.
---
WHAT OUR TEAM LOVES
"There's a moment where the backsplash wraps around the cabinets up to the ceiling and it meets the wood paneling on the adjacent wall. It's a beautiful meeting of two contrasting materials. I just love it." — ABBEY, Junior Designer at Beyond Interior Design
---
DINING ROOM
When we first entered the house (prior to the remodel), we saw two separate spaces — the dining room and living room — with an entry to the kitchen on your left. The removal of the kitchen wall changed those two adjoining spaces. With one large connected space, we had the opportunity to create a cohesive design that flowed throughout the home.
LIVING ROOM
In previous blogs, we've talked about the domino effect (if you change one thing, it will often change another). With the kitchen and dining rooms open to the living room, we knew we'd need to update the stairs and fireplace to maintain a fluid aesthetic. To achieve this, we created a custom, sleek fireplace wall and slimmed down the finishings of the staircase.
---
Love this look?
SHOP IT by clicking any of the before+after photos! 
We're excited to announce that the international tile, kitchen, and bath company Porcelanosa has invited Head Designer Juliana Oliveira to tour their facilities in February 2020. Juliana will travel to Spain with a small, exclusive group of industry professionals to take a peek at the company's newest line of products and see where the 50-year-old business first began.
As an internationally-inspired, modern interior designer, Juliana sources materials from all over the world, but Porcelanosa holds a special place in the design hearts of Juliana and the rest of the Beyond team. The company's cutting-edge designs don't keep up with the trends, they set them. When we use their products, we know the end result will be innovative, one-of-a-kind, and truly exceptional.
While collaborating with Clay Stapp + Co. and Grand Development on their Northwest Dallas new-builds, we've had the special opportunity to fully take advantage of the wide array of products Porcelanosa offers, allowing us to create distinctive modern palettes.
---
---
In some of our designs, we'll source an entire space with Porcelanosa products. Other times, we utilize their materials as accents, such as in backsplashes or countertops. Either way, Porcelanosa products truly enhance a space.
---
---
We're constantly following the European company to get inspiration, which is why we're so excited to tour their facility in February and see what they'll be producing for Spring 2020!
---
---
Be sure to keep an eye out for our post-Porcelanosa trip blog! 
---
This blog was NOT paid for by Porcelanosa. We just simply love them. 
Once upon a time, kitchens were merely the place people cooked and prepared their daily meals. They were a place of work, not leisure, and they definitely weren't exposed to guests. Fast-forward to today's open-concept living and kitchens are showcased to everyone who walks in the main space.
This transformation of spatial planning has changed the way we experience and utilize our kitchens, especially our kitchen counters. During dinner parties, people gather around the island, which is filled with hors 'doeuvres, cocktails, and conversation. In the morning, the family grabs their seat at the bar, partaking in their breakfast ritual. The space even becomes the home office, with papers and the computer sprawled out among the spacious countertop.
As kitchens become multi-purpose and used more frequently, the aesthetic and functionality of the elements within the space become ever more important. We're talking specifically about the seating. Stools, having used to be afterthought additions to a kitchen, are now oftentimes a centerpiece of the space. Which means they need to be selected as carefully as one would choose an accent chair. If you never imagined you'd have to put so much thought into selecting counter or bar stools, it's ok. We'll set out some easy criteria for you to follow to help you choose your next set of kitchen seating.
HEIGHT
If you've purchased a set of stools before, you've probably already researched whether to get counter stools or bar stools, making you think this category is obvious. However, you'd be surprised how many people still place the wrong stools underneath their counters.
In the simplest terms, counter stools (23"-28") are about four to six inches shorter than bar stools (29"-32"). Another way to think of it is to know you need at least 10" of space between the bottom of the countertop and the top of the stool for comfortable seating. If you have too little of space, legs won't be able to fit under the counter and your food or workspace will be too far away from you.
USE
In order for you to choose the right set of stools, you need to think about how much you'll use them and for what. Will they be a seat for you to leisurely enjoy your breakfast with family at the kitchen island? Perhaps they'll allow you to hanker down and utilize your spacious countertops for work (it's always nice being close to coffee and brain food). Or will the stools simply be seats guests can use while enjoying appetizers before the meal is brought to the dining table?
If you don't think you'll use your stools regularly, you can choose stools with or without backs — your options are limitless. But if you plan on frequently using your seats for prolonged periods of time, you should choose stools with backs. Don't worry, you won't sacrifice style or sleekness for functionality. If anything, you just limit the options you have to look at, making it easier to avoid analysis paralysis.
---
---
AESTHETIC
Last, but certainly not least (so cliche, we know), aesthetic is key to creating or maintaining your beautiful space. Because counter and bar stools are front-and-center in open-space concepts, they must be aesthetically pleasing and flow with the overall style of the main space.
Now that you have some criteria of how to choose your bar or counter stools, we trust you'll be able to select a set that enhances your space and fits your lifestyle! And if you ever need help, we're always here for you.
It's a true joy working with new clients, getting to learn their unique personalities and styles and designing specifically for them. Yet, there's something special about getting to work with return clients. We know their design style and what they like, but we also get to see how their preferences have slightly evolved based on how their lives have changed.
Project Northcrest came to us from our very first client. At the time, she'd always wanted a modern house, and that's exactly what we gave her. In 2016, her life had grown, as had her family and their needs, and she was looking for more space and a home closer to her kids' schools.
She brought us in the loop prior to them even searching for homes. She wasn't sure if they were going to build or buy but she knew we'd be brought in for the interior design work.
Three months after they purchased the house, she sent us an update that they'd bought a house and shared the photos with us. It was a beautiful family home, but was French Country through and through — this was NOT her style at all. But for her, the home was all about location, location, location. Everything else, she knew, could be customized to her taste. And it was.
---
---
We sourced the kitchen through Porcelanosa, with the custom-built cabinets done by Supreme Design of Dallas. The tile for the master bath also came from Porcelanosa, which gave the space a sleek, European modernity.
---
---
Want to see more?

Check out the full portfolio of Northcrest here!
---
...
The first modernist homes began popping up in the early 1900s. These sleek, unornamented designs completely broke from the traditional, neoclassical style that dominated the landscape. It took decades— almost a century, in fact — for the modern design concept to be adopted on a broader scale. Now (at varying degrees), cities over the United States have seen a surge of modernist residences pop-up. What once was rare, bold, and avant-garde is now becoming common and almost cookie-cutter.
Which is leaving home-buyers wondering, "How do I make my modern home different from the rest?"
And what a valid question! We, designers who thrive in the modernist and mid-century space, love this wide-spread adoption, but we also believe homes should be unique to the owners who live in them. Hence, why we were so excited to be brought on to project Lontos.
When the young, Dallas couple purchased their first home, they couldn't have been happier with the exterior aesthetic. They knew, however, the townhome had been built for the masses — not for them. The new homeowners wanted to make the house their own, keeping the modern-style flowing throughout their space. They started researching interior designers, and that's when they found us.
To give the couple a home unique to them, we designed each room to have a bold, eye-catching element. For the living space, we painted a black accent wall, which contrasted against the surrounding white walls and warm furnishings. Each bedroom received a textured accent wall: one with wood-inspired, herringbone wallpaper and the other with diagonal coffering.
...
In the end, we turned their modern home into the modern home of their dreams. And while one wouldn't know it from the outside, the townhouse has been completely personalized to the ones who dwell there.
LIKE THIS DESIGN? SEE ALL THE PHOTOS HERE!