Through our years, trends have rotated, but a statement modern kitchen has always remained a design constant. There's nothing quite like it.  Designing a kitchen is undoubtedly in our wheelhouse, however, we take extra pride in the fact that the kitchen is often the soul of our client's home and these projects require expertise and the utmost care. The kitchen has evolved into a space that not only offers a place for food preparation, but a space to gather around the island, enjoy a morning meal, conquer the work day and so much more.
Our BEYOND id clients often ask for this sleek, luxurious look in their cookery, so we are here to share the inside scoop on five essential components to capturing the iconic, modern kitchen look in your very own digs.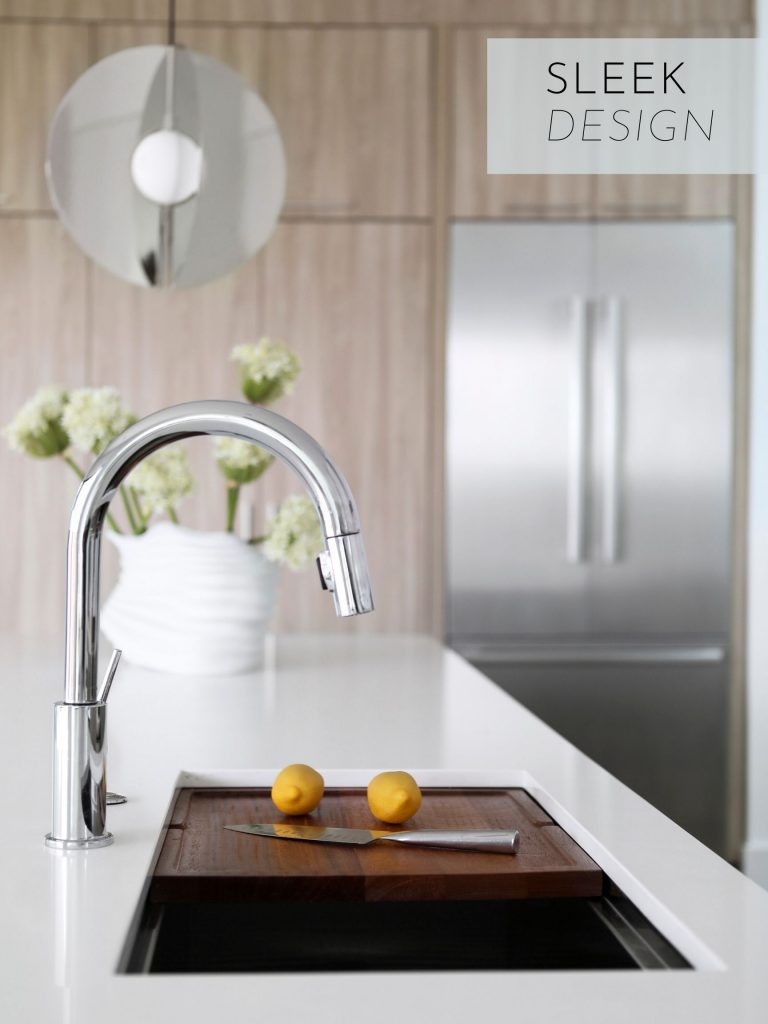 1. TOP OF THE LINE APPLIANCES 
A beautiful kitchen is just that without the best appliances to ensure its functionality as well. With a modern look, the appliances should often seamlessly blend into the design. Sometimes this calls for a refrigeration cabinet that can be concealed by the cabinetry, This offers a customized, high-end finish while providing continuity throughout the space. 
Additionally, for those of us looking at alternative cooking method appliances, a combi-oven could be a viable option. Combination ovens include various features like baking, broiling, poaching, roasting, steaming, and warming and can prove useful for those who are often preparing food for bigger families or hosting events. 
Some of our tried and true kitchen appliances are included below. Not only are they built to last, but they are crafted beautifully to further enhance the refined aesthetic.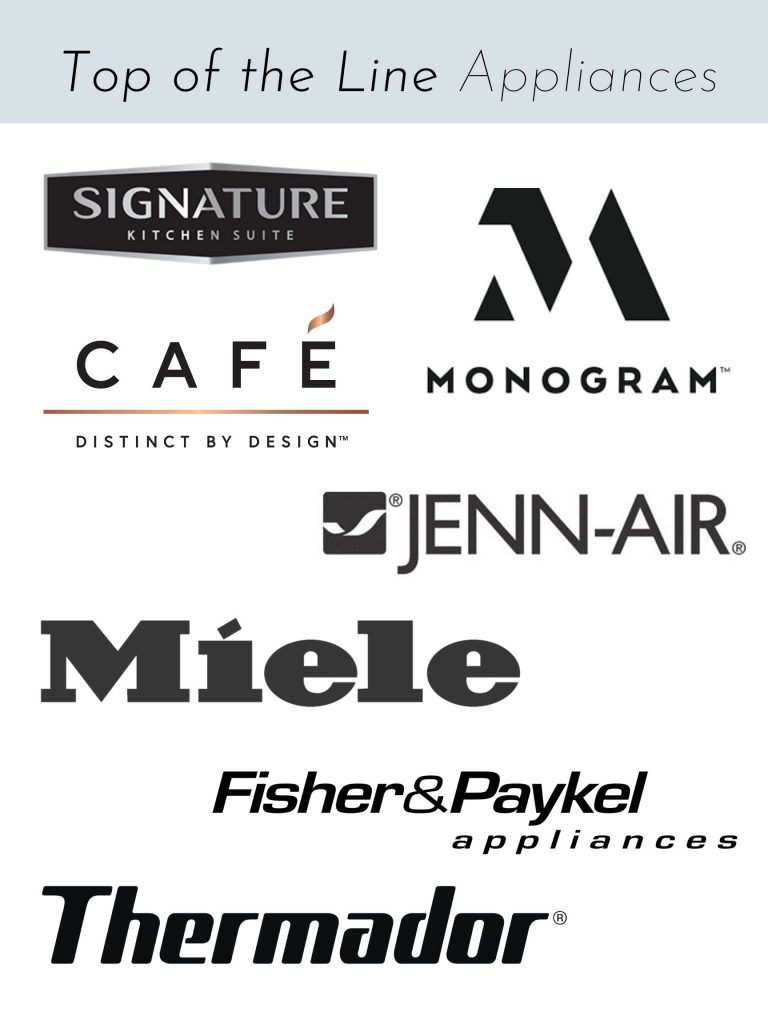 2. STATEMENT HOODS 
Another appliance every modern kitchen can not be without is a chef-style hood range. This deserves its very own category due to the fact that the hood range serves as a major design accent within our sleek designs. From a minimalistic cylinder to a bold, custom, mirrored option, each hood should serve as a masterful design piece, elevating the space. To ensure that the thoughtfully chosen statement hood is highlighted further, we recommend integrating open upper cabinets like floating shelves or just removing the cabinets to allow for negative space surrounding the hood. This spotlights the oversized, decorative hood without forcing too many elements to compete for attention.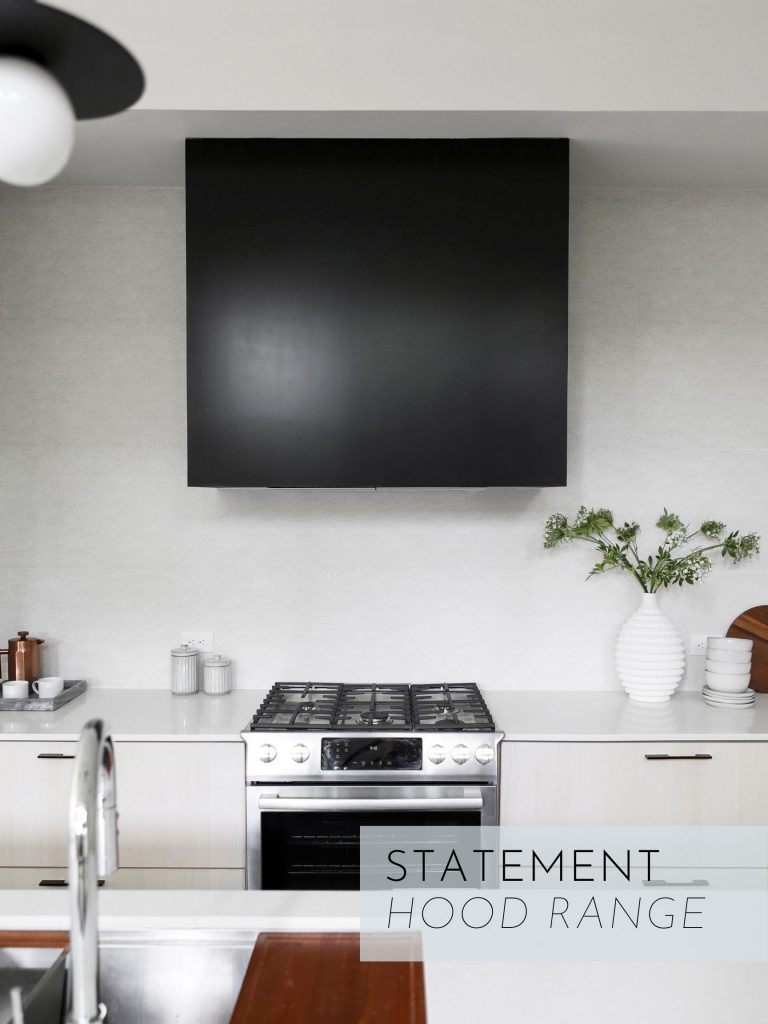 3. OVERSIZED ISLANDS
While this may seem a bit on the nose, an oversized island is integral to this coveted look. As we mentioned earlier, the kitchen has transformed into a multi-use space, thus significant surface area is key. The oversized island must include plenty of space for cooking and lounging, not to mention being finished with an eye-catching countertop (which we will get to momentarily). Regardless of whether you choose a glossy or matte counter, it should be surrounded by bountiful, comfortable seating. For more insights on how to choose the ideal countertop stools, check out our previous blog. 
And while an oversized island presents an unmistakable sense of luxury, there is something even more deluxe. Two islands, of course! A double island is a sumptuous feature that will offer a jaw-dropping statement in addition to more space for congregating within the heart of your home.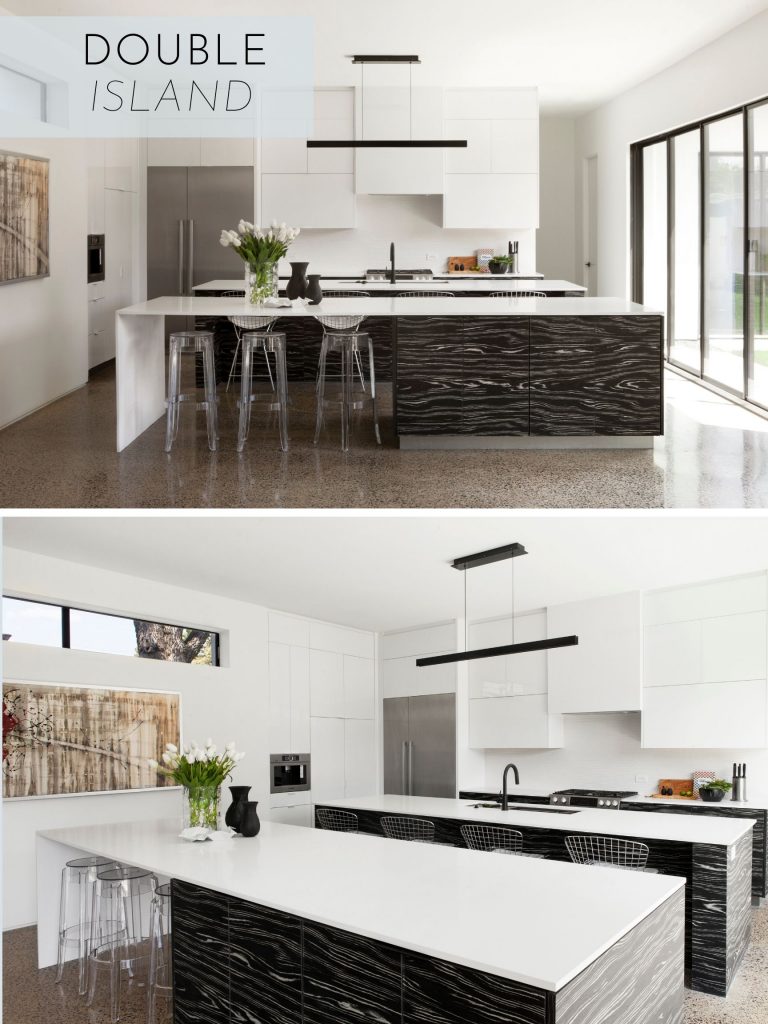 4. AUXILIARY SPACES
One of the most important factors of modern design is the efficient usage of space. Some of the mindful kitchen storage elements that we're partial toward include towers of cabinetry that draw the eyes upward, concealed pantries (hidden storage is always a good thing!), passthrough and butlers pantries. The latter is an ideal option as it can house most everyday small appliances while keeping the kitchen refined and tidy.
Well-considered storage is one of the great benefits of modern kitchens as it forces us to eliminate the clutter. For detailed tips on how to maintain your kitchen organizational system, explore our NEAT Method partner highlight.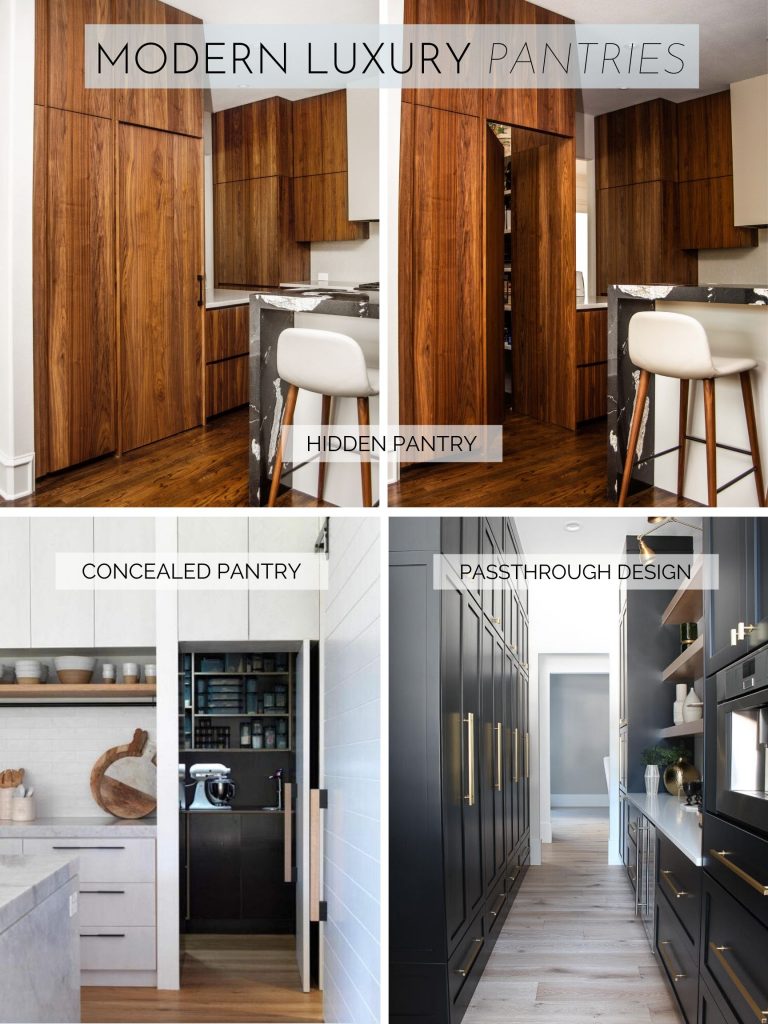 5. BOLD FINISHES
Often the most exciting pieces to harnessing the luxury, modern style, are the finishes. Our BEYOND id team is dedicated to sourcing these features for a tailored design. This includes stunning countertops with mesmerizing veining and bold, intricate finishes on the cabinetry like an exotic wood veneer to complete the space. Every decision made during this process is critical to accomplishing this sought-after style.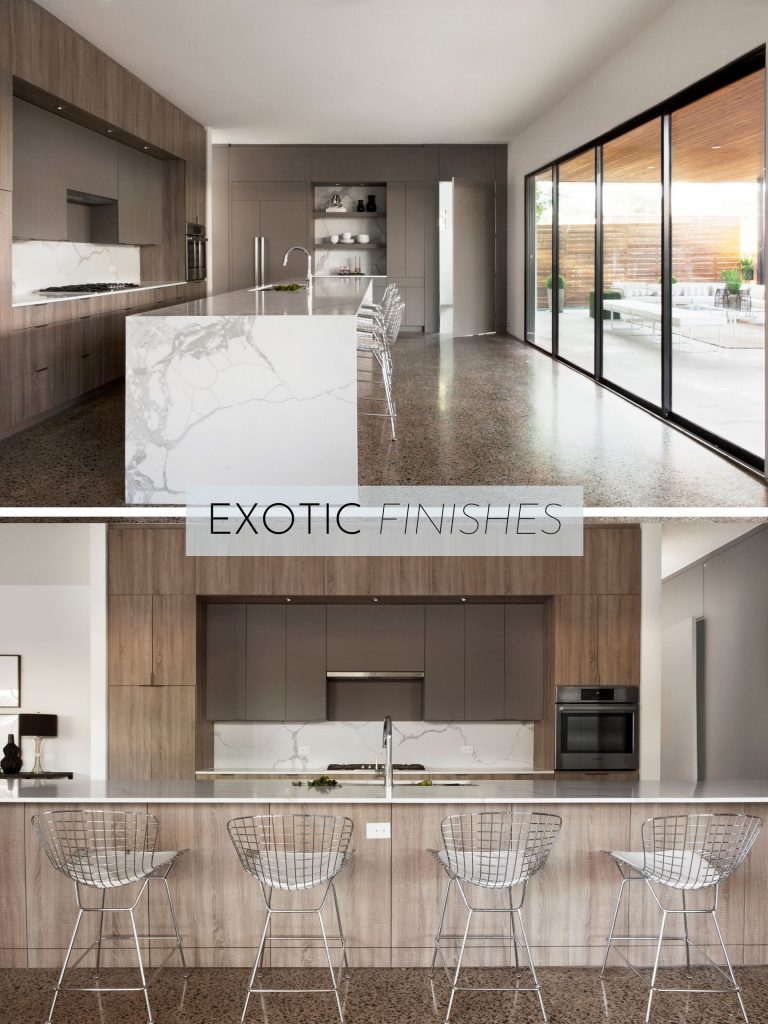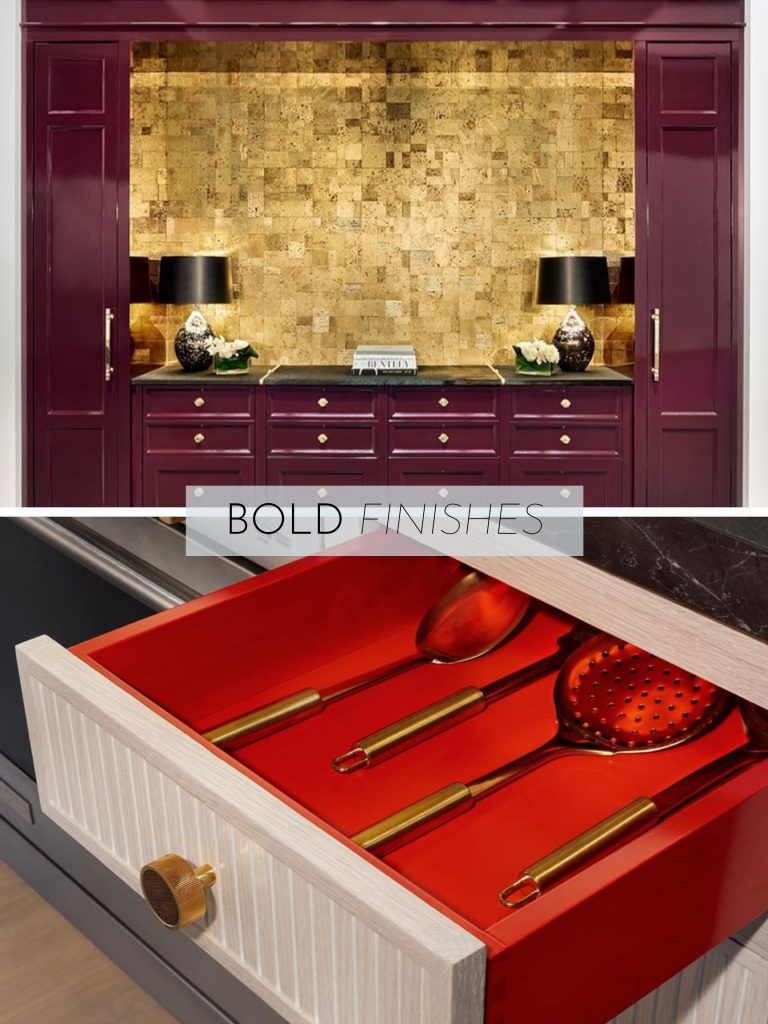 Choosing the right interior designer is no simple task. Many factors come into play that will shape the experience and overall outcome of the design. Additionally, depending on the scope of your project, you could be working with your designer for months, possibly years. That's why we believe it's important you find someone right for you. In order to do that, you need to know how interior designers differentiate themselves in terms of service and style. To help you feel confident about your choice, here are some things to consider when hiring your interior designer.
STYLE
First and foremost, you want an interior designer who can give you a design that matches your aesthetic (or your business's brand, for you commercial clients). Even if you don't know your style, per se, you can easily determine if a designer's style matches yours by looking at their portfolio. If their work speaks to you, add them to your list! You want someone who's skilled in designing your aesthetic so they can personalize their design to you. 
LEVEL OF SERVICE
Another factor to consider is the level of service you'd like your interior designer to perform. For example, we at Beyond Interior Design are a full-service design firm. Therefore, simply put, when we take over a project, we handle everything — from design to build-out and everything in between. If you don't have the know-how and time to put together a cohesive space, full-service design is a great option for you. 
On the other hand, you may want a designer to consult on your space, giving you ideas that you can later execute. Or you could, like many people, lie in the in-between and want a designer to create the design while you make the purchases and take over the build-out. No matter the level of service you're looking for, there are designers out there for you. You just need to know what level of service fits your needs. 
SPECIAL INTERESTS
To further hone in on a designer that's right for your project, consider what special interests or design goals you have and compare them to those of the designers you're considering. Are you someone who wants a connected house, aesthetically and wirelessly? If so, perhaps you want a designer experienced in incorporating smart-home technology into their designs. Do you live a natural and holistic life? Maybe you'd benefit from a designer who has biophilic and sustainable design principles at their core. The more aligned you are with your designer, the easier it is for them to create a space personalized to you. Even if they don't advertise their specialty, ask them more about what inspires them. The discovery process is a two-way street so take advantage of it!
COST OF DESIGN
When considering the cost of design, you must take into account the designer's fees as well as the implementation of the design. Still, understanding the cost of design can be tricky because numerous factors come into play. A designer's vendors (i.e. sources for furnishings, finishes, etc.) will heavily impact the overall cost, as will the level of service. With some services, such as e-design or consultation packages, the design cost is stated upfront, and you have more control over the vendors you purchase from. Therefore, the total cost of design is easier to grasp. For full-service design firms, it's more complex, as a designer simply can't provide an accurate project quote until after the products are sourced and the design is complete. 
Don't worry, there are still ways for you to understand if your budget matches the cost of a designer. For one, you can tell them the scope and desired budget of your project and ask if that's accomplishable by their firm. You could also determine if the designer has a project minimum and what that minimum is. We'll use ourselves in another example. Because we typically design custom kitchens, we average at least $60-$100K for kitchen remodels. Additionally, we have a $50K project minimum. If those numbers are not in your budget this time around, that's totally ok! But it's helpful to understand that early on so you can make the right decision when selecting a designer.
LEARN HOW TO CALCULATE AN ACCURATE BUDGET
FOR YOUR REMODEL OR REFURNISHING PROJECT!
---
THINGS TO ASK YOUR DESIGNER
Who oversees the build-out of my design? 
Some interior design firms hire general contractors to oversee the build-out of a design while other designers have the credentials (i.e. contractor's license) to manage the project themselves. Many benefits come from hiring a designer who will also project manage the buildout, including streamlined communication, accurate implementation, and shared industry discounts. 
What's your fee structure — hourly or flat-fee?
Most designers offer two types of fee structures, hourly or flat-fee, both of which are pretty straightforward. A designer either bills the clients for hours worked or creates a flat-fee based on estimated hours worked. Some clients really love the flat-fee because they know the number upfront. It's important to understand that flat-fees are typically derived from estimated total hours plus hours for unforeseen issues or design edits. In other words, clients might pay for more hours than actually worked. Other people enjoying an hourly fee structure because they only pay for hours worked. They just don't know the total cost of design fees until after services are complete. 
How transparent is your design firm? 
Transparency is key, especially for hourly-fee firms, because you should know where your money is going. One thing we do at Beyond Interior Design is offer monthly invoices with detailed descriptions of all hours logged. 
---
Now that you know what factors to consider when selecting your interior designer, you can confidently hire someone who will excel at your project. If that interior designer happens to be us, wonderful! We can't wait to speak with you more and start our journey together. 
Beyond Interior Design awaits excitingly for what 2020 will bring. We've already filled up the beginning of the year, which is a thrilling way to start the new decade. But before we push ahead, we'd like to spend time looking back on 2019 and showcase our work of the 2010s' final year.
CONDOS AND HIGHRISES
This past year, we've had the unique opportunity to work on some amazing projects close to our Uptown office. We completely transformed one unit at the Renaissance at Turtle Creek, which was formally Texas traditional, through-and-through. We also redesigned a space for one of the penthouses at The Katy, taking advantage of its floor-to-ceiling windows and long, continuous space.
NEW BUILD TRANSFORMATIONS
Residential building in Dallas has grown exponentially in the past several years, especially as the metroplex gained over 1 million new residents since 2010. Just because people are buying new-builds, though, doesn't mean they're perfect as-is. People still want to set their houses apart, creating spaces that represent them. We had the special opportunity to give a few new builds the interior makeover the new owners needed to feel represented by their home.
SPEC HOMES
Over the past year, we've developed a blooming partnership with Grand Development and Clay Stapp + Co, creating a series of modern spec homes in Inwood Park with a flare of international influence. We're excited about what we've brought to the northwest Dallas neighborhood, and we look forward to our projects in 2020!
OUTDOOR SPACES
Don't be fooled, our jobs as interior designers don't constrain our abilities to transform only interior spaces. We redesigned outdoor areas in 2019, giving clients spaces where they could enjoy the Texas sun in style.
---
Thanks to all of our clients making this past year possible! We can't wait to get started on all our new projects in 2020. 
PROJECT: Tamarisk
Amy and her family had been living in their Plano home for over 25 years, and it came to the point where they were either going to buy a new house or remodel their current one. Amy and her husband made a beautiful life in this house. They raised three kids in it. It was truly their home.
So, they decided to stay and called us to bring their 1978 home into the 21st century.
Having lived in the house for so long, Amy knew exactly how she wanted to improve her space — open up the galley kitchen to the living room and dining room. She also wanted to give the 40-year-old home a makeover — update the style and give it a fresh, clean look that would last for decades to come. We took her suggestions and ran with them, giving her the space of her dreams in the home her family filled with memories.
KITCHEN
The biggest task in the remodel was knocking down the wall that separated Amy's kitchen from the surrounding primary spaces. Opening up that area brought in an incredible amount of light, which accentuated the white kitchen we designed for her.
---
WHAT OUR TEAM LOVES
"There's a moment where the backsplash wraps around the cabinets up to the ceiling and it meets the wood paneling on the adjacent wall. It's a beautiful meeting of two contrasting materials. I just love it." — ABBEY, Junior Designer at Beyond Interior Design
---
DINING ROOM
When we first entered the house (prior to the remodel), we saw two separate spaces — the dining room and living room — with an entry to the kitchen on your left. The removal of the kitchen wall changed those two adjoining spaces. With one large connected space, we had the opportunity to create a cohesive design that flowed throughout the home.
LIVING ROOM
In previous blogs, we've talked about the domino effect (if you change one thing, it will often change another). With the kitchen and dining rooms open to the living room, we knew we'd need to update the stairs and fireplace to maintain a fluid aesthetic. To achieve this, we created a custom, sleek fireplace wall and slimmed down the finishings of the staircase.
---
Love this look?
SHOP IT by clicking any of the before+after photos! 
We're excited to announce that the international tile, kitchen, and bath company Porcelanosa has invited Head Designer Juliana Oliveira to tour their facilities in February 2020. Juliana will travel to Spain with a small, exclusive group of industry professionals to take a peek at the company's newest line of products and see where the 50-year-old business first began.
As an internationally-inspired, modern interior designer, Juliana sources materials from all over the world, but Porcelanosa holds a special place in the design hearts of Juliana and the rest of the Beyond team. The company's cutting-edge designs don't keep up with the trends, they set them. When we use their products, we know the end result will be innovative, one-of-a-kind, and truly exceptional.
While collaborating with Clay Stapp + Co. and Grand Development on their Northwest Dallas new-builds, we've had the special opportunity to fully take advantage of the wide array of products Porcelanosa offers, allowing us to create distinctive modern palettes.
---
---
In some of our designs, we'll source an entire space with Porcelanosa products. Other times, we utilize their materials as accents, such as in backsplashes or countertops. Either way, Porcelanosa products truly enhance a space.
---
---
We're constantly following the European company to get inspiration, which is why we're so excited to tour their facility in February and see what they'll be producing for Spring 2020!
---
---
Be sure to keep an eye out for our post-Porcelanosa trip blog! 
---
This blog was NOT paid for by Porcelanosa. We just simply love them. 
You finished your interior design before the holidays — what a glorious feeling! Now, you can share your new space with your family and friends by hosting this year's holiday feast. You're sure to invite out-of-towners who will be thrilled to stay in your revamped guest room(s). And while we have no doubt you've maintained your home as if the installation was completed yesterday, there some finishing touches you can make to ensure your family and friends achieve full comfort in your space.
To help maximize your guests' stay, we've created a checklist of ten guest room must-haves. Don't worry, we'll provide a printable document you can have on-hand when preparing for your family and friends.
1. CLEAN AND PLENTIFUL LINENS (SHEETS, BLANKETS, AND TOWELS)
Having clean bedding is kind of a given (we hope), but providing your guests with extra blankets and towels (wash, hand, and bath) will ensure their comfort needs are met. If you're lacking a particular space for these items, not a problem. A basket can hold extra blankets or towels and act as an extra decor piece in a space.
2. CLOTHES STORAGE
If you're anything like us, the thought of keeping your nicely pressed holiday dinner ensemble squished in your suitcase any longer than absolutely necessary makes you cringe. Therefore, you know it's essential your guests have a place to store their hangups as soon as they get settled in. If you don't have a closet, an over-the-door hanger or wall hooks can easily solve the problem.
Don't forget the suitcase itself. Lying on the floor, luggage can consume valuable walking space and get in your guests' way. A simple luggage rack can take care of this problem if your room is lacking an empty dresser and closet.
3. TOILETRIES
While you can't be expected to stock up on everyone's particular moisturizer or after-shave, supplying your guests with basic toiletries — shampoo, conditioner, body wash, lotion, and toothpaste — will help alleviate the possible need for them to make an extra trip to the local drugstore. A good rule-of-thumb when selecting products: choose something you'd be happy using at someone else's home.
4. CONVENIENT CHARGING
Even if you enjoy a phone-free night of rest, we live in a world where 71% of people sleep near or with their phones, so having a nightstand with an accompanying outlet or extension cord is another guest room necessity.
5. CLOCK
If after seeing number 4 you couldn't help but shake your head at us for slightly enabling phones near the bed-zone, don't shame us just yet! We also recommend having a clock with an alarm sitting on the nightstand so guests who prefer sleeping without their phones can still have the convenience of knowing the time and setting an alarm if they choose.
6. TISSUES
Cold weather sure has a way of bringing in the sniffles, and, as we all know, tissues sure do beat walking to the restroom to use that square of toilet paper. Having a box of tissues in your guests' room is a small detail that could go a long way.
7. WASTEBASKET
Whether your guest needs to dispose of a tag from a newly purchased dress or one of those tissues you so conveniently provided, they shouldn't have to search for the nearest wastebasket. Placing one in your guests' room can help them, and inevitably you, keep your space clean and organized.
8. FULL-LENGTH MIRROR
Usually, when guests come into town, it's for a special occasion. They've prepared an outfit from head to toe, and it's hard to capture the whole look in a vanity mirror. Placing a full-length mirror in your guest room can be super easy. Just like the over-the-door hook, you can hang a mirror behind the entry or closet door or place a standing mirror along a wall, creating a stylish and functional piece of decor.
9. NIGHTLIGHT
Because those staying with you will find themselves in an unfamiliar space, having a nightlight can help your guests avoid stumbling around at night. If the guest bathroom isn't located off the room, another nightlight or two guiding the way will be greatly appreciated.
10. FRAGRANCE
As mentioned in our previous post, Five fragrances to fill your home, our olfactory sense helps shape the way we experience our surroundings, so having a pleasant fragrance placed in your spare room is a must. Choose something warm and inviting and place it a couple of days prior to your guests arriving. That will give you time to test the fragrance's potency and, if you enjoy the scent, allow it to settle in its environment.
Once you've completed the checklist, your guest room is ready to accept all family and friends for the holidays. Just be careful, they may enjoy their stay so much, they won't ever want to leave!
---
Print your
CHECKLIST
Click image below
---
As we step into the holiday season, we all begin preparing our homes for those occasions where we invite our family, friends, and colleagues to share the joy and company of one another in our space. Often, this involves a dose of fall cleaning and perhaps some decorating, but it should also include updating your home fragrances.
While it was once believed the olfactory sense had little importance to humans, in the last decade, scientists have discovered quite the opposite. Just like it shapes the way other living creatures interact with their surroundings, smell plays an extremely important role in how humans experience their environment. Therefore, even if you're planning to tantalize your guests with the aromas of your home cooking, there's always an opportunity to create a moment that triggers positive reactions to your space via enchanting scents. It could be in the bathroom where your family will wash up before dinner or the guest bedroom your sister and brother-in-law will stay. If you've gone through the effort of designing and preparing your space for them, you can elevate it even higher with a wonderful home fragrance. To help you pick the right one for your home, we'll give you five of our favorites so you'll have a quality selection from which to choose.
---

JO MALONE: POMEGRANATE NOIR
We don't want to call this scent our favorite, but there's a reason it's at the top of our list. It pleases everyone. Period. Just recently, we were photographing one of our home designs and our design assistant kept commenting on the fantastic smell of the client's home. We informed her it was Jo Malone's Pomegranate Noir and our two other colleagues broke out with emphatic nodding and praise because they too obsess over this scent.
---
NEST: MOROCCAN AMBER
NEST consistently produces fan-favorite home fragrances (and perfumes), but Moroccan Amber truly is a classic. While coming in both the candle and diffuser, we tend to favor the candle, as it produces a lovely smell even when unlit.
---

DIPTYQUE: BAIES
The legendary, Parisian perfumery, Diptyque, creates some of the most elegant, high-end fragrance lines on the market. While encapsulating the scent of freshly picked berries, blended with roses, Baies (berries) extends its warm-weather notes and can be appreciated during any season.
---

APOTHEKE PUR: CHARCOAL
West Elm's Apotheke Pur Charcoal reed diffuser is an easy go-to for us. The simple, black design complements any modern space, and the scent that fills the air is one of white cedar and sandalwood.
---
ANTHROPOLOGIE: CAPRI BLUE VOLCANO
"This candle smells exactly like Anthropologie's Capri Blue Volcano" is how other candle stores try to pitch their similar smelling, but inferior, products. This Anthropologie home staple is highly sought after by those trying to recreate the olfactory atmosphere so beloved by the store's customers. While the candle also comes in a standard container, this iridescent jar carries a bit more style.
---
The great thing about these home fragrances is that they also make great gifts! So while you're out picking up your NEST Moroccan Amber or Jo Malone's Pomegranate Noir, grab one for someone else and you can cross that person off your gift list!
In our previous Shop Talk, we highlighted a local, modern decor store, explaining how shops like Kasart are where you find those unique, eye-catching pieces for your interior design. We love our local businesses, but big-box home furnishing stores, like West Elm and CB2, have their benefits, too! In this edition, we'll discuss exactly what those benefits are.
When it's time to replace a large piece of furniture in your home (bed, sofa, dining table), it often means you'll also replace many of the space's supporting pieces – bedding, coffee tables, media stands, dining chairs, etc. This is usually the point where clients come to us, saying "I have to refurnish my place but have no idea what I'm doing. Can you help?" And of course we can! Nothing brings us more joy than helping people with their interior design projects (truly). But for those people who love to DIY or who may not have room for an interior designer in their budget, commercial home furnishing stores can be great places to start when updating one's space.
One of the best features stores like West Elm and CB2 have is their room or style photos. Because these stores sell everything from sofas to hanging mirrors, nearly all of the items featured in their photos are purchasable from their shop. These photos act as advertisements, showing people how great their space could look if they purchase the accompanying pieces, but they can also be helpful tools for those who want guidance in keeping design continuity in their space.
---
---
Another benefit of stores like CB2 and West Elm is they offer a diverse range of neutral styles, allowing them to appeal to a majority of modern design lovers. Are you one for minimalist luxe? Or perhaps mid-century is your cup of tea. Either way, the commercial modern furnishing store will have your style.
---
Need help finding your style, read our Four Styles of Modern Design blog!
---
Don't feel limited to just these shops. There are a handful of stores you can explore to find out which one best matches your budget and style.
---
---
And, in the end, if you feel stuck, an interior designer will always be there for you, so don't hesitate to reach out!
In the past decade, the Dallas-Fort Worth metroplex has experienced massive growth, making it the fourth-largest metro area in the nation. Because of this growth, many neighborhoods have begun undergoing revitalization to support new residents and their culture. We've seen this with Lower Greenville, Deep Ellum, and the Bishop Arts District. Another neighborhood more recently experiencing changes is Inwood Park, and Beyond Interior Design has had a unique opportunity to breath new life into this neighborhood. Partnering up with Grand Development and Clay Stapp + Co, we've been able to bring modernity to the northwest Dallas community near Dallas Love Field.
---
---
In the past year, we've helped Grand Development bring four newly-built modern homes to Inwood Park, with more in the pipeline, and it's been such a rewarding process. We know Dallas is ready for an international modern style, and that's exactly what inspired us in these sleek, and sometimes bold, interiors.
---
---
Although these properties are spec homes, we took our years of experience of understanding our clients' diverse styles and used that to create customized spaces. For example, in our second Prosper design, many blacks and bold patterns were used throughout the home. In the Kelton and Cowan homes, we designed more neutral interiors, usings taupes and browns throughout the home. Both designs speak to different people, and when the right buyers walk in, they'll feel as though the home was designed with their unique style in mind.
---
Selecting the right interior finishes takes time, valuable time you might not have.
Let us take that part off your hands so you can get back to doing what you love — building!

[smartslider3 slider=4]
Once upon a time, kitchens were merely the place people cooked and prepared their daily meals. They were a place of work, not leisure, and they definitely weren't exposed to guests. Fast-forward to today's open-concept living and kitchens are showcased to everyone who walks in the main space.
This transformation of spatial planning has changed the way we experience and utilize our kitchens, especially our kitchen counters. During dinner parties, people gather around the island, which is filled with hors 'doeuvres, cocktails, and conversation. In the morning, the family grabs their seat at the bar, partaking in their breakfast ritual. The space even becomes the home office, with papers and the computer sprawled out among the spacious countertop.
As kitchens become multi-purpose and used more frequently, the aesthetic and functionality of the elements within the space become ever more important. We're talking specifically about the seating. Stools, having used to be afterthought additions to a kitchen, are now oftentimes a centerpiece of the space. Which means they need to be selected as carefully as one would choose an accent chair. If you never imagined you'd have to put so much thought into selecting counter or bar stools, it's ok. We'll set out some easy criteria for you to follow to help you choose your next set of kitchen seating.
HEIGHT
If you've purchased a set of stools before, you've probably already researched whether to get counter stools or bar stools, making you think this category is obvious. However, you'd be surprised how many people still place the wrong stools underneath their counters.
In the simplest terms, counter stools (23"-28") are about four to six inches shorter than bar stools (29"-32"). Another way to think of it is to know you need at least 10" of space between the bottom of the countertop and the top of the stool for comfortable seating. If you have too little of space, legs won't be able to fit under the counter and your food or workspace will be too far away from you.
USE
In order for you to choose the right set of stools, you need to think about how much you'll use them and for what. Will they be a seat for you to leisurely enjoy your breakfast with family at the kitchen island? Perhaps they'll allow you to hanker down and utilize your spacious countertops for work (it's always nice being close to coffee and brain food). Or will the stools simply be seats guests can use while enjoying appetizers before the meal is brought to the dining table?
If you don't think you'll use your stools regularly, you can choose stools with or without backs — your options are limitless. But if you plan on frequently using your seats for prolonged periods of time, you should choose stools with backs. Don't worry, you won't sacrifice style or sleekness for functionality. If anything, you just limit the options you have to look at, making it easier to avoid analysis paralysis.
---
---
AESTHETIC
Last, but certainly not least (so cliche, we know), aesthetic is key to creating or maintaining your beautiful space. Because counter and bar stools are front-and-center in open-space concepts, they must be aesthetically pleasing and flow with the overall style of the main space.
Now that you have some criteria of how to choose your bar or counter stools, we trust you'll be able to select a set that enhances your space and fits your lifestyle! And if you ever need help, we're always here for you.